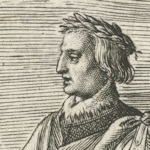 We know there was a Habsburg monarchy centered on Vienna, but this was not a formal empire as such until 1804. So how come nearly all those monarchs still got to call themselves Emperor?
Fortunately for these Habsburgs, most of them were head of another, entirely separate, "empire" – the Holy Roman Empire that persisted more or less from the late 900s to the early 1800s. You may have heard of the very first Holy Roman Emperor, Charlemagne:
(Portrait of Charlemagne in medallion form, Nicolaes de Bruyn, 1594. image courtesy of the Rijksmuseum)
Much of Europe in those days wasn't made up of large kingdoms. Instead you also had myriads of duchies, principalities, free cities etc. etc.
The Holy Roman Empire brought together a collection of such entities across a large chunk of today's central Europe (Germany, Austria, Switzerland and more).
Although essentially independent of each other, these entities all pledged common allegiance to a monarch elected by the most senior of his peers and formally anointed Holy Roman Emperor by the Pope.
If you think European politics is complicated now, imagine the squabbles, manoeuvering, manipulation, rule changes, bribery, territorial changes and conflicts that the Holy Roman Empire experienced over 800+ years. Let's not even go there.
So where do our Habsburgs fit in?
(Frederick III on horseback, Crispijn van de Passe (I), 1604. Image courtesy of the Rijksmuseum)
Many (but not all) Habsburg lands were also part of the Holy Roman Empire and many (but not all) territories within the Holy Roman Empire were run by the Habsburgs. Which put the head Habsburg in a pretty strong position when it came to electing a Holy Roman Emperor.
The first Habsburg monarch to become the actual, confirmed Holy Roman Emperor was Frederick III in 1452.
Although the position was democratically elected (albeit by just a handful of people), the title stayed in Habsburg hands all the way through to the end of the Holy Roman Empire, bar a short period in the 1740s.
This is why all those monarchs could call themselves Emperor.
What about Empresses, though?
Unfortunately, only men were eligible to be Holy Roman Emperor. So when Maria Theresa ruled the Habsburg lands, for example, she was Archduchess of Austria, Queen of Hungary and not Empress of anything. Instead, it was her husband, Franz Stephan, and son, Joseph II, who carried the title Holy Roman Emperor.
So while you'll see Maria Theresa described as an empress (here at Visiting Vienna, too), it's technically only in the sense of "the Emperor's wife". Which seems a little unfair, given she was the actual Habsburg monarch.
The end of the Holy Roman Empire came somewhat ingloriously in 1806, which might have dampened the spirits of a dynasty used to describing themselves as imperial.
Ah, but the Habsburg monarchs still got to call themselves Emperor because of something new called the Austrian Empire.