Travel around Vienna and you find many architectural and interior design elements described as Jugendstil. And many items in art and design museums share that description, too. But what is Jugendstil?
Used to describe the Viennese Art Nouveau movement and style
Popular in the years either side of 1900
Largely applied to architecture, (decorative) arts and design
Still seen today in many Viennese buildings
See also:
Jugend-what?
(The Jugendstil Majolika House)
Many things confused me about Vienna when I first arrived. For example, tea without milk (a sin again humanity).
And cake for breakfast (an excellent idea the entire world should adopt.)
And Jugendstil.
Turns out it's the local version of Art Nouveau. So a synonym for that decorative style that makes use of curves, natural forms and ornate motifs along with modern materials. Jugendstil blossomed in Vienna during the late 19th century and early 20th century.
That may be all you need to know, but Jugendstil played an important role in Austria's (art) history.
Jugendstil and Viennese Modernism
Sharp-eyed observers will note that the Jugendstil era largely coincides with the dates of another significant cultural movement: the Wiener Moderne (English: Viennese Modernism).
The two are, however, not the same.
For example, the Wiener Moderne refers to creative and intellectual developments in a far wider range of fields, including music and the social sciences. It also covers a variety of styles in art and design; Jugendstil is just one (albeit a rather significant one).
The Secession
(Excerpt from the contents page of the Secession magazine, Ver Sacrum Yr 2, Vol. 8, 1899 (creation), Sammlung Wien Museum, reproduced with permission under the terms of the CC0 licence)
Jugendstil also enjoys a close association with the Vienna Secession: a group of artists who turned away from conservative approaches at the end of the 20th century.
The philosophy, fields of endeavour, and approaches of Secession artists, particularly in its early years, paralleled Art Nouveau and advanced Austria's Jugendstil equivalent. As such, many people use Secessionist and Jugendstil as interchangeable terms.
Why is it important?
Jugendstil art, architecture and design remain a highlight of Austrian history, and the era proved an important waystation in the development of modern creative approaches.
Many of those who produced Jugendstil works continue to enjoy acclaim today. And the artists, designers and architects who incorporated Jugendstil within their body of work include numerous famous names.
For example, Jugendstil influenced (and was influenced by) the likes of Gustav Klimt, Otto Wagner, and the Wiener Werkstätte.
The style still appears throughout Vienna's architectural landscape, and Jugendstil works feature prominently in those museums dedicated to the applied and modern arts.
Where to see Jugendstil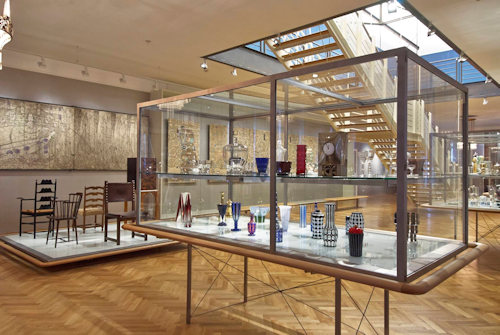 (View of the MAK Permanent Collection Vienna 1900: Design / Arts and Crafts 1890–1938; © MAK/Georg Mayer)
Those institutions that cover the Wiener Moderne in depth inevitably include many Jugendstil items. Consider, for example:
The MAK museum: the permanent displays include decorative arts and design from the era
The Leopold museum: the Vienna around 1900 permanent exhibition includes numerous Jugendstil exhibits
(Roof of the Jugendstil Secession building)
Wander around pretty much any part of Vienna that existed at the turn of the century, and you soon find yourself picking out Jugendstil elements. Perhaps the design of some 1901 villa. Or a set of steps and railings between two roads. Or simply ornamental touches added to otherwise plain exteriors.
For example:
The Secession building: unsurprisingly, the gallery built by the same-named group of artists serves as a prime example of Jugendstil architecture. Inside is Klimt's Beethoven Frieze, another Jugendstil-inspired masterpiece
(Jugendstil designs on an old factory front in Vienna's outlying 16th district)
The Majolika house: designed by Otto Wagner and noted for its gorgeous ornamentation and floral façade
The Kirche am Steinhof: a little out the way but probably the prime piece of Jugendstil architecture in the city. A delight in white and gold. Be sure to go inside. Another Wagner design with, for example, windows by Koloman Moser
Karlsplatz station pavilions: the white, green and gold twin buildings above the Karlsplatz subway station. No prizes for guessing the architect responsible
Many other buildings by Otto Wagner feature Jugendstil or modernist architecture, so take a peek at this guide to Otto Wagner in Vienna. His railway infrastructure (particularly stations and bridges across the U4, U6 and S45 subway/train lines) draws on Jugendstil elements, for example.
The Ankeruhr giant outdoor mechanical clock: a gift to the city from a life insurance company
If I may make a suggestion a little away from the centre, then find your way to Café Goldegg near the Belvedere palaces. As well as being a rather fine and authentic coffee house, it has some original Jugendstil décor inside.
The same sentiment applies to Café Ritter Ottakring: even further from the centre, so very much a local coffee house but with a remarkable interior. Sadly, it had closed last time I checked, with no date available for a reopening (at the time of writing).
Also…just keep your eyes open as you walk around town.