Vienna and Austria in general has a very strong beer culture, with your average Austrian consuming over 100 litres (176 pints) of the stuff each year.
Very high quality of beer
Full-bodied "continental" lagers from regional breweries are most popular
Try an Ottakringer when in Vienna (the local brew)
Typically served in 500ml and 300ml glasses in bars
Craft beers on the rise
See also:
Jump to:
Beer quality and brands
(A glass of Zwettler beer from a private brewery in Austria's north)
Only the Czechs drink more beer than Austrians on a per head basis in Europe. So there's clearly something in the water in this part of the globe, since the two countries share a border.
And like Czech beer, Austrian beer is high quality.
Brewers must meet requirements enshrined in the Codex Alimentarius Austriacus; national food quality regulations have strict rules on, for example, use of chemical preservatives and artificial flavourings. As such, beer remains an entirely natural product.
Of course, the growth of craft beers means the list of ingredients and base materials has expanded beyond the imagination of brewers used to doffing their hat at a passing emperor. But the principle of purity and natural contents remains strong.
As such, you have to work hard to find a bad beer in a typical store or bar.
Over 300 breweries in the country produce more than 1,000 different beers in total. The biggest brands in Vienna include Ottakringer, Stiegl, Zipfer and Gösser, but you find plenty of small and private breweries and specialty beers, too, none of which should disappoint the discerning beer palate.
If you want to go native, though, then Ottakringer is Vienna's big local brewery, located in the working-class 16th district since 1837.
A beer guru of my acquaintance even rated the basic canned Ottakringer Helles beer as one of Austria's very best. Ottakringer also have their own craft beer range under the BrauWerk label and a summer beer festival (see below).
Ad:

Little demand seems to exist for imported beer here.
Austrians tend to stick to their own regional beers. But you find German and Czech brands like Warsteiner, Kozel or Starobrno in bars, too…and even exports from North America and Western Europe (Heineken, Budweiser etc.).
The many Irish and British pubs dotted about town stock, for example, stouts, ales, and other beers from Ireland and the UK. Expect to pay more than for local brews, though.
The question is why you'd want to drink imports, given the excellent quality and variety of local beers.
Oh, by the way…despite the heavy consumption, beer drinking remains a restrained affair compared to, for example, UK Friday-night drinking habits. Drunk and disorderly street behavior is much rarer in Vienna.
Beer quantities
(A "Seidl" of beer. It occurs to me some kind of scale might make this picture more useful.)
In bars, cafes and restaurants in Vienna, beer generally comes in two sizes:
A "Krügel" or "grosses Bier" (large beer)… 0.5 litres (0.88 UK pints)
A "Seidl" or "kleines Bier" (small beer)… 0.3 litres (0.53 UK pints)
Supermarkets sell most beer as 500 ml bottles or cans, beginning at about €1 (+ a small deposit for bottles). Obviously prices vary a lot.
Types of beer
(A range of beers from Rieder)
The vast majority of beer is Märzenbier, basically a full-bodied lager. But you'll find the usual array of Pils, Weizenbier (wheat beer) and other typical examples of central European brewing skills.
The standard beer varieties usually have between 4.8% and 5.2% alcohol by volume, which is stronger than you'd get in the UK, for example.
In the last couple of years, light (Leichtbier) and alcohol-free (alkoholfrei) beers, as well as shandies (Radler), have grown in popularity, stimulated in part by a growing awareness of the dangers of drink driving.
And on a cold winter's night, you might want to try a Bockbier, typically a dark beer with around 6.5% alcohol by volume.
Beer events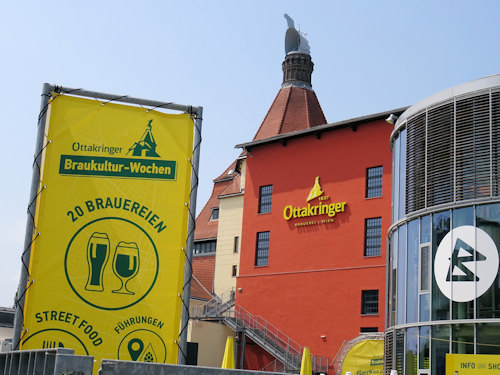 (Ottakringer brewery hosts its own popular beer events)
Given the drink's ubiquity, various beer-flavoured festivals populate the event calendar in Vienna. Consider, for example:
Ottakringer Bierfest / Ottakringer Beer Festival: Ottakringer's own summer-long celebration of the brewer's art, with live music, streetfood and similar
Wiener Bierfest / Vienna Beer Festival: outdoor event that brings together all the big breweries (and many smaller ones) on Am Hof square in the very centre
Craft Bier Fest / Craft Beer Festival: large event for consuming diverse brews from all over the world (though mostly from Austria and its neighbours). Usually held twice a year