Back when Gustav Klimt was arguing about the price of gold paint and an old empire unknowingly entered its final decade, a coffee house opened. And Café Goldegg is still going strong.
First established in 1910
Notable for Jugendstil interior
Friendly waitresses on our visit
See also:
When in Belvedere…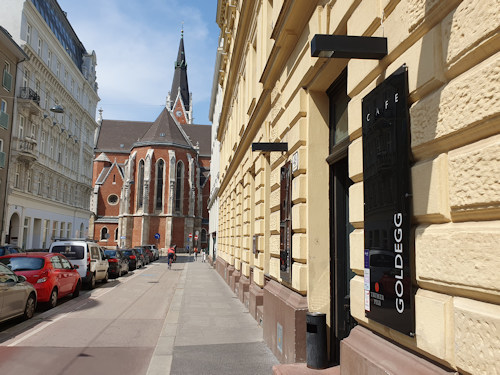 (The coffee house with the St. Elisabeth church behind)
Standing on the crossroads of Goldeggasse and Argentinierstraße offers a typical glimpse of what it means to live in older parts of Vienna.
In the distance you can just about see a palace from the 1700s, a church from the 1800s, and a railway station from 2015 that connects the city with Berlin, Prague, Budapest and other such European capitals.
That same crossroads also has Café Goldegg, a traditional coffee house that first opened in 1910.
Back in the late 1980s, some ATS 3.2 million (c. €230,000) went into the café's renovation with well over half of the costs coming from state funds for the preservation of historical buildings.
The wish to keep the coffee house in its original form comes from its particular interior architectural character.
1910 was the time of Jugendstil, and sharp-eyed observers will note the combination of traditional coffee house characteristics with those of that design era.
So you have your marble table tops, upholstered niches for two by the windows, bentwood chairs, and herringbone parquet flooring. A stopped clock hanging from the ceiling adds to the timeliness of the place.
The wooden paneling, however, has inlaid miniature columns and the geometric patterning so prevalent in those creative times just before man, machinery, and world war sent everything off in a different direction. Jugendstil mirrors and brass chandeliers add to the turn of the century flair.
Some parts do show their age: a worn carpet carrying the weight of shoe-filled history. But all in an authentic, tidy manner. Like an elderly gentleman with a trimmed beard and fashionable top hat.
(Modern signage fronts a Jugendstil interior)
Actually, authentic feels like a good word for Café Goldegg. A proper local coffee house with a mix of ages and many locals within. And an air of personability to it. Like the owners and staff are genuinely invested in the place.
We encountered remarkably friendly staff on our visit, working with an efficiency and smiles you don't always get in Vienna. Normal friendly, too: not the product of customer care training.
The unpretentious menu also featured a notably inexpensive basic breakfast that included a hot beverage. Coffee prices were lower than in city centre counterparts.
The choice seemed plentiful enough with, for example, wellness, vegetarian, and oriental options accompanying Viennese fare. Meals and snacks, too. And, of course, cakes like Kardinalschnitte, Punschkrapferl, Sachertorte and other traditional favourites.
Although not in the old town, Café Goldegg allows you to immerse yourself in two historical eras: Jugendstil and the Baroque magnificence of the Belvedere palaces (a 5 minute walk away).
The artworks on display at the Upper palace include Gustav Klimt's most famous work, completed just a couple of years before the coffee house opened.
So work up a healthy appetite consuming all those artworks and ceiling reliefs, then jump forward a couple of centuries for a bite to eat.
How to get to Café Goldegg
Subway: a short walk from the Südtiroler Platz / Hauptbahnhof station on the U1 subway line that passes through the very centre of town.
Tram/bus: walk across from the Schloss Belvedere stop on the D tram line that leaves from the Ring. Or take the 13A bus to the Argentinierstraße stop.
Address: Argentinierstraße 49, 1040 Vienna | Website