When Empress Elisabeth had her candied violets delivered from Demel in the 19th century, this elegant Konditorei had already been making cakes and the like for close on 100 years.
Windows and displays often a tourist attraction in their own right
Enjoy coffee house flair in the seated areas
The cakes might almost be an art form
See also:
The K. u. K. Hofzuckerbäckerei
(Window display on my visit from a couple of years back)
The K. u. K. Hofzuckerbäckerei moniker on signs indicates that Demel was the official supplier of confectionery products to the court. K. u. K. stands for "imperial and royal" from the days of Austria-Hungary.
First established in 1786, Demel has certainly carved itself into the history of Vienna and the landscape of the old town centre.
This Konditorei occupies new premises on Kohlmarkt, the pedestrianised street that leads away from the Hofburg palace toward the Graben and Stephansdom cathedral.
"New premises" is relative, of course: Demel moved there in the late 1800s. A newspaper of the time wrote (my quick translation):
It's no more than 100 steps from the previous site of Demel's sugary ways to the splendour of the new establishment into which the famous court confectioner has moved its paradise for all those Viennese possessed of a sweet tooth.
(The article also notes that one of the bakers was a thin Englishman!)
The counter and store
Opening the entrance doors feels like passing through a time travel portal. Outside, 21st-century Vienna; inside, a Regency-like confectionery.
Unlike most of its colleagues in Vienna, Demel has a relatively large shop at the rear of the ground floor for over-the-counter sales. The feeling is much like you'd get entering Willy Wonka's factory.
You have the opportunity to buy cakes, of course; this is a Viennese Konditorei, after all. Though I found myself wondering what was a cake and what was a piece of art.
In fact, the whole shop area feels like a cross between an art history museum and a confectioners, thanks to all the stylish packaging and charming displays.
The delights all come at a (hefty) price, of course, but this might be an excellent place to pick up a gift, whether artfully-decorated collections of chocolates, a Demel Sachertorte in a wooden box, or those candied violets that Empress Elisabeth so loved.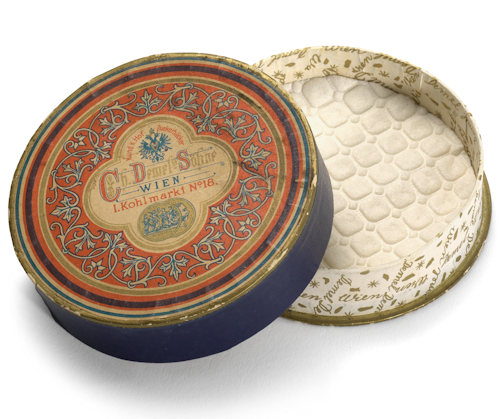 (A box of chocolates from the K. und K. Hofzuckerbäckerei Demel from around 1880; Wien Museum Inv.-Nr. 231872; excerpt reproduced under the terms of the CC BY 4.0 license; photo by Birgit und Peter Kainz)
The café
I popped in once with my wife for a lovely breakfast; I've made my way through many breakfasts in all manner of coffee houses, so my palate is a little jaded, but an extra gold star went to the wonderful Demel jam we had in a little glass jar (available from the shop, too, I believe).
Oh, and a second gold star went to the waitress for fast, friendly and attentive service. She even brought extra water to the table unsolicited.
Those of you in service-oriented countries may wonder what's great about unsolicited water, but that had never happened to me before in over 25 years in the city.
At the time of writing, Demel opens later than on my visit, so breakfast is now less of an option. Instead, go for cake, coffee and small meals. The reputation and popularity mean queues to get in are not rare.
Demel's coffee house salons offer appropriately elegant surrounds; enjoy the coffee house culture, and look down Kohlmarkt from inside, upstairs or outside (in warmer seasons) to see where Haydn used to live.
How to get to Demel
If you're sightseeing in the centre, you'll probably walk past Demel, since it's just a few steps from Michaelerplatz and one end of the Hofburg palace.
Subway: a short walk from Herrengasse station on the U3 line
Bus: catch the 1A or 2A to Michaelerplatz
Address: Kohlmarkt 14, 1010 Vienna | Website