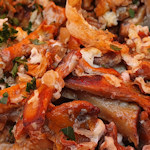 Sausages.
Oh, you want more?
Main courses in Vienna have, of course, evolved with the times. But some traditional recipes still dominate local restaurant menus and family dinners. So, here we go…
Schnitzel (not) with noodles
Despite what you might infer from Maria's list of favourite things in The Sound of Music, schnitzels and noodles rarely appear on the same plate in Vienna. And only one of the two can be considered a true favourite of the Viennese. So let us begin with…
The Schnitzel
(Schnitzel comes with lemon, rather than noodles)
The famous Wiener Schnitzel even bears the city's name (Wiener is German for Viennese). Though, to be fair, the dish likely originated elsewhere.
Traditionally, a Schnitzel is fried escalope of veal coated in eggs, flour and breadcrumbs, but most restaurants and homes use pork or poultry instead. Often served with a slice of lemon which doubles as the side salad. (More on the Schnitzel)
Schweinsbraten
(Also popular at buffets)
A typical dish for a big family meal. Schweinsbraten translates simply as roast pork.
The Viennese version has the joint roasting in a shallow vegetable broth most of the time. You also throw in onions, carrots, and other vegetables (I use leeks).
The perfect Schweinsbraten develops a crusty crackling surface seasoned with salt, pepper, garlic, and cumin (and possibly paprika and mustard).
The broth becomes a tasty gravy, and the vegetables absorb a remarkable amount of flavour during the cooking process. Traditional side dishes with the meat are sauerkraut and potato- or bread-based dumplings (see below).
Krautfleckerln and Schinkenfleckerln
Sometimes knowing the literal meaning of a dish fails to add to the appeal. Kraut is white cabbage; fleckerln are tiny pasta squares. Put them together and you get…Krautfleckerl.
Other ingredients vary, but a typical offering in Vienna might include caramelised sugar, onions, and caraway to flavour the finely-chopped cabbage and pasta.
Another popular dish using Fleckerln simply adds small pieces of ham (Schinken) to the pasta, often rounding it all off with fried onions.
A common Schinkenfleckerln variant mixes the main ingredients with a liquid mass made of sour cream, butter, eggs, and nutmeg. After baking you get a fairly solid dish with a nice crunchy surface.
We usually eat this at home with slices of pickled beetroot. Then we return to our jobs digging turnips out of the permafrost while bemoaning the futility of human existence.
Zwiebelrostbraten
(A homemade version)
Technically, Zwiebelrostbraten translates as fried beef and onions in gravy. Ah, but it's so much more than that suggests.
My favourite dish (before I turned vegetarian) involves frying thin slices of seasoned beef with one side coated in flour. Once done, you remove the beef and add boiling water to make a gravy with the remnants left behind stuck to the pan.
Onion rings coated in flour are deep fried until crispy, then spread over the meat. Typically served with roast potatoes of one form or another, such as wedges. And a side salad if you're feeling healthy.
Käsespätzle
Another dish that loses appeal on translation. Cheese (Käse) noodles (Spätzle) doesn't really capture the hearty, traditional nature of the recipe.
You make spätzle from flour, water and eggs to create small boiled gnocchi-like pieces. These are mixed with fried onions and grated cheese, then cooked (and often served) in a skillet or frying pan.
The melted cheese adds the requisite flavour, so Viennese kitchens use stronger cheeses like Emmentaler, Bergkäse, or even Cheddar.
Käsespätzle tends to be associated with more mountainous regions that Vienna, but has become fairly universal in Austria. I suspect partly because it's one of the few traditional dishes suitable for vegetarians.
Knödel
(Semmelknödel dumplings)
So many Knödel, so little time. Dumplings is the nearest translation, if dumplings were turned into a culinary art form. Which is a way of saying we have numerous different types, ranging from sweet desserts to unexpected things you find in your soup.
One or two Knödel make main courses, particularly the Fleischknödel variation (dumplings with a meat filling). And, of course, the bread-based Semmellknödel or Serviettenknödel forms an essential part of the Schweinsbraten experience. (More on the Knödel)
Tafelspitz
(A dish unexpectedly fit for a king emperor)
This is one I've never really grasped. It's essentially boiled beef, but treated like a speciality in Vienna. Perhaps I'm missing something.
The treat is the broth used in the boiling process, which then finds use as a soup or gravy. As with Schweinsbraten, vegetables might be boiled along with the beef, and these take up the flavour of the meat in the process.
Emperor Franz Joseph enjoyed his Tafelspitz, making it one of various recipes that carry a hint of nobility. (More on Tafelspitz)
Gulasch
You probably don't need me to explain Gulasch (goulash) to you, given its international popularity. This meat and onion ragout mostly uses beef (Rindsgulasch), but pork (Schweinsgulasch), veal (Kalbsgulasch) and other meats sometimes make an appearance.
The dish originates from Hungary, but Austria has adopted it as a traditional local meal. (To be fair, Hungary was once part of the Vienna-led Habsburg empire.)
Common alternatives on Viennese menus include:
Gulaschsuppe: goulash soup and the original form of goulash. A thick, hearty broth with bits of beef in it
Erdäpfelgulasch: a goulash-like dish but based on potatoes and thin slices of parboiled sausage (our family uses frankfurters)
Eierschwammerl
(An expensive seasonal treat)
These mushrooms are a golden chanterelle and very popular in autumn, when restaurants turn them into soups and sauces.
The sauce makes a dish in its own right when served with, for example, pasta. Or it might be used as a simple complement to cuts of meat or heavy dumplings.
Wild, Wildbret or Wildpret
Austria, particularly the rural provinces (basically everywhere bar Vienna), has a particularly long and strong hunting tradition. Wild, Wildbret or Wildpret all simply mean game meat.
Autumn usually brings Wildwochen to Vienna's menus alongside Eierschwammerl recipes. These "game meat weeks" add a handful of relevant dishes to the normal selection.
In most restaurants, this means venison (often as a ragout) and wild boar (often as medallions) with cranberry sauce a common accompaniment.
Sausages
(Bratwurst sausages)
And, yes, let us end with the ubiquitous sausage. Traditional restaurant or coffee house menus rarely list them as a main course, but commonly offer a pair of frankfurters, for example, as a snack or light (!) meal.
The Viennese themselves might very well consider one of the various types of sausage as a meal in its own right, often consumed at the many sausage stands found throughout the city. (More on sausages)
And after…
Once you're done with the main course, you might want to try a traditional dessert.
(The Viennese actually think of some desserts as the main course. Or breakfast.)