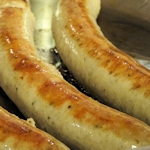 Vienna offers so much more than chocolate cake and fine coffee. Dig down beneath the smooth, classical veneer and you reach the hardworking roots of the city. Forget your fancy restaurants and old-timer trams – it's time for a sausage at a Würstelstand.
What is a Würstelstand?
The Austrian term, Würstelstand, translates literally as "sausage booth", which is a remarkably accurate description. These are standalone snack bars selling a variety of ready-to-eat sausages, plus drinks.
The Würstelstand forms part of the traditional fabric of the city…so much so that sausage culture even has its own local language.
And the Würstelstand experience cuts across all social barriers. Bankers and shift workers alike prop themselves up against the counter, shovel down a bit of Bratwurst, and moan about the state of the roads.
You find the booths all over town, but particularly outside subway stations or at busy tram stops. The sausages usually come on a paper plate with bread (a basic white roll or slices of dark bread), mustard, and ketchup. These days, you can often ask for a hot dog alternative, too, with the sausage inserted into a long roll.
Vienna's connections to the east also mean the Würstelstand menu may also include alternatives like döner kebab and similar.
The main Vienna sausages
There are four main sausage types, likely available just about everywhere and broadly made from pork and/or beef and/or goodness knows what:
The Frankfurter
This is the workhorse of the Würstelstand. Cooked in water or broth, then served with a roll, mustard, and ketchup.
You may know it by its name or as a "wiener sausage", "hot dog" or "Vienna sausage". The Viennese mostly call it a Frankfurter, though. Occasionally available in a second variety made from turkey meat (German: Pute).
(Read more about the Frankfurter here.)
The Bratwurst
A fried sausage, lightly spiced. This is the classic German sausage variety eaten on barbecues around the world. Oh, and here I should point out that Würstelstand sausages are not finger-size delicacies. They're often about the length of your forearm (and sometimes nearly as thick).
The Käsekrainer
A coarser sausage with bits of cheese in it. They fry it, whereupon the cheese melts, often oozing out to form a crust across the sausage's surface. This is absolutely delicious, but also exactly what your doctor warned you not to eat.
The Käsekrainer is usually delivered pre-sliced, because if you try and slice it yourself, the sausage has a nasty habit of letting loose a volley of melted cheese that contravenes many countries' hand weapon regulations.
(Read more about the Käsekrainer here.)
The Debreziner
This one comes in a variety of spellings, including Depreziner and Debrecziner. A lightly-smoked, reddish sausage, spiced with paprika to give it a little more pep than your usual Bratwurst or Frankfurter. It originated in Hungary, and is one of the many legacies in Vienna of the former empire.
The minor Vienna sausages
…and then we have a bunch of other varieties you may find on the menu, none of which I've tried so I'm guessing a bit here. For example:
Sacherwürstel: a darker, higher-quality (and longer) version of the Frankfurter.
Grillwurst: like Bratwurst but more heavily spiced. Possibly.
Currywurst: a recent import from Germany, this is a Bratwurst with, um, curry. Not nearly as popular here as among our northern neighbours.
The form taken by the curry part of the name is not always the same, though. It may be curry powder in the sausage itself, curry powder sprinkled over the sausage, or simply a tomato-curry sauce.
Waldviertler: the Waldviertel lowland region of Austria lies somewhat to the northwest of Vienna and enjoys a reputation for good beer and a harsh climate. A Waldviertler is someone from that area, but also a darker, thick-skinned, smoked sausage.
Klobasse or Burenwurst: a parboiled sausage with less finely-diced contents than, for example, your Frankfurter. Much like a Käsekrainer, but without the cheese.
Condiments and more
No man is an island, and nor is any sausage. Here are some quick translations of what comes with them:
Senf – mustard
Ketchup – hmmm, I'm going to guess this translates as ketchup
Kren – horseradish
Gurkerl / Essiggurke – gherkin
Pfefferoni – a chilli pepper (but not usually too spicy)
Brot – slice of dark bread
Semmel – white bread roll
Pommes – chips/fries
Enjoy!