Vienna has plenty to offer away from the Klimts and giant exhibition venues. Like Fantasy Con, a small event with a big heart. Bring your imagination.
Strong selection of art stalls
Plenty of (tabletop) games opportunities if you can leap the language barrier
All-round friendly atmosphere
Next dates: TBA (was April 30th in 2023)
See also:
Dragons and Art Deco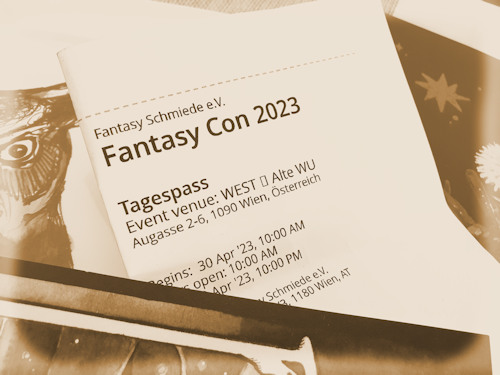 (My eticket and hints of loot from the artist alley)
To misquote the great J.R.R. Tolkien, I come from a plain quiet folk and have no use for adventures.
But, now and then, I wander out into the world to explore new events and exhibitions, armed with nothing more than a Tupperware box of Lembas, a notepad, leaky pen, and curiosity.
Fantasy Con, for example, is a small local convention organised by the folk at Fantasy-Schmiede. The title reveals the topic, but what can you expect on the ground?
The 2023 installment was only the second edition, so future content may change as the event matures. But winkling my way through the premises of the old University of Economics revealed two cornerstones: art and games.
Some cons get weighed down by numerous artist stands with generic motifs on a common theme, but the Fantasy Con's alley offered a surprisingly eclectic mix, including:
Digital artwork and prints (of course)
Analogue originals in a variety of media
Hats, jewelry and other accessories (including wands)
…with a range of motifs
My admiration for all creatives knows no limit, but some stands caught my eye in particular:
Art Deco space art by Sandra Wittman. Science fiction meets the Wiener Moderne
Simple, but lovely linocuts by Conin (also known for their comic art)
The expressive and innovative ink and watercolour works with a twist of melancholy by Cornelius C., who also kindly took time to talk with me about their process
(One of the joys of such cons is being able to talk with the artists themselves.)
Elsewhere…a book stand, even a Harry Potter merchandise store and innumerable board/card games and RPGs to buy and/or play, for example. (And we are well beyond the checkered simplicities of the chess board; some tabletop games are almost art installations in their own right.)
A small accompanying programme featured readings by fantasy book authors, interviews, even music.
For those who yearn for food conceived before we had electricity or avocados in Europe, you could even buy a medieval snack from the Kochkulturmuseum (as well as distinctly not-medieval coffee).
Inevitably, language issues mean the casual visitor to Vienna perhaps can't enjoy the full fantasy flavour. But the joy in such events is always the relaxed, friendly and judgment-free atmosphere (much as you get with the bigger Vienna COMIX or Vienna Comic Con events).
Dates, tickets & tips
I don't have dates yet for a new edition of Fantasy Con. The 2023 edition took place on April 30th. Watch this space or keep an eye on the Fantasy-Schmiede website for details of future events. Last time out, an adult ticket on the door cost €13 with a steep discount for online tickets purchased in advance.
How to get to Fantasy Con
The 2023 edition was in the premises of the old University of Economics at Augasse 2-6 in Vienna's 9th district, but we shall see where the con appears in 2024.
Address: TBA | Website (organisers)