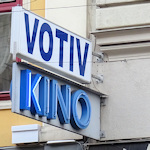 When in Vienna, do as the Parisians do…a task made considerably easier by the Festival du Film Francophone, which brings the best of French-language cinema to the city.
A French film festival
Now in its 22nd year, the Festival du Film Francophone typically features a heady mix of traditional movies, documentaries, animations and shorts.
The word Francophone in the festival title is no coincidence: the films come from a variety of countries, all of whom share French as a common language. So while France inevitably dominates, you might also find something from the Ivory Coast or another African country, Belgium, Luxembourg, Switzerland, and Canada.
The event runs under the auspices of the Institut Français d'Autriche and takes place in the Votiv Kino, an international cinema that often shows English-language films without dubbing. The festival films are shown in French (of course), mostly with subtitles in either German or English.
A typical year features 20+ films, normally with two showings a day at the host cinema.
2020 highlights
Highlights of the postponed March 2020 festival include:
A showing of the 1945 classic, Les Enfants du Paradis (Children of Paradise). Marlon Brando once described the film in an interview with Truman Capote as…
Maybe the best movie ever made
2018's Les Estivants (The Summer House), directed by Valeria Bruni Tedeschi. The former director of Austria's Film Museum, Alexander Horwath, selected the film for the festival and will talk about his choice after the showing
Find the full festival programme and other details at the official website.
2020 tickets and dates
The Festival du Film Francophone was due to run from March 23 to April 2, with films typically shown daily but has been postponed to September 29th to October 8th.
You simply buy your tickets from the Votiv Kino cinema.
How to get to the Votiv Kino
The cinema is handily placed near one of the bigger transport hubs in the centre of Vienna and opposite the Votivkirche church.
Subway: Take the U2 to Schottentor and walk up (or go one stop on a tram)
Tram/bus: Take trams 37, 38, 40, 41 or 42 to Schwarzspanierstraße, which is the stop outside the Votiv Kino. All these trams leave from Schottentor station. Bus 40A stops nearby at Berggasse, close to the Sigmund Freud Museum.
Address: Währinger Straße 12, 1090 Vienna