The best of ceramic art and design need not always lie behind glass in austere museums. The Pots und Blitz design market showcases the work of independent artisans from Austria and abroad for your pleasure and possible purchase.
Numerous exhibitors present their wares for your enjoyment
Various products (not just tableware)
Held in the MuseumsQuartier
2023 dates: Oct 6-8
See also:
Ceramics and porcelain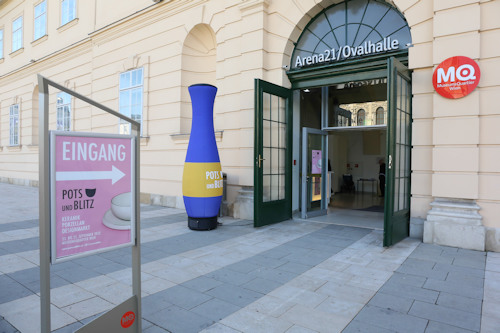 (This way for creative ceramic design; press photo © FOTOFALLY)
The Pots und Blitz ceramics design market slides gracefully into a history in Vienna that dates back over 300 years.
In 1718, Europe's second-ever porcelain manufacturer opened here following some top-class dirty business tricks to capture the secrets to the production process.
The porcelain tradition continues today through Augarten (whose premises include a lovely porcelain museum).
Staying on the history theme, wander into the Hofburg in the city centre to find yourself impressed by a host of imperial porcelain, such as a Minton dessert service gifted by Queen Victoria, examples of Imari (far eastern) porcelain, and enough Meissen to raise the eyebrows of any visiting monarch.
But back to today…
The Pots und Blitz design market features handcrafted porcelain and other ceramics made by independent artists and artisans from Austria and beyond.
(POTS und BLITZ press photo © FOTOFALLY)
So you have the chance to admire (and purchase) products ranging from dishwasher-proof plates to jewelry, decorative figures, and sculpture…from delicate espresso cups to giant vases.
The organisers work with an expert jury when selecting exhibitors, thus ensuring items on display are high quality (which I can confirm based on a visit to a previous edition).
Cups, plates, bowls, and containers dominated the selection on my trip, but with plenty of other unique items on display, too. I particularly enjoyed Margit Russnig's partly-fantastical figurines, for example.
(Russnig returns in 2023, along with over 40 other exhibitors.)
Since the designers and creators tend to manage their own stands, you might also get a first-hand report on the concepts and process behind each piece on display.
The venue certainly seems to match the market's combination of longstanding tradition and modern flair. The MuseumsQuartier (MQ) plays a leading role in Vienna's contemporary art scene, but the event buildings themselves housed the court stables in centuries past.
2023 tickets and dates
The 2023 Pots und Blitz takes place from October 6th to 8th. Opening hours are:
Friday: 2pm to 7pm
Saturday: 10am to 7pm
Sunday: 10am to 6pm
Adult tickets at the door cost €6.
The same folk organise another design event a bit later in the year. The Weihnachtsquartier Christmas design fair brings together independent designers of all sorts of products and makes an intriguing location for gift shopping.
For more unique design, cross over from the venue to the Leopold Museum in the MuseumQuartier's main courtyard; the Vienna 1900 permanent display includes furniture and household items by the likes of Josef Hoffmann, Koloman Moser and the Wiener Werkstätte.
How to get to Pots und Blitz
Find your way to the MuseumsQuartier. As you face the main entrance from outside, go left and use the first entrance you come across. The event takes place in that outer tract.
(Walk on a little further to find the MQ Freiraum and MQ Salon spaces. With a bit of luck, you may find an exhibition inside, and this is normally free to see.)
Address: Arena 21, MuseumsQuartier, Museumsplatz 1, 1070 Vienna | Website