Molten lead, marzipan pigs, Freddie Frinton, the Pummerin, and Johann Strauss. Not the answer to an obscure Trivial Pursuit question, but just some of the traditions celebrated at a typical New Year in Vienna.
Let us begin…
Before midnight
Like just about everywhere in the world, friends and families gather together on New Year's Eve in Vienna (or Silvester, as it's known in German) to celebrate and think of all the resolutions they can break within the next week.
Pigs and more
These New Year's Eve gatherings typically involve the exchange of small symbolic gifts.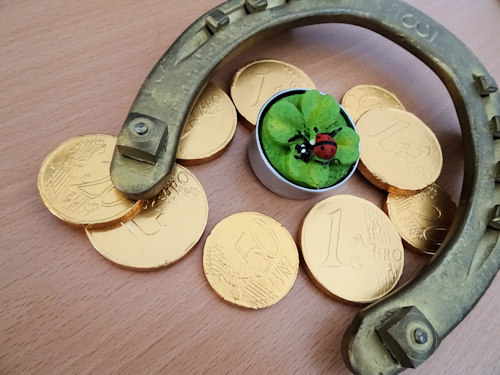 (Chocolate coins make a popular gift, along with symbols of good luck)
Lucky charms are a common choice, with motifs like:
Pigs. (Schwein gehabt – to "Have had pig" – is a German expression for having had a stroke of luck. Which is why you find pigs everywhere at New Year)
Fungi (particularly the fly agaric, Amanita muscaria: not a word I expected to have to know for an article on the Viennese New Year)
Clover (often gifted as a real plant in a small decorative pot)
Chimney sweeps, ladybird beetles, horseshoes, and others
In the days leading up to New Year, Vienna fills with stands selling these charms, mostly as cheap, mass-produced items or edible versions made of marzipan.
The same motifs appear at the New Year markets, albeit in more artistic guises.
Other common "lucky" gifts include fish-shaped sponge finger biscuits and instant lottery tickets you can open right away to discover if you've won a prize.
(Three lucky charms in one: four-leaved clover, a mushroom, and a chimney sweep who might have had a little too much sparkling wine)
Bleigießen (lead casting)
A common pastime at Silvester parties is to play with molten metal.
If this fails to strike you as an obvious year-end ritual, you're not alone: a bit of explanation might be required.
Traditionally, you hold a lump of lead over a candle on a specially-designed spoon and wait until the metal melts. Then you pour the molten mass quickly into a bowl of water, where the lead then hardens.
Which doesn't sound like a whole lot of fun.
Ah, but…the shape the lead takes in the water allegedly predicts your future, which is the whole point of the exercise. So, for example, a crown shape suggests financial success.
English even has a word for this form of divination: molybdomancy.
Ad:

As you might suspect, the metal tends not to form recognisable shapes in the water; you have to use your imagination. Helpfully, this also means you can conveniently see shapes that foresee a rosy future.
These days, the Bleigießen sets you buy for New Year don't actually contain lead at all. After all, it's poisonous and lead-based sets are illegal. People use tin or wax instead.
Don't try this at home without using a certified set, and be sure to follow the instructions and warnings.
Dinner for one
Many countries have a TV programme intimately associated with a holiday. Love Actually and Christmas in the UK springs to mind. In Austria, it's Dinner for One at New Year. And that's not a translation of the title.
Every New Year's Eve, the national broadcaster (ORF) plays the 1963 black and white English-language sketch, usually in the hour before midnight.
Freddie Frinton is butler James to May Warden's Miss Sophie, who is celebrating her 90th birthday with a dinner.
Since the traditional birthday guests have long since departed this world, James impersonates each so as not to disappoint his short-sighted employer. This involves consuming considerable amounts of alcohol, with the inevitable consequences.
All the dialogue is in English, though the sketch has a German introduction. A phrase from the show ("Same procedure as every year") has even entered the German vernacular.
Austria's not alone in this tradition, but one country where the sketch rarely appears on TV is…the UK. I grew up in England and had never heard of it until I moved to Vienna.
Midnight
So, after a few drinks and fun, midnight approaches, and all eyes (and ears) turn to…
The Pummerin
(The domed tower on the left of the photo houses the Pummerin bell)
The curiously-named Pummerin conducts the countdown to the New Year in Austria. That's not some strange position held by a wizened old timekeeper, but the huge 20-tonne bell located in the north tower of Stephansdom cathedral in the very centre of Vienna.
During the year, you can take a lift up the tower, get close to the bell, and enjoy the views of central Vienna and the cathedral's roof mosaic.
Towards midnight, the crowds gather in the square outside to hear the Pummerin ring, and TV and radio stations broadcast the sound across the country. Then the sky explodes…
Fireworks
(Expect a lot of this)
At midnight, the fireworks and crackers that have peppered the whole evening go off in earnest. Everywhere.
Vienna lights up as firework displays launch (most home/personal fireworks are forbidden it should be noted). It's raucous and colourful and continues for a good half an hour or more. The smoke and smell hang over the city for hours after.
We like to sit on our balcony and watch the displays across to the hills in the west. On a clear night, it's quite fabulous. Many shows also begin well before midnight.
At the same time, it gets remarkably loud. And not everyone is considerate about where they let off their bangers and rockets.
The Blue Danube Waltz
(The actual not-so-blue Danube)
Once the echoes of the Pummerin die away, TV and radio stations switch to Johann Strauss's Blue Danube waltz. Those not fiddling with a firework fuse then grab a partner and dance in the New Year.
After the waltz, all that remains to do is drink a glass of champagne or sparkling wine, nibble at your marzipan pig, and try not to think about all the clearing up.
Most of the above proved impossible in 2020 and 2021, thanks to COVID, but life and traditions returned largely to normal at the end of 2022.
P.S.
The next day (January 1st) has its own tradition, too, as it happens. The new year begins, as you might expect from a city possessing such a musical pedigree, with a classical concert. The world-famous Neujahrskonzert (New Year's Concert) starts around 11.15am with a live broadcast on TV.