So what were you doing aged twelve? Mozart was directing a mass in C Minor at Vienna's Waisenhauskirche. He wrote the piece, too, of course.
Nobody likes a show off, Wolfgang.
18th-century church in Vienna's 3rd district
Once affiliated with an orphanage, now a parish church
Mozart directed his music at the building's consecration in the presence of the Empress
See also:
A Mozart premiere
Waisenhaus is the German word for an orphanage. And Kirche is German for church. Which tells you what you need to know about the origins of the Waisenhauskirche. Built in 1768, it served the orphanage at the same site.
If you're going to consecrate a church, then you probably want to make it a special occasion. And so it was back on December 7th, 1768. Empress Maria Theresa attended a celebratory mass with the music written and directed by none other than a young Mozart.
A plaque outside the church commemorates the momentous day. It says (in German, so my translation):
The twelve year-old W.A.Mozart conducted his first celebratory mass in this house of God on the occasion of its consecration in the presence of Empress Maria Theresa on 7.12.1768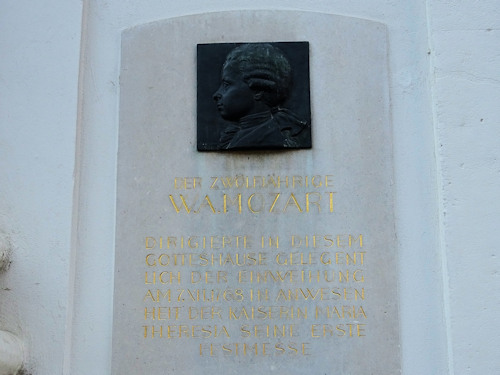 An 1819 newspaper later suggested Mozart provided the music for the mass, offertory and trumpet concert played at the celebratory event, but my knowledge of musical history is not deep enough to confirm the truth of that report. (Any my knowledge of old German might be letting me down, too.)
By the time Mozart wrote the Missa solemnis in C minor, also known as the Waisenhaus Mass, he'd already written several symphonies, of course, and was no stranger to public performances. Indeed, he first performed for the Empress at Schönbrunn Palace in 1762.
The orphanage soon found a quite different use. The orphans moved out at the end of the 18th century and the military moved in. The Waisenhauskirche eventually became today's Maria Geburt parish church.
I believe the tracts around the church are mostly school buildings, with a focus on mechatronics and IT. So, for example, the historical indoor riding arena built around 1854 is now a school sports hall. How times change.
How to get to the Waisenhauskirche
Tram/bus: the 71 tram from the city centre goes down Rennweg on its way out to the Central Cemetery (where there's a lovely memorial to Mozart). Get off at Oberzellergasse or St.Marx (also served by tram line 18). By coincidence, St. Marx is the stop you want if looking for Mozart's grave.
Subway: the U3 line goes out to Schlachthausgasse, where you can jump on the 18 tram. The S7 train from the city to the airport (and back) also stops at St.Marx.
Address: Rennweg 91, 1030 Vienna