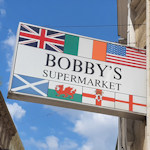 British or American visitors to Vienna who feel a little homesick can take refuge at Bobby's Foodstore, just a couple of minutes walk from Karlsplatz in the center of town.
Stocks Anglo-American basics, as well as imported sweets, chocolate, biscuits and drinks
Great at Christmas and Easter for seasonal fare
See also:
US and British groceries
Inside Bobby's, you'll find plenty of food and drink from the (mostly) Anglo-American world.
Chief among these products are a wide range of snacks, biscuits (cookies), sweets (candy), chocolate and crisps (potato chips), as well as a selection of beers, sodas and other liquid delights.
So if you're dying for a packet of prawn cocktail or salt and vinegar flavored crisps, here's one place to go (though, intriguingly, the latter now appear regularly in Austrian supermarkets, which I attribute to my pioneering promotional efforts on the flavour's behalf).
Bobby's also stocks basic foodstuffs with a British or American flavo(u)r, such as cereals, jams, and peanut butter. I will unashamedly admit to a continuing addiction to Branston pickle that has lasted over 25 years in Austria thanks to Bobby's excellent service.
And, at Christmas and Easter, seasonal fare makes an appearance, such as crackers, puddings, or Easter eggs. And those addictive Cadbury mini eggs.
Inevitably, prices reflect the scarcity of the products, but I'm guessing you won't find many of the items elsewhere in the city.
Let's hope Brexit doesn't make life difficult for importing goods from the UK in future. (There will be trouble if I can't get my Branston pickle.)
If you actually live in Vienna, check out the noticeboard near the entrance.
The pinned notices may help you find various English-speaking groups and activities, whether you're pining for the company of your fellow countryfolk or just looking for an English-language playgroup for the kids.
P.S. Let me also put in a word for the blueorange coffee and bagel store next door to Bobby's: especially good for vegan and vegetarian bagels and flat breads.
How to get to Bobby's
I usually walk up to Bobby's from Karlsplatz station, which is on the U1, U2, and U4 subway lines.
Alternatively, take the 1 or 62 tram to Paulanergasse or the 59A bus to Schleifmühlgasse. The 1 tram, for example, leaves from various stops on the west side of the Ring boulevard.
Address: Schleifmühlgasse 8, 1040 Vienna | Website