Art, history and economic theory collide in this photo exhibition and broader installation by Alfredo Jaar at the MAK museum. Discover the surprising wonders of early 20th-century social housing in Vienna.
Custom installation featuring a long series of photos
Explores Vienna's famous municipal housing projects built 1919-1934
Runs Jun 9 – Sept 5, 2021
All info in English and German
See also:
Red Vienna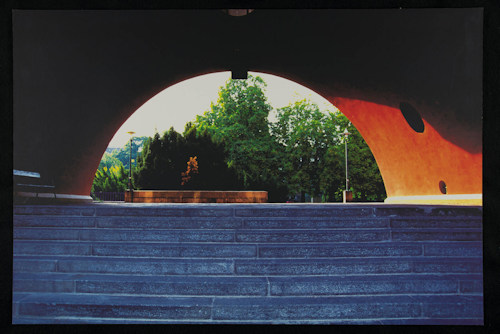 (Alfredo Jaar Untitled (1988–2004); Photo series on Red Vienna; © Alfredo Jaar)
Vienna enjoys global fame for various aspects of the city's history and culture. Mozart, for example. Or Sachertorte. Or Gustav Klimt's The Kiss painting. Or social housing projects from the early 20th century.
That last one might surprise you, but the years between WWI and the 1934 fascist uprising saw Vienna's socialist government create a municipal housing programme that still serves as a model for exemplary urban development today. The period became known as Rotes Wien (Red Vienna).
To cut a long story short, the authorities levied a special housing tax and used these and other funds to build apartment complexes throughout the entire city.
These projects offered the post-WWI crisis-hit population decent accommodation for a reasonable rent (and without fear of exploitation by greedy landlords).
Above and beyond that, the aim was also to provide housing with green spaces and other communal resources such as an on-site Kindergarten or bathing facilities.
Throw in a bit of architectural innovation and you end up with numerous remarkable building complexes that built a foundation for the high quality of living that Vienna still enjoys today.
Alfredo Jaar's photos
The era and housing programme have long interested the New York-based artist, architect and filmmaker Alfredo Jaar and form the subject of an exhibition featuring a series of his photographs.
Jaar captured his impressions of Red Vienna on camera across over 15 years of visits; in the exhibition, you see some of the more iconic building imagery associated with the period.
Jaar also created the custom spatial installation into which the photos are integrated. For example: bright red neon tubes that spell out the words RED VIENNA on closer examination.
The works serve as both documentation and art.
Documentation in the sense of capturing the physical reality, and also highlighting the potential lessons of an implemented quasi-utopian and communal view of urban development for today's more capitalist and individualist society.
Art in the sense of Jaar's interpretation of buildings through the camera, and his use of intensified colour saturation to produce a fresh take on these long-established motifs of urban photography.
The almost complete absence of people seems to give the images (paradoxically) both a historical and almost post-apocalyptical feel. This, in turn, seems to accentuate the distance between the past and the capitalist present.
Having said that, Red Vienna still remains a colloquialism for the city today, given the left-wing social democrats have held the position of mayor since the end of WWII.
Vienna continues to support and build social housing in the spirit of those early 20th-century pioneers: quality living spaces for an affordable rent. Currently, well over half the Viennese population lives in city-owned housing or housing run by communal organisations (such as housing cooperatives).
Dates, tickets & tips
Enjoy the photos of Red Vienna from June 9th to September 5th, 2021 with any entrance ticket to the MAK museum or a suitable city visitor pass.
Vienna has a few other photo exhibitions running across much of summer 2021. For example:
How to get to Red Vienna
See the main MAK museum article for travel tips. Once inside, go upstairs to the Vienna 1900 section to find Jaar's photos.
Address: Stubenring 5, 1010 Vienna
P.S. The 1930 Karl Marx Hof probably counts as Vienna's most famous social housing project. If you want to get a look in real life, take the U4 subway line out to Heiligenstadt and the complex is opposite the main entrance to the station at Heiligenstädter Str. 82-92 in the 19th district.