With two names like that in the exhibition title, need you know more? The Albertina Modern takes a look at highlights of printmaking post-1945 with a host of prestigious works and names.
Around 100 pieces of art
Draws on the superb in-house collection
Runs Feb 24 to Aug 15, 2023
Book Albertina Modern tickets* online
See also:
Revolutionary times
(Roy Lichtenstein, La Sortie, 1990; woodcut; press photo courtesy of the ALBERTINA, Vienna)
Back in the days of the Habsburgs, graphic prints meant simple small woodcuts, etchings, engravings, and similar. In modern times, the technology available to artists invites more innovation, thanks to screen printing techniques, synthetic colour inks and the ability to create monumental large format prints.
We might almost speak of a revolution in printmaking, which is the subtitle of the Albertina Modern's Andy Warhol to Damien Hirst exhibition. It focuses on post-WWII printed graphics.
The exhibition is one of a pair where the wider Albertina institution celebrates the 20th anniversary of its reopening, featuring highlights from its immense and prestigious collection of prints.
So what can you expect?
Consider it a stroll through works and artists that represent key styles or astonishing examples of the printmaking world from the end of WWII to current times.
This remit includes art exploiting the possibilities of modern printmaking techniques, but also works that add a contemporary touch to the same methods that Albrecht Dürer might have used.
So we have examples of screen print series, such as Warhol's 1968 Campbell Soup collection or his 1972 Mao Zedong works.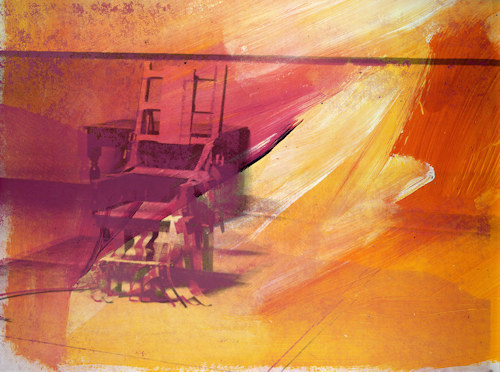 (Andy Warhol, Electric Chair, 1971; screen print; Spende der Gesellschaft der Freunde der bildenden Künste; press photo courtesy of the ALBERTINA, Vienna)
But we also have applications of the lowly woodcut, albeit in dazzling form. As seen, for example, in Franz Gertsch's monumental pointillistic woodcut Silvia from 2011/2002. Or in Jim Dine's colour-filled Asleep with his Tools, Jim Dreams woodcut from 2018 (which feels a long way from Albrecht Dürer's world).
The work that most captured my attention was Michaela Konrad's 2018 offset lithograph series. Can this be tomorrow? has comic book covers in the style of the 1930s-1950s, but addressing contemporary themes like genetic manipulation, social media, or modern mechanical warfare.
In total, enjoy some 100 pieces of art from both international and local names. The titular Warhol and Hirst, of course, but also the likes of Roy Lichtenstein, Kiki Smith, Alex Katz, Anselm Kiefer, Georg Baselitz and others.
Oh, and Robert Rauschenberg, who turned his reading difficulties into an artistic advantage:
…when I write I know what I'm writing, but when I'm reading I can't see it, because it goes from all sides of the page at once. But that's very good for printmaking
Dates, tickets & tips
Enjoy the printmaking revolution from February 24th to August 15th, 2023. A ticket from or for the Albertina Modern includes the special exhibitions within (the institution has no permanent exhibition).
Complete the chronological journey through printmaking over at the main Albertina site with the Dürer, Munch, Miró exhibition. This covers prints from the very early days (when all you needed was wood, chisel, ink and genius) and runs provisionally until May 14th, 2023.
If the works by Georg Baselitz intrigue, Vienna has a couple of further options for you:
The Albertina has an exhibition of the artist's drawings (provisionally until September 17th, 2023)
Same applies to Alex Katz…currently with a solo exhibition at the Albertina until May 29th, 2023.
How to get there
Follow the tips at the end of the main Albertina Modern page. The site is relatively central and extremely close to the Karlsplatz subway and tram hub, for example.
Address: Karlsplatz 5, 1010 Vienna