Vienna has a habit of producing multifaceted artists active in a variety of fields. One such artist is Arik Brauer, who turned 90 in 2019. A major exhibition at the Jewish Museum honours the occasion.
Mix of biographical, historical and art exhibition
Features exhibits from across his creative spectrum: from singing to sculptures
Highly recommended: his is a life well lived…
Runs Apr 3 – Oct 20, 2019
See also:
What's it all about?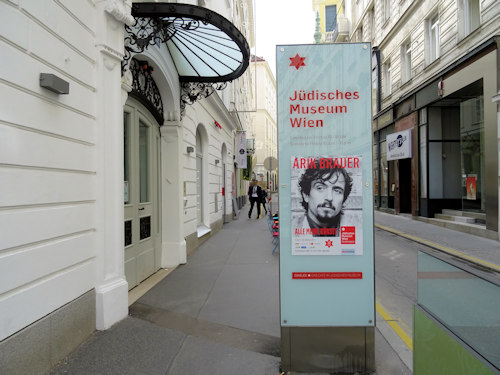 Some people seem able to achieve success wherever they turn their hand.
Take Arik Brauer, for example. He's known for his delightful answer to the question of how he came to become an artist: "I have always been a painter" (my translation). Painting, though, is just one of his many talents.
Brauer co-founded the Vienna School of Fantastic Realism but also received a lifetime achievement award for his singing career. He's danced in France, created sets for opera houses in Paris and Vienna, written a children's book, designed buildings (including the famous Arik-Brauer-Haus on Vienna's Gumpendorfer Straße), and put a man on the moon (possibly).
The Jewish Museum's Arik Brauer exhibition pays tribute to this Vienna-born creative genius, who reached the grand old age of 90 in 2019.
It's part-exhibition, part-documentary.
The earlier parts progress chronologically, beginning with his childhood and family history before moving on through his time as a student, his travels, and time spent living in Paris and Israel.
The later parts address particular themes, such as architecture, music, Brauer's love of nature, or set and costume design.
Photos, posters, instruments, furniture, and other items document his life and interests, while sculptures, paintings, costumes, and other works illustrate his artistic endeavours. The exhibition ties the two together rather nicely, showing how that life and those interests influenced (and influence) his art.
Selected exhibition highlights
(Figur – Fisch Spinnerin Vogel © Privatbesitz Arik Brauer
Photo by Sebastian Gansrigler)
Among the highlights for me:
Family photos, letters, and official documents put a human face to the horror and chilling efficiency of Nazi oppression
Brauer stayed in Vienna during WWII as a child, avoiding the concentration camps by, for example hiding out in the city. His father, who initially fled to Latvia, and many others around Brauer, were not so fortunate.
Childhood drawings from when Brauer was aged 10-12, where his talent already shone though in, for example, a little drawing of a black dog
Brauer's passport and attempts to cover over the large J within that identified him as a Jew
An absolutely stunning collection of paintings of biblical characters and Israeli landscapes. The colours seem to shine with their own light
A letter to Brauer from Friedensreich Hundertwasser in the latter's inimitable style and a work of art in its own right
The mournful yet loving painting of "My father in winter"
An excerpt from the French film Les Distractions where Brauer and his wife appear as a musical duo in the background.
I include that latter highlight simply because it seems a perfect illustration of a life well-travelled. After viewing the exhibition, the overall impression is also of a life well-lived.
The displays left me nodding in appreciation of Arik Brauer's talents, but also his ability to move past a childhood marred by war and the Holocaust to create such a life-affirming diversity of art in all its many facets. May he live another 90 years.
Dates and tickets
The Arik Brauer exhibition runs from Wednesday, April 3 to Sunday, October 20, 2019 in the Dorotheergasse location of the Jewish Museum.
The museum's main special exhibition space hosts the Brauer exhibits, so a normal ticket to the museum gets you in (or use a Vienna Pass – see my review).
How to get to the exhibition
See the tips on the Jewish Museum page.
Address: Dorotheergasse 11, 1010 Vienna