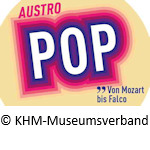 If you had to guess, you'd imagine Austropop referred to Austrian pop music. And it does. But that simple word hides a treasure chest of sociocultural meanings and history.
Exhibition at the Theatermuseum
Highlights facets of a concept that has changed through time

Features the likes of Mozart and Falco through to contemporary acts

More for locals, but gives you visual insight into Austrian culture away from tourism brochures
Runs Oct 12, 2022 to Sept 4, 2023
See also:
From Mozart to Falco
(Helden von Heute – Amadeus First Look (9/1984); Hans Hölzel alias Falco als Amadeus © First Look / picturedesk.com)
At face value, Austropop simply refers to popular (pop) music from Austria. But the expression hides a multitude of nuances.
The term established itself in the late 1960s and 1970s, initially in association with the rise of performers singing in Austrian dialects. But it also carried an aura of critical social commentary.
As such, Austropop attracted sociopolitical wordsmiths and artists to its banner. It also recalibrated musical culture after the more soothing and understandably bland period that followed the horrors of WWII and Nazism.
However, the concept gradually became more amorphous, and people often now use it to simply describe homegrown pop, but also Austrian rock and independent music. (Not always with the approval of those musicians they refer to.)
This modern use for Austropop does a disservice to the expression, given its iconoclastic beginnings and the long and vibrant cultural tradition that preceded it.
After all, the use of music as a medium for gaining attention and popularity but also for expressing discontent or political criticism draws on a long history in Vienna and Austria.
For example, some of the popular giants of music and theatre in the past (like Mozart and Nestroy) used their work to thumb their noses at authority.
Popular Austrian music and its associated imagery have, obviously, also shaped the country's self image and influenced international perceptions; think of Johann Strauss's foreign concert tours, global chart successes for Falco (Rock me Amadeus), or the ongoing influence of the New Year's concert.
Not to mention the Sound of Music, which is simply not a thing here in Austria and has at least some visitors imagining the country is largely populated by anti-fascist folk singers.
(Johann Strauß und sein Orchester am Hofball; Beilage aus der Zeitschrift Moderne Kunst; Farbholzstich nach Zeichnung von Theodor Zasche, um 1900; Theatermuseum © KHM-Museumsverband)
The Theatermuseum's Austropop exhibition highlights these nuances and themes, and so presents the term in its widest sense.
Much of the presentation is visual, with posters, instruments, programmes, record covers and similar. Expect to see locals indulging in nostalgic murmurs of appreciation.
Each section, though, has some summary wall text available in English, and the visual impact does give you a peek at Austrian popular culture beyond the Habsburgs and pork schnitzel.
Each of the seven rooms has a theme.
So, for example, international posters and programme covers reveal how Austrian operettas like The White Horse Inn or modern-day musicals have reached new audiences around the world.
We discover some compositions that have become anchored in the Austrian collective memory and associated with, for example, sporting successes.
We see merchandise, guitars, stage clothing, and awards from the likes of Falco and current day Austropop practitioners.
And, in another nod to the tension within the term, we learn of the hugely popular Ö3 pop music radio station and its not-always-easy relationship with the local music scene.
Dates, tickets, and tips
Wander and hum your way through the Austropop exhibition from October 12th, 2022 to September 4th, 2023. A ticket for the Theatermuseum includes access to the exhibition.
The Theatermuseum lives close to a couple of other institutions that deal with popular performers of the present and past.
For example, walk south past the Albertina museum to find the Wiener Staatsoper, where the world's top opera singers perform. Or continue on to eventually reach the Musikverein, perhaps Europe's leading classical concert venue.
Alternatively, walk a few blocks east to find the Haus der Musik, which includes rooms dedicated to major composers in Vienna's history, like Strauss and Mozart. For 21st-century Austropop, check local event listings and particularly the Stadthalle venue for the big gigs.
How to get there
Follow the tips on the main Theatermuseum article.
Address: Lobkowitzplatz 2, 1010 Vienna