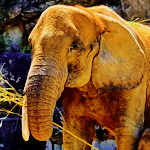 Pop into Upper Belvedere for medieval altar panels, 18th-century marbled palace halls, Biedermeier portraits, the best of Klimt…and a yellow elephant in repose.
Aldo Rossi's Sleeping Elephant is the latest addition to the Carlone Contemporary series
Single installation juxtaposed with Baroque surrounds
Curated by Stella Rollig, assisted by Johanna Hofer
Runs Feb 17 – Aug 28, 2022
See also:
A Sleeping Elephant?
(Aldo Rossi's Sleeping Elephant © Lena Henke / Layr Gallery, Vienna)
Ask about elephants in Vienna and people will point you to Schönbrunn Tiergarten: the world's oldest working zoo provides a home for Tonga, Tembo, Mongu, and other African elephants.
In 2022, though, they might also invite you to step into the early 18th-century surrounds of Upper Belvedere palace, specifically the Carlone Hall resplendent in its mythology-inspired and illusionist frescoes.
Once home to medieval masterpieces, the hall now hosts the Carlone Contemporary exhibitions that juxtapose a modern installation with the striking Baroque décor. The effect is often startling and unique.
Lena Henke's Aldo Rossi's Sleeping Elephant, recently given to Belvedere by a private art collector, makes the perfect addition to the series. The artist herself has said:
I'm inspired by spaces that reflect the influence of their surroundings: local history, architecture and socio-economic conditions.
The ambiguity of the impression created by the large yellow work means we may see a mammal or metaphor in sweet or rigid repose but also a set of arches, thus creating a thread to the motifs in the historical surrounds.
On encountering the piece, it seems both out of place and yet also perfectly integrated.
The work's title draws a line to the Italian architect and designer, Aldo Rossi (1931-1997), winner of the 1990 Pritzker Architecture Prize. Rossi saw urban planning as a permanent process where architecture of the past segues into new roles. Another apt reference given the venue.
Tickets and dates
Enjoy the sleeping elephant from February 17th to August 28th, 2022. A ticket for Upper Belvedere includes all installations and exhibitions inside the palace.
For another juxtaposition of historical and contemporary, seek out Upper Belvedere's Face to Face exhibition. Marc Quinn places his remarkable Emotional Detox series of sculptures in dialogue with Messerschmidt's astonishing Baroque character heads. That runs for much of the same time as the Henke installation.
How to get to the installation
The Carlone Hall hosting Henke's work is on the ground floor of Upper Belvedere palace and the first room off to the right as you stand in the entrance. See these directions for travel tips.
Address: Prinz Eugen-Straße 27, 1030 Vienna