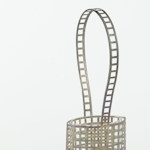 Some people have a lasting influence on a branch of art and design. Some enjoy exalted status in several creative areas. And some are Josef Hoffmann: architect, teacher and multifaceted designer. A Hoffmann retrospective at the MAK pays tribute to the work and impact of this Austrian genius.
A detailed journey across the life and output of this pioneer
Demonstrates how his reach goes far beyond his iconic work within the Viennese Modernism movement
Includes Hoffmann designs never seen in public
Features over 800 exhibits
Runs Dec 14, 2021 – Jun 19, 2022
See also:
Progress through beauty
(Portrait of Josef Hoffmann, Vienna, after 1945; photograph: Yoichi R. Okamoto © MAK)
All good things come to those that wait. What should have been a glorious celebration of Josef Hoffmann's 150th birthday in 2020 (no doubt with remarkably well-designed holders for all the candles) arrives in the MAK museum a year later after COVID-induced delays.
Dip your toes into turn-of-the-century Vienna, and the name Hoffman pops up everywhere as a pioneer and key protagonist of, for example, the Secession and the Wiener Moderne, not to mention co-founder of the Wiener Werkstätte.
This still undersells, however, Hoffmann's wider impact and reach as a visionary architect, interior designer, teacher, fashion designer, protagonist of a modern design culture and lifestyle, and creator of day-to-day objects of practicality and beauty.
By offering a full retrospective, curators Matthias Boeckl, Christian Witt-Dörring, and Rainald Franz reveal the underexplored aspects of Hoffmann's output and do true justice to a career that dates from the late 1800s through to the mid-20th century.
The results show us that Hoffmann's influence covers a wider period of time across a larger part of the world than the inevitable focus on Vienna around 1900 suggests.
As such, the Hoffmann exhibition takes us on a timeline that begins in 1870 in today's Czechia and finishes with his death in Vienna in 1956 (he has an honorary grave in Vienna's Zentralfriedhof).
(Josef Hoffmann, Silver flatware for Fritz and Lili Waerndorfer, flat model, silver, Wiener Werkstätte, 1904–1908
© Aslan Kudrnofsky/MAK)
The curators introduce us to projects, texts and designs that have slipped past largely unnoticed by history. And we can admire items never before seen in public. For example:
Furnishings Hoffman designed for Sonja Knips, one of the great sponsors of the Wiener Moderne whose portrait by Gustav Klimt hangs at Upper Belvedere
Hoffman designs from the Nazi era in Austria (you'll find more in the Vienna Falls in Line exhibition at the Wien Museum MUSA)
Designs from the archives of such famous companies as porcelain manufacturers Augarten, textile manufacturers J. Backhausen & Söhne and glassware manufacturers J. & L. Lobmeyr (Hoffmann's designs for Lobmeyr will also feature in a 2023 exhibition)
Hoffmann's monumental achievements still receive due attention, of course, including such milestone architecture as the Purkersdorf Sanitorium (built 1904/5) or the famous Stoclet House in Brussels (built 1905-1911).
The Stoclet project, a Gesamtkunstwerk erected under Hoffmann's auspices, is now a World Heritage site. UNESCO describes it as a "…veritable icon of the birth of modernism".
The same might be said about Hoffmann. But as the exhibition so aptly demonstrates, that would be underestimating his wider achievements and legacy.
Tickets and dates
Admire the breadth and depth of Hoffmann's creativity between December 14th, 2021 and June 19th, 2022.
A ticket for the MAK gets you into the Hoffmann exhibition, too, or use a suitable sightseeing pass for one-time entry to the museum.
Don't forget to pop into the permanent exhibitions, too, since they include the Wien 1900 section full of works by Hoffmann and contemporaries. That section also has the Showroom Wiener Werkstätte currently featuring an exhibition designed by Michael Anastassiades.
How to get to the Hoffmann exhibition
Find your way to the MAK museum (scroll down that page) along the great Ring boulevard that circles the centre like a late 19th-century Jörmungandr (if Jörmungandr was a fan of fine architecture, trams, and sausage stalls).
Address: Stubenring 5, 1010 Vienna