Nearly every significant building of interest in Vienna is lit from the outside by spotlights to create an impressive nocturnal view. With one notable exception.
Thanks to the MAKlite installation, the MAK museum is lit impressively…from the inside.
Ever-changing colour display in the windows of the museum
Created by US artist, James Turrell
Best seen (surprise!) when the sun goes down
See also:
Light. Space. Colour.
(The MAK in dark orange)
Vienna is a city of white and yellow light. The colours dominate the Christmas displays and, at night, illuminate numerous historical wonders.
But walk along the Stubenring part of the giant Ring boulevard after dusk and one building stands out as a little different.
Unusually, the windows of the MAK (an excellent applied and contemporary arts museum) shine brightly in pale green. Or perhaps blue. Or red. Or orange.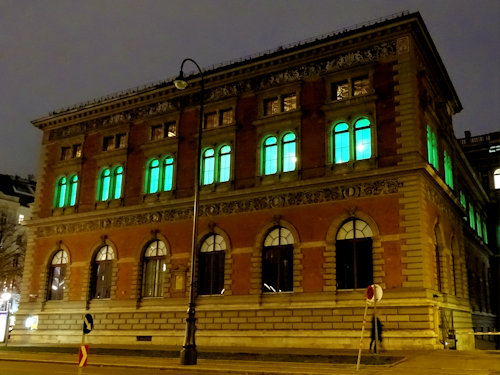 (The MAK in green)
The light display is the work of LA-born James Turrell, a 2013 recipient of a National Medal of Arts.
Turrell's MAKlite installation first saw the light of day (see what I did there?) in 2004. The genesis of the concept dates back to the MAK's 1998 The Other Horizon exhibition, which was dedicated to this world-renowned Light and Space artist.
The installation reopened in November 2018 after extensive modernisation.
The LED technology that provides such intensive, uniform light from within the building stems from Targetti, an Italian architectural light company whose work brightens such places as the Uffizi gallery and Vienna's State Opera House.
Ad:

Turrell's work with light spans the globe, with installations across the USA, Europe and as far afield as Japan, Mexico, Israel, and China. Learn more about his work here.
(The MAK has another permanent Turrell installation at its Geymüllerschlössel site on Vienna's outskirts.)
How to get to MAKlite
The MAK museum is along the central Ring boulevard and at one end of the Stadtpark city park.
There's a subway station opposite (Stubentor on the U3 line), and you can reach the same stop using the 2 tram line and bus lines 3A and 74A.
Address: Stubenring 5, 1010 Vienna