The Bank Austria Kunstforum Wien normally features two major exhibitions a year with a focus on significant global names in modern and contemporary art.
The below covers the feature exhibitions of recent years with links to my reviews. (The Kunstforum also has small events accompanying the big ones, but I don't report on those.)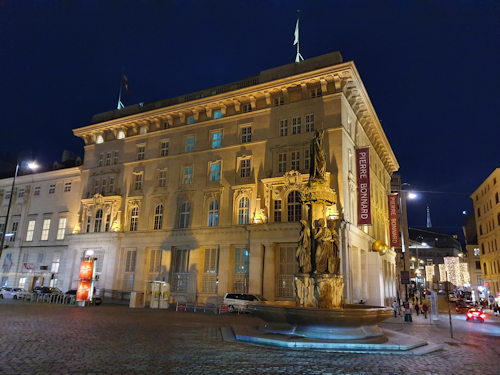 (The building on the Freyung square)
Kiki Kogelnik (2023)
Not many modern and contemporary Austrian artists achieve global acclaim, but Kiki Kogelnik is one of them.
The Kogelnik exhibition covered much of her creative output with a notable focus on her early New York works (she moved there in the 1960s), which remain remarkably relevant in terms of the socioeconomic issues they address.
Helmut Newton (2022-2023)
A name synonymous with black and white photography. The Newton exhibition formed a full retrospective that took us through several decades of his work.
The displays inevitably focused on portraits, nudes and fashion. The selection provided ample opportunity to reflect on the quality, impact and sociopolitics of Newton's contributions to photographic art.
David Hockney (2022)
An extensive cooperation with the UK's Tate allowed a detailed journey through Hockney's creative journey and output right up to more recent digital art.
The Hockney exhibition included such gems as My Parents and his gamechanging swimming pool paintings from Los Angeles.
Rebecca Horn (2021-2022)
If an artist might be described as multi-talented, then surely it is Rebecca Horn. A creator across media, genres, and forms of cultural consumption.
The Horn exhibition reflected both the diversity of her work and its commonality in terms of, for example, themes or influences.
Daniel Spoerri (2021)
Unusually, a comprehensive retrospective for an international star who also happens to be a long-time Vienna resident.
His defining tableau pièges formed the core of the Daniel Spoerri exhibition, but his sculptures and other works also featured.
Gerhard Richter (2020-2021)
The artist himself helped organise the Gerhard Richter exhibition, which threw a comprehensive light on his landscapes.
Treats on display reflected Richter's wide use of different approaches, including realistic paintings, overpaintings, purely abstract works, and photos.
Cindy Sherman (2020)
The common thread through The Cindy Sherman Effect was identity, a topic that still meets the Zeitgeist as the times and technology melt borders and blur the edges of existence.
Sherman's photos stood in dialogue with works by numerous contemporary artists.