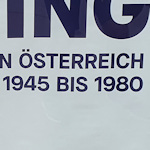 Everyone remembers their first time. And for the brand new Albertina Modern museum, the first time is the aptly-named exhibition, The Beginning.
An overview of Austrian art at the edge of postmodernism
Includes such giants as Maria Lassnig, Arnulf Rainer and Hundertwasser
Wide diversity of works in different media and from different genres
Dates: May 27 – Nov 8, 2020
See also:
Art in Austria, 1945 to 1980
(Christian Ludwig Attersee – Gateau With Food Spheres and Food Blue, 1967 – Acrylic on canvas – The ALBERTINA Museum, Vienna – The ESSL Collection – Bildrecht, Vienna, 2020)
If you're going to open a brand new museum of modern and contemporary art in Vienna, then it seems only fair to do so with an exhibition of Austrian art that bridges those two themes.
The Albertina Modern's The Beginning exhibition presents a who's who of local art from a period of around 35 years after the cataclysmic events of World War II.
This is not just a first for the museum, but the first exhibition of this kind to bring together so many names; around 100 artists feature…from Marc Adrian to Ernst Zdrahal.
It pays, of course, to go on an exploratory journey through any country's artistic endeavours. But an exhibition of Austrian art also includes names of importance well beyond the country's borders, such as:
Friedensreich Hundertwasser, known particularly for his paintings and architecture and the subject of an entire museum in Vienna's third district
Maria Lassnig, recipient of a recent retrospective at the main Albertina site and noted for her body-awareness approach to painting
Arnulf Rainer, also blessed with a recent exhibition at the same institution that featured, for example, his overpaintings
Ad:

Those three names only scratch the surface of the diversity of artists that welcome us to the new museum. What unites them is their challenge to the status quo, perhaps by rejecting reactionism, questioning the culture of non-complicity prevalent in Austria following the end of Nazi rule, or simply tweaking the nose of conventional taste, hierarchies or lines of authority.
The 360 or so works of art produced in this context range across media and genres. From socially-critical realism to the local iteration of pop art and feminist avant garde. From paintings and photographs to sculptures and videos.
Consider it a tapas menu of Austrian art that compresses artistic achievement and revolution into a single opening event.
Dates and tickets
Your introduction to modern Austrian art begins on May 27th, 2020 and ends on November 8th, 2020. Tickets to the museum cost €12 on the door for an adult (or get a combination ticket with the main Albertina museum).
How to get to the exhibition
See the main Albertina Modern article for travel tips. Essentially, you head for Karlsplatz station and tram stops. Karlsplatz is like the queen's nest in an ant hive – connected to everywhere.
Address: Karlsplatz 5, 1010 Vienna