All the world's a stage, And all the men and women merely players; They have their exits and their entrances
So wrote Shakespeare. The entrance to Vienna's Theatermuseum is on Lobkowitzplatz. Inside has a few surprises…
Located within a Baroque palace
Mainly exhibitions with a couple of permanent displays
Includes a special treat for fans of Beethoven and Klimt
Selected current & future exhibitions:
See also:
A museum of theatre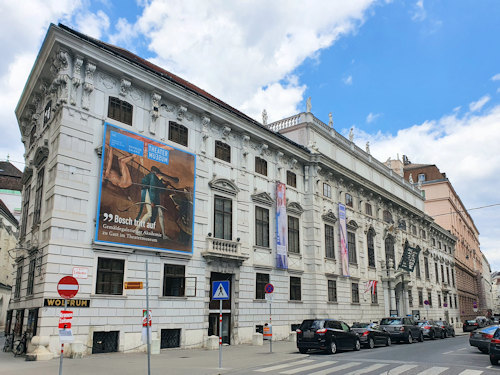 (The long front of the palais building)
If you're going to open a theatre museum, then you need a suitable stage. Vienna's Theatermuseum occupies Palais Lobkowitz, built in the late 1600s and former home to one of Beethoven's chief sponsors.
The main attractions within depend on the current exhibition(s): the museum offers one or two small permanent displays and an ever-changing repertoire of temporary exhibitions that draw on the extensive collections within the museum archives.
Among the permanent highlights:
A small exhibition around the masterful Nuda Veritas painting by Gustav Klimt, produced for an 1899 exhibition and purchased the following year by a strong supporter of the Vienna modernism movement (Hermann Bahr). Bahr's estate bequeathed the painting to the museum
The Teschnerraum with its collection of marionettes, many of which are works of art in their own right
A small display of model stages, including a full model of the stage from the historical Hofburgtheater
(The old Hoftheater; photo courtesy of the Rijksmuseum)
They tore down the Hofburgtheater to complete the Michaelerplatz end of the Hofburg palace complex. You can see the old building on the right side of the photo above (taken at the end of the 19th century).
Look close to spot a stone eagle, wings outspread, up on the roof. The Theatermuseum has that very sculpted bird on display, too.
By the way…they replaced the Hofburgtheater with the Burgtheater, which you can tour. (And, like the Theatermuseum, it has its own unexpected Klimt surprise inside.)
The museum's first floor has a particular jewel to offer up that you might not expect in an institution covering the theatrical arts: the Eroica Saal, where Beethoven's third symphony premiered. More on that here.
Tickets & visitor tips
(Booking service provided by Tiqets.com*, who I am an affiliate of)
Just opposite the ground-floor ticket counter is a small shop selling postcards, magnets, books etc. And the museum has a cloakroom and coin-operated lockers.
Once you're done in the palais, walk across the road for your next major site of interest: the Albertina staterooms and art museum.
How to get to the Theatermuseum
Put the Theatermuseum on a long list of Viennese sites located right in the centre of town. The tourist information centre is practically a neighbour, for example.
Subway: Stephansplatz (U1 and U3) and Karlsplatz (U1, U2 and U4) stations will get you close.
Tram/bus: the 2A bus that drives around the town centre stops close by (get off at Albertinaplatz or Plankengasse). The nearest tram stop is Oper/Karlsplatz, with stops for the 1, 2, D, 62, and 71 trams.
Address: Lobkowitzplatz 2, 1010 Vienna | Website