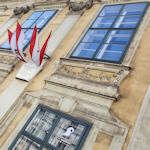 A folk museum in the middle of urban Vienna feels incongruous. But not the Volkskundemuseum, which addresses contemporary issues through rural culture and seeks to help us negotiate an ever-changing world without falling into reactionary ways.
Folk and ethnographic museum with a dynamic touch
Exhibits feature folk art and culture from rural Austria
Strong emphasis on the contemporary context, though
Check out the café!
Location closes for renovation from autumn 2024
See also:
Museum of Folk Life & Folk Art
(At home in the Schönborn Gartenpalais)
One of my least favourite kinds of museum is the one displaying fifteen different types of wooden garden hoe from the 19th century (apologies to those who enjoy the history of rural technology).
So I entered the Volkskundemuseum, self styled as Austria's Museum of Folk Life and Folk Art, with some trepidation.
Ah, once again life slaps me about the face and reminds me to leave pretensions and assumptions at home.
Yes, we have plenty of rural folk art and historical items to view (possibly even a hoe or two), but all presented in a contemporary context that invites contemplation and exploration.
We discover how Austrian folk art, culture, and customs reflect places, prevailing conditions and perceptions. And change is the only constant, even when it comes to apparently immutable traditions.
The displays prompt you to connect folk history with issues still relevant today, most notably those concerning migration and refugees.
For example:
Scarcity of resources in the past demanded you put all and any materials at hand to good use, as demonstrated by a historical raincoat made of grass or a woven reed rucksack. A need and approach familiar to today's refugees .
The architectural form of the traditional Vierkanthof farmhouse carries echoes of Arabic house layouts.
The message: we are not so different after all.
(View through from outside the entrance to the garden courtyard)
So, in a remarkable sleight of hand, innocent collections of rural closets, toys and paintings actively promote cross-cultural understanding and raise awareness of our own biases. (As long as you're prepared to go in with an open mind.)
As for the actual exhibits, expect an eclectic mixture of (rural) household and working items, folk art and knickknacks, and similar.
Walk through a rural parlour from around 1700 or view decorated closets from the 18th century (and wonder what story each scratch and hole might tell).
The decorative aspects of work tools also remind us how utility has trumped beauty in much of today's world. One room includes decorated wooden scabbards for scythes, for example. Those with little material wealth still valued beauty more than many of those who have plenty today.
Not that the items bring forth a yearning to return to days of yore. But perhaps we might pick out a few traditional values to take with us, like less waste and more art.
Most of all, the displays remind us that we can value tradition and culture without rejecting change and diversity.
My favourite exhibit in the Volkskundemuseum, though, is perhaps the large and notably "unrural" map of the Austrian Empire from 1855. Look for Vienna, where today's outer districts (like Hernals) are marked as distinct settlements beyond the city.
The map brings home just how large the empire was. Venice, Milan, Prague, Dubrovnik, Kraków…all located within the imperial borders.
Tickets & visitor tips
A standard adult ticket cost €8 at the time of writing.
Rooms have a written English guide you can use for translations of item labels, but all the most recent wall and display text is bilingual.
Note that the museum closes for a multi-million Euros renovation from sometime in autumn 2024 until an expected reopening around the middle of 2027.
The Palais & Café
(View of Count Schönborn's summer palais on Laudongasse, published in 1737 by Johann Andreas d. Ä. Pfeffel using a drawing by Salomon Kleiner and copper engraving by Johann August Corvinus; Wien Museum Inv.-Nr. 105765/130; excerpt reproduced with permission under the terms of the CC0 licence)
The Volkskundemuseum occupies the Schönborn Gartenpalais, constructed in the early 18th century to a design by Johann von Hildebrandt (the architect behind, for example, the Belvedere palaces).
One reason for that major renovation programme is that the palais has started to show its age.
You don't see much of the original interior in the museum rooms, though the staircase offers an inkling of past glories.
Be sure, though, to go through to the small garden for more views of the exterior. Summer sees the open-air dotdotdot film festival take over part of the outside.
The museum café (Café Hildebrandt) has become a breakfast hotspot and is particularly lovely in the warmer seasons, with the tables outside in the palais garden. We went to the museum on a June Sunday and had no chance of getting a table, so consider a reservation.
Weltmuseum
(The Neue Burg wing of the Hofburg palace complex hosts the Weltmuseum)
Vienna has another ethnographic museum that presents cultural collections from around the world and explores related issues: the Weltmuseum Wien. Look out for excellent special exhibitions there, too.
How to get to the Volkskundemuseum
If you fancy a walk, the palais is about 12+ minutes from the Rathaus city hall, a route that takes you through historical back streets.
Tram: take the 5 or 33 tram or the 13A bus to the Laudongasse stop. Or the 43 or 44 tram to the Lange Gasse stop and walk across.
Address: Laudongasse 15-19, 1080 Vienna | Website