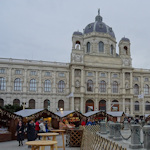 The Silvesterdorf is a large New Year market, spreading across a beautiful square and enticing visitors with a post-Christmas bonanza of food, arts, crafts, and…pigs.
Strong on quality wares and a variety of food stalls
Last time out, had special punch mugs covered in New Year motifs
Next dates: Dec 27 – Dec 31, 2023
Preceded by a Christmas market at the same location
Book a concert experience* for New Year
See also:
The New Year market
(The market in a previous year)
Silvesterdorf translates literally as "New Year's Eve Village", and the market sits between two of the prestigious buildings that popped up during the great period of urban (re)construction that marked the second half of the 19th century in Vienna.
Perhaps it's coincidence but, when I last visited, the stalls nearest the Naturhistorisches Museum (natural history museum) sold food and drink, while those nearest the Kunsthistorisches Museum (art history museum) sold creative handicrafts and similar. A deserved flourish of the hat to the planners.
Incidentally, if it all gets too cold for you, both those museums have excellent cafés inside.
The Silvesterdorf New Year market has essentially always been a continuation of the Christmas market on the same site. Same stands, more or less; same contents, more or less.
Ad:

The notable differences I found last time out were:
No borrowed mugs from the Christmas market. Instead, New Year symbols decorated the mugs used by the punch stands. You could keep them after finishing your drink, which is why they charge a deposit. I imagine any future markets will take the same approach.
A few stands added traditional New Year motifs to their wares, too. This meant pig-shaped items, mostly, which count as lucky charms that the Viennese exchange with friends and family at New Year.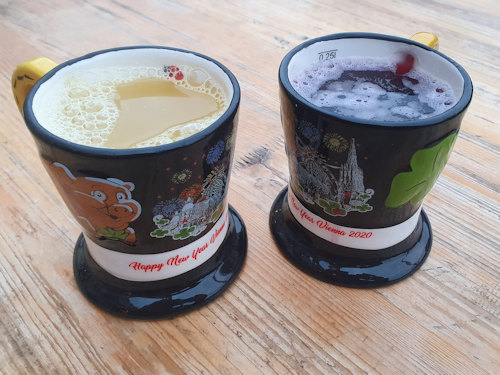 (The special 2019/2020 New Year mug in action)
Most of the Christmas stock was not discounted when I visited, but with some exceptions. For example, I found 25% off seasonally-themed chocolate at one of my favourite stalls.
(If you want cheap Christmas items, visit the city's department stores. They usually sell off their seasonal stock after Boxing Day at a steep discount.)
Punch was, as at every Christmas and New Year market, ubiquitous and the food quite diverse. Goulash or a garlic soup served in bread rolls. Doughnuts and choux pastry rings. Waffles and crepes with sweet or savoury fillings. Kaiserschmarrn, Flammkuchen and Gröstl. Baked potatoes and stuffed rice balls.
(Not to mention the traditional fried sausages, langos, and roast chestnuts.)
(Appropriately-themed snow globes)
The arts, crafts and other items left quite an impression, too.
Since writing is my first love (narrowly beating chocolate, cake and coffee), I fawned over the leather-bound notebooks and planners with handmade paper.
Elsewhere, I found beeswax candles and woolly hats, regional schnapps and liquors, wintry decorations made from cinnamon sticks, dried fruits and bay leaves, jewellery, toys, ceramic flowers, and much (much) more.
The only quibble I had was with the choice of music piped in quietly over loudspeakers. Apparently, Santa Claus was coming to town. That seemed unlikely, unless Santa got very drunk early on Christmas Eve and had only just resurfaced.
Dates & times
The Silvesterdorf follows on seamlessly from the Christmas market and runs from December 27th until December 31st in 2023. Scheduled opening times are 11am to 7pm, though the market closes at 6pm on New Year's Eve.
Getting to the Silvesterdorf
The location is positioned quite perfectly for public transport.
Subway: the U2 station, Museumsquartier, lies on one side, the U2/U3 station, Volkstheater, on the other.
Trams: the Silvesterdorf borders the Ring, which hosts a continuous stream of trams. Take the 1, 2, D, 46, 49 or 71 lines to Ring/Volkstheater or the 1, 2, D or 71 to Burgring.
The 1, 2, D and 71 services will possibly not serve these stops on the evening of December 31st, though, if the Silvesterpfad New Year celebrations mean too many people are walking around their routes.
Address: Maria-Theresien-Platz, 1010 Vienna | Website