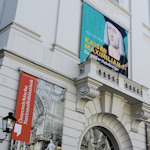 The National Library of Austria in Vienna hosts exhibitions in its wonderful Baroque State Hall, but also in various other museums attached to the institution.
The links below take you to my reviews of the more notable recent events.
The State Hall
(The entrance to the State Hall on Josefsplatz square)
The main court library, constructed in the early 1700s, remains one of those locations you see constantly on Instagram. All Baroque glory, ceiling frescoes and giant leather-bound books.
This Prunksaal or State Hall also houses regular special exhibitions. For example:
Literature Museum
(Also known as the Grillparzerhaus after the author, who worked in the building as director of the Archive of the Aulic Chancellery)
No prizes for guessing the topics covered at this location.
The Literature Museum has a permanent exhibition taking you through eras and themes in Austrian literature, but also hosts its own special temporary exhibitions on the top floor.