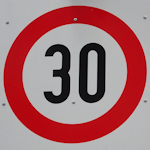 The rules on speed limits for cars in Vienna are relatively simple.
Default limits for cars are 50 kmh inside towns, 100 kmh outside, and 130 kmh on motorways
Other limits may apply, of course, as indicated by signage
Note that different limits apply to other vehicles and cars with trailers etc.
See also: Driving in Vienna
Speed limits in Vienna
Across Austria, anywhere within the defined perimeter of a settlement has a default 50 kmh limit (just under 31 mph) for cars, unless otherwise indicated.
This perimeter is always marked by the "Ortstafel" city sign, and looks like this when you enter Vienna:
And looks like this when you leave the city:
The 50 kmh limit for cars is rarely explicitly indicated on road signs when you enter the city or are in the city, as it's the default limit. You're expected to know it.
What are the exceptions?
Limits that deviate from this standard are given using typical speed signs. This says you're now entering a 30 kmh (just over 18 mph) limit:
This tells you that the 30 kmh zone now ends (which means you're back in the 50 kmh zone for cars in Vienna unless another limit is given):
The 30 kmh restriction may also be painted in white on the road itself, as a helpful reminder.
A fair few areas in Vienna now have this lower speed limit and it's rapidly becoming the standard on side streets.
This all means you can find yourself going from 30 to 50 to 30 to 50 if you cross, for example, suburban areas of the city perpendicular to the main roads.
You also find higher limits – typically 70 kmh (just over 43 mph) or 80 kmh (just under 50 mph) – on some of the big roads and autobahns (motorways) that cross or skirt the city. Don't forget you'll need a toll sticker if you want to use your car on a motorway.
Motorway speed limits
For the record, the default speed limit for cars on roads outside settlements is 100 kmh, rising to 130 kmh on autobahns (motorways). There was some discussion about raising the motorway speed limit to 140 kmh, but the chances of this happening seem rather low, especially since we now have a coalition government that includes the Green party.
Again, these defaults only apply if no other limit is indicated. For example, autobahns passing near or through cities tend to feature variable speed restrictions, and you may come across traffic and weather-dependent temporary speed limits, etc. etc.
Here's the important thing to remember: Austria does not have the German system, where stretches of autobahn allow cars, for example, to travel faster than the recommended speed of 130 kmh.
(You'll occasionally find the autobahn police sitting close to the border with Germany to provide written reminders of this fact in the form of speeding tickets.)
For the latest information on speed limits for cars, cars with trailers, mopeds, and other vehicles, see the Austrian government's helpful English-language information page.