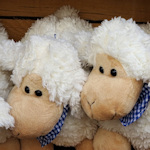 So when can you expect to see the Easter bunny set up stall in Vienna, hand out unfeasibly large amounts of chocolate, and try and persuade you that he/she really does bring the eggs despite the biological questions that raises?
When do the 2021 markets start?
Traditionally, the Easter markets begin about two weeks before the Easter weekend and continue through until around Easter Monday.
So, in 2021, the main Easter markets in Vienna will likely open from around March 20th until around April 5th. This assumes, of course, that we have no issues with COVID measures. For example, no Easter or Christmas markets opened in 2020.
Precise dates appear below as I get them:
Dates for later years are, obviously, unconfirmed, but here's my rough guess:
April 2/3 to April 18 (in 2022)
March 25/26 to April 10 (in 2023)
March 16/17 to April 1st (in 2024)
Opening hours 2021
Most markets open up between 10am and 11am and carry on through to the early or late evening. Specific times are:
Schönbrunn
This one is a little away from the centre. To make good use of your trip, you might book an early tour of the palace and then pop into the market in the forecourt afterwards for a spot of brunch before heading back to the delights of Vienna's old town.
Am Hof
TBA for 2021, but typical hours are:
11am to 9pm (Monday to Thursday)
10am to 9pm (Friday to Sunday, plus Easter Monday)
Stay a little later if you're eating or drinking: the culinary booths usually remain open until 10pm.
Freyung
TBA for 2021, but typically 10am to 7.30pm
The Freyung market is very close to the Am Hof equivalent, so you can wander along to the latter after dark if you want an Easter-flavoured snack later in the evening.
Palais Niederösterreich
TBA for 2021, but normally something like 10am to 9pm for this two-day special market
Musical entertainment usually continues through both days at regular intervals, featuring brass bands, singers, and other musicians from the province of Lower Austria. The event also offers a rare chance to see inside this centuries-old palais.
Kalvarienbergfest
TBA for 2021, but typical hours are:
10am to 6pm
9am to 6pm (weekends)
This is more of a local event, but one with a long tradition behind it.