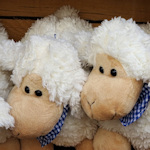 So when can you expect to see the Easter bunny set up stall in Vienna, hand out unfeasibly large amounts of chocolate, and try and persuade you they really do bring the eggs (despite the biological issues that raises)?
When do the 2024 markets start?
(Craft stalls at the Freyung market)
Traditionally, the Easter markets begin about two weeks before the Easter weekend and continue through until around Easter Monday.
Dates are not yet available at the time of writing for all locations for 2024. But expect something like mid-March to around April 1st. I add specific details below as I come across them on official websites (or you can check yourselves).
You can find other markets in Vienna, but these are perhaps those of greatest interest to visitors:
Dates for later years remain, obviously, unconfirmed, but here's my rough guess for the main ones:
April 5th/6th to around April 21st (in 2025)
March 21st/22nd to around April 6th (in 2026)
March 13th/14th to around March 29th (in 2027)
Ad:

Opening hours
(Entrance to the Am Hof Easter market)
Most markets open up between 10am and 11am and carry on through to the early or late evening. I await specific times from official websites at the time of writing. Those found so far are:
Am Hof
11am to 8pm (Monday to Thursday)
10am to 8pm (Friday to Sunday, plus Easter Monday)
Food and drink service continue until 9pm
The closest of the big markets to the traditional centre of town: just a short walk up from Stephansdom cathedral. Like Schönbrunn, good for gifts and handicrafts (the Am Hof market normally has a special collection of art and craft booths).
Stay a little later if you're eating or drinking: the many culinary booths usually remain open until an hour after the other stalls close for the day.
To give you an idea of what to expect for the other markets…
Schönbrunn
This one is a little away from the centre but possibly the biggest and best. The imperial surrounds create a wonderful atmosphere.
To make good use of your trip, you might book a tour of the palace and then pop into the market in the forecourt beforehand (or afterwards) for a spot of brunch, lunch or a dinnertime snack, before heading back to the delights of Vienna's old town.
Freyung
10am to 8pm (provisionally)
The place for decorated eggs thanks to the traditional central stall with its crates of painted eggshells. Cosy location all along one side of the ancient Schottenkirche church. Also normally has an organic farmers' market attached.
The Freyung market is very close to the Am Hof equivalent, so you can wander along to the latter after dark if you want an Easter-flavoured snack later in the evening.
Opening times last Easter
Palais Niederösterreich
Hours are TBA for the next edition of this two-day special market (if it repeats), but normally something like 10am to 9pm.
Musical entertainment usually continues through both days at regular intervals, featuring brass bands, singers, and other musicians from the province of Lower Austria. Great for regional products (and produce).
The event also offers a rare chance to see inside this centuries-old palais.
Kalvarienbergfest
This is more of a local street event, but one with a long tradition behind it. The location in the 17th district lies outside the areas you might normally visit as a tourist. Easily reached from the central Schottentor station on the tram, though.
Hirschstetten
The market opens from 9am to 6pm on all three days
I've not written about this one yet, but the location for this short and relatively small market is rather nice (if a little far away from the usual tourist paths).
Michaelerplatz
Another smaller market I've not reviewed, but intend to in 2024. The Michaelerplatz square marks one side of the Hofburg palace complex and is about as central as it gets.