[German: Der öffentliche Verkehr in Wien]
Every city has its good points and its bad points. The public transport system is definitely one of Vienna's good points. Cheap, frequent, fast, clean, efficient, and rarely overcrowded.
Wiener Linien is the municipal transport authority
Their tickets and passes cover all city train and subway services and nearly all tram and bus services
Buy network passes for cheap, peace-of-mind travel
See also:
---
Make the most of your stay with my…
---
Travel update:
How the system works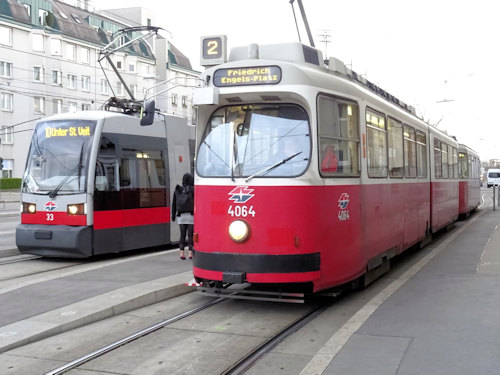 (Viennese trams)
The four main forms of transport are U-Bahn (subway), Schnellbahn or S-Bahn (local train), Straßenbahn (tram) and Autobus (bus).
Vienna works on an honesty system with no ticket barriers at stations and no formal, permanent ticket checks on the subway, local trains, trams and buses. You just hop on and off.
This doesn't mean public transport is free, though. You do need to buy a ticket.
Now I daresay you may be wondering why you'd bother buying a ticket. And you wouldn't be the first to think that.
Leaving the ethics and legality aside for the moment, a lack of formal ticket checks does not mean there are no ticket checks.
You may encounter a conductor wandering down the city train. Or run into spotchecks at the end of a subway platform. Or find the unassuming gentleman next to you on the tram pulling out his transport authority ID and asking to see everyone's "Fahrschein."
These undercover agents are impossible to spot and they've heard all the excuses before. Travelling without a ticket incurs a fine, not to mention a whole heap of embarrassment.
So buy a ticket.
Ad:

How do tickets work?
Nearly all forms of public transport fall more or less under the same municipal organization (called Wiener Linien), so the tickets or network passes you buy are independent of your mode of travel.
If you buy a single ticket from A to B, for example, it doesn't matter if you take the tram, city train, subway, or catch the bus. Or use all four to make the journey (provided you don't take any detours or long breaks).
There are very few services you can't use with a ticket or pass (mainly selected airport transfer services, the Westbahn rail service, and tourist services like the hop on hop off sightseeing buses).
If you have children, those under six do not need a ticket. Trams, buses, and subway also remain free until the end of the academic year where the child turns six.
Those under fifteen qualify for reduced-price single tickets.
Under 15s go free on Wiener Linien's trams, buses and subway trains if it's a Sunday, public holiday or official school vacation period in Vienna (e.g. the summer holidays). This applies to all nationalities, not just locals.
Which tickets should you buy?
Sightseeing and tourist discount passes for Vienna may come with an integrated travel component that saves you having to organise public transport tickets separately.
The Vienna City Card, in particular, is specifically designed as a travel pass for tourists.
This 24, 48 or 72-hour network travel card for the city also qualifies you for various discounts. In fact, just about anywhere you're likely to visit, watch or see offers some kind of small reduction with the Vienna City Card.
Otherwise, Wiener Linien offers various alternatives to fit your needs.
Standard tickets & network cards
Buy your tickets from ticket offices in the main stations, ticket machines in stations, the Wiener Linien online store or app, and (for some very basic tickets) from Trafik newsagents/tobacconists.
Machines on trams also sell some tickets, provided you have the coins (the transport authority is migrating to multilingual ticket machines for trams with cashless payment options, but this may take a while before every vehicle has converted).
Some of the tickets you buy need to be validated in a stamping machine before boarding. Whether you need to do so should be relatively clear from the ticket.
You validate a ticket by putting it face up into the yellow or orange slot on the small boxes (see photo for an example) you find in trams and buses, and at the entrances to U-Bahn and S-Bahn stations and platforms.
(Trains don't have validation boxes on board.)
Tip: If you get lost or forgot where your hotel is, show your stamped ticket to a tram driver or station attendant. They can often tell you where you stamped your ticket, so you can retrace your journey back to the beginning.
Wiener Linien has a lot of ticket options for travelling around Vienna. Here are the main ones of interest to visitors (at the time of writing). Check the Wiener Linien website for up-to-date details on alternatives, prices, conditions, where to buy tickets, online purchase options, etc.
Single ticket (Einzelfahrschein): Once validated at or for point A, lets you travel to any point B within Vienna. The only restriction is the journey must be direct, with no pause. You can change buses, trams and trains as you need, provided you're taking a continuous journey to your destination.
24/48/72-hour network card (24/48/72 Stunden Wien): The relevant time period starts from the moment you first validate the ticket (or the time you specify if buying online). In that period, you can go where you like, as often as you like, within the city limits.
Weekly network pass (Wochenkarte): Entitles you to city-wide travel for a seven-day period with a starting day you choose (if bought online) or from Monday to 9am the following Monday in a specific week (if bought offline).
Monthly network pass (Monatskarte): Entitles you to city-wide travel for a 31-day period with a starting day you choose (if bought online) or for the relevant calendar month, plus the first two days of the subsequent month (if bought offline).
Tip: I recommend you buy one of the network passes or the Vienna City Card. They save you money once you make more than a couple of trips in a day, and simply make life easier.
Ad:

A few important notes:
The network cards and passes are transferable; they're valid for the bearer and not for any one particular person, unless they carry your name (as is the case when, for example, purchased online).
The weekly and monthly passes do not require stamping since they come marked with the period of validity in question. Same for network cards purchased online.
At the time of writing, a 72-hour network card costs the same as a weekly network pass. So the latter makes more sense if you buy it online from the Wiener Linien ticket store (then you can choose when the 7-day period begins).
Weekly passes bought offline cover a whole specific calendar week, so the best value then depends on the timing of your trip. For example, a 72-hour card would make sense if you're here Sunday to Tuesday or on a similar schedule where you can't simply use one calendar weekly pass.
Incidentally…if you move permanently to Vienna, the annual pass costs €1 a day, which is the definition of cheap travel.
Travel zone validity
City-wide travel means exactly that. The Vienna city zone covers just about anywhere you're likely to go as a visitor. You'll probably only leave it if you visit one of the surrounding towns or villages. Note, however, that Vienna airport is outside the city transport zone. For details, see:
…oh, and if your interest in Vienna's transport system goes beyond the practicalities of getting around the city, then drop into the Wiener Linien museum.