[German: Die Vienna City Card – zahlt sie sich aus?]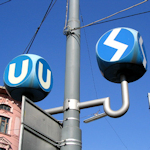 Think of the Vienna City Card as a network travel pass which also entitles you to various tourist discounts. Should you get one? Here's my review…
What you get
The Vienna city card offers three main benefits: free travel, 7 days of discounts, and optional add-ons that include sightseeing buses and airport transfer.
Choose between 24-hour, 48-hour and 72-hour basic travel card versions. These cost, respectively, €17, €25 and €29 at the time of writing, though there may be discounts when you buy online.
Get your card as an app, print-at-home version, or as a voucher you redeem once you're in Vienna. Or buy one when you get to the city.
City card benefit 1: travel pass
(Vienna has an excellent public transport system)
The Vienna City Card allows you to go anywhere in the Vienna city network on any municipal tram, bus, subway or train service.
The major exceptions are the airport bus lines, the Ring Tram sightseeing service, and private bus and rail initiatives like the sightseeing tours, Westbahn train service or CAT airport train.
(You can book some of those exempted services as an add-on to the basic card, though.)
This travel network covers more or less the entire city. One child aged 14 or less also travels free with your validated Vienna City Card. Note that Vienna airport is outside the city network.
Your card acts as a travel pass when you activate/validate the travel function (see the website* for details).
The moment your card begins "working" as a network travel pass, the clock starts ticking: the card remains valid for travel from then on for exactly the period you bought, i.e. 24, 48 or 72 hours.
City card benefit 2: discounts
(The Graben is one of Vienna's main shopping streets)
The entitlement to discounts starts from the date of the first day for which your Vienna City Card is activated (this doesn't have to be the same time and date as the travel portion of the card).
You can then make use of the discounts throughout your stay in Vienna (up to a maximum of seven days).
And what are the actual discounts (all 200+ of them)?
In terms of tickets for sights and museums, most offer only small discounts to cardholders. It's hard to get significant reductions for the really popular destinations (e.g. the Kunsthistorisches Museum gives you just €1 off) but there are exceptions (e.g. €2.90 at the Albertina or €3.50 discount at the zoo).
But there's much more to the discounts than entrance tickets.
Numerous concert venues, tours, city center shops, restaurants, coffee houses and more also have special offers or discounts for Vienna card holders. Some examples at the time of writing:
up to €15 off a ride in a fiaker (open-top carriage)
10% off tickets at the Konzerthaus
up to 10% off at Lobmeyr crystal
20% off at Café Landtmann
City card benefit 3: add-ons
(The Big Bus sightseeing tour bus)
You can purchase digital add-ons for your Vienna City Card (when available – offers may vary). Examples I've seen at times:
Airport transfer: for seven days from the day you activate your card, free use of these means of travel between the city and airport – CAT airport train, ÖBB Railjet (first class), S-Bahn (S7) city train, the Vienna Airport Lines buses
A 24-hour hop on – hop off bus tour ticket (one-time only during that seven-day period).
How to buy Vienna City Cards?
You purchase them through the online store* of the Vienna tourist authority.
Alternatively, you can also buy one in the city from the tourist information offices, many hotels and travel agencies, and the Vienna public transport ticket offices (or online store). The card should come with a booklet of instructions and information on your discount entitlements.
Is the Vienna City Card worth it?
So the big question – should you buy one?
Here's what I think…
The Vienna City Card is great if you're a low-intensity traveler. So if you're taking in a few sights, doing some shopping, enjoying a meal or two out.
That way you get value out of the discounts on offer.
If you take away the cost of a normal network travel card, this is how much you're paying for access to the discounts with your Vienna City Card:
24 hour – €9
48 hour – €10.90
72 hour – €11.90
So it really shouldn't be too hard to get good value out of the card, especially since the discounts apply for up to seven days.
If you're doing a lot of sightseeing (going into paid attractions), then something like the Vienna Pass might be more suitable.
The Vienna Pass (see my review) costs more, but gets you one-time free entry into nearly all the top attractions in the city.
If you're on a very strict budget (like a student backpacker), then review the sums.
If you're just looking around, you might want to walk (many sights are very central) and buy the occasional standard ticket (just over €2 per single journey) for reaching places of interest outside the city center. Then you probably don't need to buy any card or pass at all.