This article is going to be biased because I live here and love the city. But let me just introduce you to a few topics that should help you find your way around Vienna (literally and figuratively) as you consider or plan a visit.
We'll look (briefly) at what the city offers visitors, its history, its layout, and some basic information on issues like public transport and languages.
Read on or jump to…
Quick overview for visitors
(The Graben pedestrianised street in the city centre)
This really is a beautiful clean city full of urban charm, with a rich and long history, plenty to see and do (also with children), excellent services and amenities, and a selection of cakes that will do evil things to your willpower.
(Told you I was biased.)
Let us begin with a bit of…
Background & history
(One entrance to the central Hofburg palace area)
Vienna is the capital of Austria (a western democracy and member of the European Union). Located in the east of the country on the banks of the mighty Danube river, the city is home to around 2 million people.
Despite its size, Vienna retains the feel of a large town. Part of that is down to the numerous parks, woodlands, outlying hills, and other open and green spaces.
Global urban liveability rankings tend to put Vienna at (or near) the top: the city has excellent public services (particularly public transport and health), accessibility, economic success, low crime, and a wide range of leisure and cultural activities available.
Vienna's not perfect, but there are worse places to live…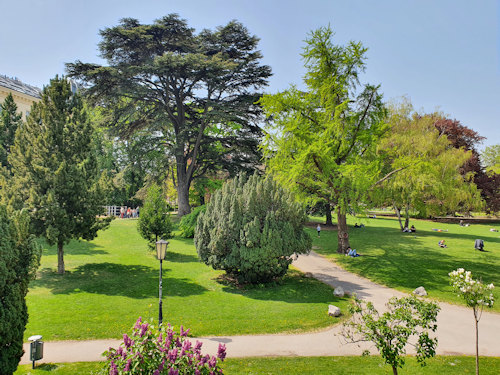 (The Burggarten park in the very centre of town)
Vienna owes its size (and much of its beauty) to the legacy of the Habsburg monarchy that ruled over large areas of Europe for many centuries. Wien (to give it its German name) sat at the centre of Habsburg authority for almost all that period.
An Imperial capital attracts wealthy residents as well as musicians, architects, artists and designers.
So monumental buildings abound (also because various Emperors, Empresses, and their families constantly engaged in a game of one-upmanship in architecture).
And great works of art fill Vienna's museums (also because imperial families, aristocrats and wealthy residents had expensive hobbies, an eye for collecting, or received rather nice gifts).
The city's history predates the Habsburgs, of course. The Romans settled here, for example, when Vienna was known as Vindobona. And we still have churches that date back over 1000 years.
What Vienna offers
(The coffee house in Palais Ferstel)
Vienna certainly counts as a popular tourist destination, particularly for short city breaks. The huge tourism sector and high level of education means service personnel and similar normally all speak good English (the national language is, however, German).
Obviously the city has all the amenities and opportunities you'd associate with a large, wealthy and well-run European city (and the Euro as its currency).
People visit for various reasons, and I can't speak to, for example, the nightlife and cocktail bars because I'm a shy writer whose idea of a fun night is a glass of wine and Netflix.
However, Vienna's traditional selling points from my perspective are the historical sites, the music & art, and the gastronomic Gemütlichkeit.
Let's begin with the buildings…
Historical sights & sites
(Schönbrunn Palace)
Like many of the great European cities, you can simply wander around the streets and enjoy the mix of past architectural eras, such as Baroque townhouses, Jugendstil shop fronts, Biedermeier villas and neo-gothic municipal offices.
We have, for example, three large palace complexes:
The Hofburg in the very centre: seat of the Habsburgs for centuries and full of attractions like the Imperial apartments, the crown jewels, and the Spanish Riding School
Schönbrunn: giant summer palace of the Habsburgs with a landscaped park, award-winning zoo, evening concerts, and more
Belvedere: two Baroque palaces now home to some fabulous art
We also have a giant Gothic cathedral and a whole host of gorgeous museums, churches, and various delightful buildings from the 1800s, when they turned the city fortifications into prime real estate.
I've written a guide to the main sightseeing areas here.
Music and art
(The State Opera House)
Vienna can legitimately lay claim to being the home of classical music, whatever the rest of the world may say.
Mozart, Beethoven, Haydn, Brahms, Mahler, Bruckner, Schubert, Lehár, various members of the Strauss family, and many others all tinkled the ivories, plucked at strings, and produced copious quantities of sheet music here.
Many people choose to visit the landmarks associated with the famous composers, such as their homes, or to listen to their works in one of the city's (often historical) concert venues. Vienna has one of the world's greatest opera houses and (possibly) the world's best classical music concert hall.
Ad:

The Habsburgs did a lot of interior decorating, which is one reason why Vienna can show you quite a bit of world-class art with numerous exhibitions on at any one time.
The top three locations are probably:
The Albertina: the permanent collection covers names like Monet and Picasso. But they always have a selection of additional special exhibitions that range from Albrecht Dürer to Andy Warhol and beyond
As a large, flourishing city, contemporary art and music gets a shout in, too (see, for example, the MuseumsQuartier collection of institutions).
Food & Gemütlichkeit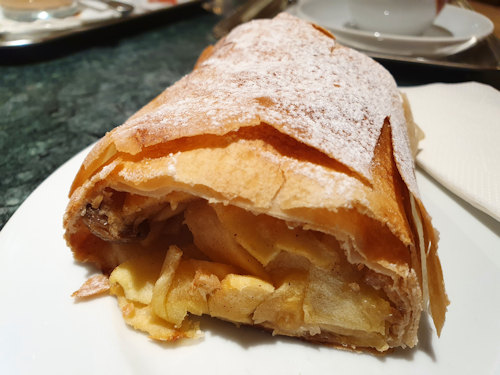 (Apfelstrudel)
Gemütlichkeit is a German word that means a kind of cosy congeniality. Fast and furious are not words typically associated with Viennese restaurants and cafés.
As for food and drink, think cake and coffee.
Vienna has a strong café culture and its own particular brand of wood-and-marble coffee houses. The latter can date back up to 200 years and once echoed to the sounds of artists, intellectuals and politicians arguing into the night over a melange and Sachertorte.
Ah, Sachertorte.
(A typical Viennese breakfast. I'm not joking)
The locals love their cakes. The whole coffee and cake thing counts as a genuine authentic experience here.
The broader cuisine errs on the heavy side (cough, sausages), but Vienna has long caught up with "modern" trends like healthy eating and vegetarianism.
It goes without saying that a city of this size covers a whole range of culinary options. But the Wiener Schnitzel still rules supreme, no matter what your doctor says.
On the alcoholic side of things, Vienna and Austria don't go in for corporations much. So regional beers and wines dominate. Vienna even has its own (high quality) vineyards.
Now for just a few words on the city's layout and getting around…
Layout guide & getting around
(Trams on the Ring)
Vienna consists of 23 districts. You can think of them (roughly) as a central district surrounded by two rings of inner and outer districts.
The central (first) district corresponds to the boundaries of the historical fortified city. Until the late 1800s, a wide open space surrounded this city, beyond which you had villages, country houses, and palaces.
When the city took down its fortifications and released the open ground for development, Vienna slowly merged with those outer areas.
That first district, which grew organically over the centuries, remains quite compact, eminently walkable, and stuffed to the brim with beautiful pristine buildings that either look historical or are historical. Many people just wander through the centre on their first trip.
(The Kunsthistorisches Museum)
That open area is now the Ring boulevard. The late 19th-century buildings either side of it form another highlight.
Many of Vienna's most famous sights line the so-called Ringstrassen. Like the State Opera House, for example. Or the Kunsthistorisches and Naturhistorisches museums.
To summarise, many of Vienna's tourist attractions lie close to each other in that relatively small first district or at its edge.
But not all.
For example, some of those country residences that Vienna eventually absorbed also come top of the tourist rankings. Like Schönbrunn Palace, for example: the Habsburg summer residence mentioned earlier and home to the Tiergarten Schönbrunn zoo with its giant pandas.
(One of the new generation of trams coursing through Vienna's streets)
Don't be too concerned by the prospect of travel in the city, though.
Vienna has a fast, frequent, comprehensive, clean, cheap, and efficient municipal subway, tram and bus system that means even the outlying sights can be reached quickly and easily without ruining your holiday budget.
This also means accommodation outside the centre still provides relatively swift access to the first district: just jump on a tram, for example.
Vienna also has its own international airport (code VIE), located around 20km to the east of the town centre. As you can imagine, getting into the city from the airport and out again is easy when you have a decent public transport system.
Best time to visit?
(The Christmas market on the Rathausplatz)
Finally, are there good and bad times to visit?
Given all the city has to offer, you really can't pick a poor month for a trip to Vienna. Although, frankly, January and February can feel a bit grim in the Austrian winter. Though that also means fewer crowds, of course.
If you force me to commit, then the best times are kind of the obvious ones:
Late May to August: warm weather allows you to wander freely around all the beautiful streets, parks and gardens, and enjoy the street café and wine tavern culture.
The downside of those dates is a lot of people agree with that assessment, so Vienna can fill up with visitors.
Your next steps
Finally, a couple of other guides that should start you off as you decide what to do, where to go, and where to stay:
Events: current event tips and a month-by-month overview of what you can do in the city
Hope to see you here sometime soon…