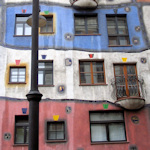 If you're getting dizzy from Imperial-this, Habsburg-that, then take a short trip out to the Hundertwasserhaus for some colourful recalibration.
Fascinating apartment house in typical Hundertwasser design and colours, though you can't go inside
Small mall opposite is a Hundertwasser design, too
Be sure to pop across to the Kunst Haus Wien as well
See also:
The Hundertwasser House
Forget straight lines and rectangular conformity. The Hundertwasserhaus forms a mosaic of shapes, colours and pillars in the typical fashion associated with artist, Friedensreich Hundertwasser.
The design comes as no surprise, given Hundertwasser and architect Joseph Krawina formed the creative brains behind what has become one of Vienna's most-visited attractions.
The building was Hundertwasser's first architectural work, completed in 1985 at a cost of over €7 million. The city of Vienna owns the house and rents out apartments to individuals just like with any other public housing. Hundertwasser pursued various other building projects afterwards, including an iconic Viennese incinerator.
This is no ordinary house, of course, as a look at the photos reveals.
Vegetation carpets the roof (they used 900 tonnes of earth to construct the terraces). And plants (Hundertwasser's "tree tenants") appear all over the place, often where you'd least expect them.
The collage of colors isn't quite as striking as in years past – time has dampened the Hundertwasserhaus's bright colours and turned the white into more of a light grey. Nevertheless, the whole construction remains a colourful antidote to modern architectural practice.
You can't go inside, as real people live there, but it's free (of course) to wander around the outside or access the terrace café.
If you crave a closer look at the architectural concepts, then pop into the Hundertwasser Village opposite. This small, mall-like construction, completed in 1991, features the usual Hundertwasser flair thanks to the great man's guidance.
Inside the village, various small shops and snack outlets surround a central bar, spilling out into the street. Quite what Hundertwasser would think of it all now, I don't know, given that many of these shops were run-of-the-mill souvenir stores on my last visit.
(The nearby Kunst Haus Wien)
Crowds often gather outside Hundertwasserhaus, drawn by the reputation. What most don't know is that a short walk away takes you to the fabulous Kunst Haus Wien: another (possibly better) option should you wish a closer look at Hundertwasser's architectural vision.
The Kunst Haus Wien includes an excellent museum dedicated to Hundertwasser's life and art, with many of his works on display. The location also hosts a major photo exhibition and temporary art installations.
Since you can go inside, the Kunst Haus Wien allows you to discover, for example, just how those trees that grow out from the walls remain anchored in the building. Be sure to visit the iconoclastic café there, too.
How to get to the Hundertwasserhaus
Subway: there is no station immediately nearby, but the U3 stations Wien Mitte-Landstraße and Rochusgasse are not far away. Wien Mitte-Landstraße is also a stop on the U4
Tram/bus: simply catch tram line 1 to Hetzgasse, which is just a few metres from Hundertwasserhaus
Address: Kegelgasse 34-38 / Löwengasse 41-43, 1030 Vienna