Vienna has offered a home to some of the world's most famous people, including powerful monarchs, giants of classical music, groundbreaking scientists, and iconic artists.
Follow in their footsteps with the below guides…
The Habsburgs
(The memorial to Empress Elisabeth)
Just about every major location in the city centre is Habsburg-related, so you can soak up the history and personalities just by walking around the old town. However, certain individuals perhaps deserve their own location guide, notable:
Empress Elisabeth (Sisi)
Various museums and palaces carry a strong Sisi theme: look inside her apartments, enjoy topical exhibitions, view clothes and other items from her life, and much more…even down to the railway carriage she used.
This Sisi location guide highlights the main stops on any self-guided Empress Elisabeth tour. If you only have time for one location, try the Sisi Museum.
Composers & musicians
Tip: try these concert venues if you just want to listen to the music of Mozart, Strauss, and others in a classic Viennese setting.
(Beethoven's grave in the Zentralfriedhof)
Wander around Vienna and it feels like ever second building bears a plaque highlighting some connection or another to a world-famous composer. To get closer to the likes of Beethoven and Mahler, try these guides…
Mozart
See the Mozart location guide for a map, photos and detailed notes on the Mozartwohnung and other places he lived, venues he played in, the Mozarthaus museum, monuments, memorials, and even his grave.
(Contrary to popular belief, Mozart was not buried in a mass, unknown grave).
Haydn
Although long-employed by a court outside of the city, Haydn still lived and worked in Vienna for many years.
The Haydn location guide points you to all the relevant places, such as the Haydn House, monuments, and the famous mechanical clock that has Haydn in a starring role.
Schubert
Discover all the landmarks associated with the life of Franz Schubert, including his birthplace, the house he died in, various residences, and even a Schubert lime tree. The guide includes photos and a location map.
Beethoven
Ludwig van Beethoven lived, drank, and performed in an awful lot of places in Vienna and the Beethoven location guide points you at the top ones.
The three most important locations for visitors are the Beethoven Museum, the Pasqualati House and Beethoven's grave among a group of other famous composer graves in Vienna's central cemetery.
Strauss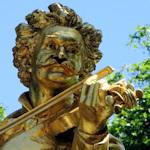 A true son of the city, and this Strauss guide takes you to all the right locations.
In particular, read all about his famous golden statue in the Stadtpark or how you can discover more about the King of the Waltz in the Johann Strauss Apartment.
Mahler
Gustav Mahler spent most of his life outside Vienna. But the city educated him and he ran the world-famous opera house here for about ten years. As such, he's pretty much an honorary Viennese.
The Mahler guide takes you to the locations most closely associated with his name, including his grave in the city's 19th district.
Art and design
(Secessionsgebäude, once home to Klimt and other artists)
The composers tend to overshadow other creative types in Vienna's history. But the city nurtured some remarkable talents that now enjoy global recognition. For example:
Gustav Klimt
Perhaps no other artist is more closely associated with Vienna. Follow his life around the city with this Klimt guide, which also points you to all the places you can see his paintings and other works.
If you're pressed for time, simply head to Belvedere Palace to see The Kiss.
Egon Schiele
The artist Egon Schiele studied, worked and died in Vienna. Here's a guide to relevant addresses (with a map and photos), including all the places you can see his works.
If you only have time for one address, then visit the Leopold Museum, home to the most important Schiele collection.
Otto Wagner
Many of the iconic buildings in Vienna bear Wagner's fingerprints, particularly the railway stations along the U6, U4 and S45 subway and train lines.
This Otto Wagner guide highlights landmark Viennese buildings from his life and work, with a map, photos, and numerous annotations.
Friedensreich Hundertwasser
If one man could turn the banal into architectural artistic wonders, then it was Hundertwasser. Use this guide to find your way to the colourful highlights of his life and career in Vienna.
I can particularly recommend the Hundertwasser Museum in the Kunst Haus Wien – a joyful celebration of his art, life and philosophy.
Other famous Viennese
Freud
Sigmund Freud spent much of his active working life in Vienna in an apartment on Berggasse. And the good news is you can walk around it, since it's home to the Sigmund Freud Museum.
More guides to come as I get round to further travels…