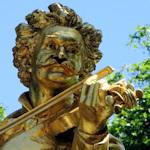 Copenhagen has its little mermaid, Vienna has its golden Strauss. The iconic statue is one of the city's most popular photo opportunities.
The statue
If you're in the Stadtpark ("city park") and see a polite queue of people with smartphones and cameras, you've likely found the famous Strauss monument.
(Also look for harassed parents desperately trying to usher young kids off the podium so people can take their photos).
The iconic gold figure of Strauss playing his violin now graces postcards and Instagram pages everywhere. There's even a replica in Shanghai.
The statue offers a slightly unusual take on the great composer, with Strauss's famous sideburns absent (these were large enough to house a family of ducks).
Incidentally, if you want to see one of his violins, then pop into the Strauss Apartment on Praterstraße. Another top tip is the Strauss Museum, a lovingly-curated collection of information and memorabilia covering the whole dynasty.
The history
The locals call Johann Strauss Jr. (1825 – 1899) the Walzerkönig ("King of the Waltz"), which is a clue to some of his more famous works.
This is the man who gave us the "Blue Danube" waltz…perhaps the composition most closely associated with Vienna and also the music used to welcome in the Viennese New Year and end the New Year's Concert.
Anyway, in 1903, a few years after Strauss's death, plans were in place to build a memorial to this Viennese great. Unfortunately, the financing turned out to be trickier than was hoped and the outbreak of the first World War didn't help matters either.
The resulting delays meant the memorial first saw the light of day in 1921, based on a design by Edmund Hellmer. The "gold" statue is actually gilded bronze, and early damage saw removal of the gold decoration in 1935. It returned in 1991 following restoration work.
Inevitably, spring and summer make the best times for photos, when flowers surround the plinth. But a shot at nighttime can look pretty good, if your camera's up to the job (mine isn't):
How to get to the Strauss monument
The Stadtpark runs alongside the main Ring boulevard encircling the old city, so is easily reached. The statue of Strauss is in the middle of the southern half and impossible to miss.
Subway: the closest is the cunningly-named Stadtpark station on the U4 line (about 4 minutes away by foot). The station pavilion is an Otto Wagner design
Tram: Take line 2 to the Weihburggasse stop on the Ring
Address: Stadtpark, Parkring, 1010 Vienna