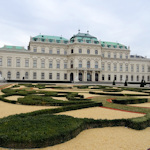 Belvedere has to be a highlight of any trip to Vienna. Baroque palaces. Priceless art. Photogenic views. And is that one of the world's most famous paintings on the wall?
Art museum(s) with top-class international exhibitions
Two 18th-century palaces as galleries
Upper Belvedere has Klimt's The Kiss
Book Upper Belvedere tickets* online
See also:
Quick Upper Belvedere tickets
(Booking service provided by Tiqets.com*, who I am an affiliate of)
Say thanks to Eugene
When you successfully tweak the noses of the Emperor's enemies, you can expect a little bit more than a thank you note and a bottle of wine.
Which is why Prince Eugene of Savoy (1663 – 1736) – military commander and all-round national hero – managed to accumulate enough wealth to construct two of Vienna's most impressive buildings: the early 18th-century Baroque Belvedere palaces (one at each end of the landscaped gardens).
(Front view of Upper Belvedere Palace)
Fast forward 300 years, and today's Belvedere is a collection of historical and modern buildings that double up as prestigious art museums.
Main palace and garden complex
So what can you find at this storied location? The main complex features…
Upper Belvedere palace
The Upper Belvedere ceremonial palace has suitably-impressive interior architecture (don't miss the Marble Hall), temporary art exhibitions, and permanent displays drawn from the Belvedere art collection.
This is where to see all those paintings by Klimt. Including The Kiss.
Lower Belvedere palace
The more functional Lower Belvedere palace also has some nice interiors of its own (functional does not mean plain) and houses temporary art exhibitions.
Lower Belvedere also includes:
The Palace Stables: now showing part of the medieval art collection
The Orangery: now converted into more exhibition space
The Privy Garden: a more private garden adjoining the Orangery
Belvedere Gardens
Palace owners don't want to look out the window and see a car park and discarded supermarket trolleys.
The landscaped Belvedere gardens connect, for example, the upper and lower palaces and feature fountains, clipped hedges, flower beds, and similar.
Elsewhere
The Belvedere area and/or institution also includes one or two othe delights. For example:
The Winter Palace (Eugene's place in the centre of town. Now part of the Federal Ministry of Finance, so closed to visitors)
Ad:

Ticket and visitor tips
Follow the individual links above for location-specific visitor and ticket tips from me, but some general advice for you:
The two Belvedere palaces normally open all year and are easy to reach from the centre (see below)
The main gardens cost nothing to look around, but you need a ticket to enter either of the two palaces and see the permanent and/or temporary exhibitions inside
The primary art collection is in Upper Belvedere. So this is the one you normally give priority to. As mentioned, here you find the Klimt paintings, including the Kiss
Don't worry about language: all display information is in German and English
The main on-site ticket office is in an outbuilding slightly to the west of Upper Belvedere palace
The ticket area has a shop with more Klimt souvenirs than you can shake a paintbrush at. Even the cat in the famous photo of the artist had its own souvenir on my visit. Lower Belvedere palace and Belvedere 21 also have ticket counters and shops.
Think of the buildings and exhibitions as one and the same. Your Belvedere entrance ticket covers entering the relevant building(s) and viewing whatever art is inside
So if an exhibition does not interest you, you may still want to get a ticket because that's how you also see the inside of, for example, the Baroque palaces.
In many parts of the main complex, look for a board in German and English describing the decor and, perhaps, the history of the room or area you're standing in, together with a relevant picture from the early 18th century
A chap called Salomon Kleiner produced a series of copper engravings of the interior and exterior of Belvedere in the 1730s, so we have a pictorial record of what the original palaces and gardens looked like. You can usually buy a copy in the Belvedere shops.
Everything is within a relatively short walk of each other
Be warned that with the turnover of exhibitions, one or two areas may be closed temporarily for set up
Belvedere is also a dynamic, contemporary institution, so paintings can move as displays get reorganised, new acquisitions come in, or items go on loan for exhibitions elsewhere. Though I can't see The Kiss ever leaving…!
Visit in November and December to experience the utterly delightful Christmas Market; the location makes for some astonishing photo opportunities
Prince Eugene also owned the Schloss Hof palace and estate. It makes a lovely trip with the only issue for visitors to Vienna being its location: over an hour's drive away out in the country
And if you want to complete your Eugene bingo card, he has a huge equestrian statue on Heldenplatz square in Vienna's centre
How to get to Belvedere
Ah, there's a whole page of advice for that.
Address: Prinz Eugen-Straße 27, 1030 Vienna | Website