The Belvedere palaces tremble under the weight of history and baroque decoration. Belvedere 21 is the modern counterpoint: a cultural centre and museum of contemporary art in a 20th-century, glass-fronted building.
Art forum hosting regular exhibitions
Also has a cinema and café-bar
Selected special exhibitions:
Book a Belvedere 21 ticket* online
See also:
What's inside Belvedere 21?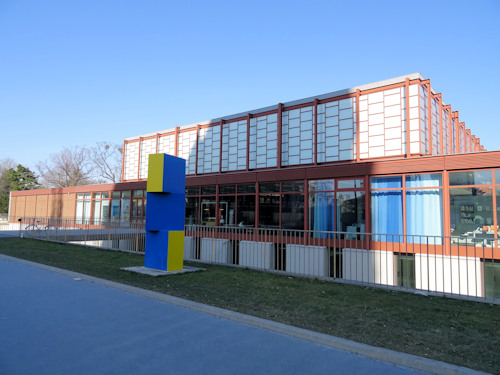 (Unusually for Belvedere, not a Baroque palace)
Like most museums in Vienna, the Belvedere 21 building itself has artistic value. It first appeared in Brussels (yep, the capital of Belgium) as the Austrian pavilion for the 1958 world exhibition.
Karl Schwanzer's glass and steel design won the expo's Grand Prix d'Architecture. Since the building's reconstruction in Vienna in 1962, it has always housed modern art in one museum guise or another and now forms part of the Belvedere group of palaces and galleries.
As a visitor, you'll be most interested in Belvedere 21's special exhibitions, which largely focus on Austrian artists of the 20th and 21st centuries (but not exclusively).
My most recent visit, for example, was for the Renate Bertlmann retrospective, which featured over 200 powerful works from across several decades of avant garde feminist art.
Another top exhibition I saw covered the remarkable early works of Christian Ludwig Attersee.
Find current listings on the main Vienna exhibitions page (look for the contemporary art section).
The main galleries on the ground and first floor are large and bright, leaving plenty of space to enjoy the exhibits. So if Klimt is already too old hat for you, then you can find artistic succour among the more modern works exhibited here.
Ad:

Other roles
Although the exhibitions dominate, Belvedere 21 also plays a broader role in the local and art community as an event location, research resource, and meeting place.
It even has its own cinema – the Blickle Kino shows an eclectic mix of video art, interviews, documentaries, films etc., always with a firm eye on the interface of film/video with culture, art, history, and similar.
Be sure to pop round the back of the building, too, for a changing display of contemporary sculpture (last time I checked, you don't need a ticket to see them).
Tickets & visitor tips
A standard entrance ticket for/from Belvedere 21 gets you into all the exhibitions within.
(Booking service provided by Tiqets.com*, who I am an affiliate of)
A couple of extra tips:
A Vienna Pass (see my review) gets you in once for free.
You can visit the small museum shop without a ticket, as well as the café-bar (where I enjoyed a fine melange delivered by a very attentive waiter)
Toilets and lockers are downstairs
Vienna has a flourishing contemporary art scene, with numerous associated museums, galleries and outdoor spaces. So consider visiting these other locations in the city, too
For a completely different museal vibe, walk up to the nearby Arsenal complex, home to the Heeresgeschichtliches Museum (the national museum of military history).
How to get to Belvedere 21
You should have no trouble getting there, since Belvedere 21 is a hop, skip and jump from Vienna's biggest public transport hub: Hauptbahnhof rail, subway, and bus station.
Subway: Take the U1 line to Hauptbahnhof. It's actually a little bit of a walk to the museum, simply because the station is huge and one end is a long way from the other end (take a compass, survival rations and an emergency flare, just in case).
Tram/bus: It's a shorter walk from the Quartier Belvedere tram stop, which is on the 18, D and O tram lines. Or take the 69A bus to Arsenal, which is even closer.
Address: Quartier Belvedere, Arsenalstraße 1, 1030 Vienna | Website