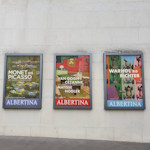 The city has numerous history, science, and art exhibitions on (or planned) at any one time. This list covers the major museums and venues. Click/tap to view by topic:
A few notes:
Most locations have permanent displays too, of course. So you'll always find Klimt at the Belvedere and Leopold museums, for example, or Picasso at the Albertina
Many also have small exhibitions and installations or those intended for local audiences, which I often won't cover here
Check the event listings for suggested exhibition highlights for each month of the year
Exhibitions in Vienna almost always present information in at least English and German, but you may find one or two exceptions
I update this about once a month, but do check locally and with official sites for any changes, particularly to the dates of future exhibitions
---
Personal tips
(Ai Weiwei, Map of China, 2004; wood; private collection; photo: ALBERTINA, Wien / Lisa Rastl & Reiner Riedler © 2022 Ai Weiwei)
Ai Weiwei
Runs to Sept 4th, 2022
Huge retrospective
Dozens of works
At the Albertina Modern
Honourable mention(s)
George Nuku at the Weltmuseum Wien (until January 31st, 2023): fascinating and thought-provoking
Lucas Cranach the Elder at the Kunsthistorisches Museum (until October 16th, 2022): a quick dip into art history
---
What art exhibitions are on?
Let us begin with…
Art history & art around 1900
Upper Belvedere
True to Life: tracing realist painting across 100 years from the mid-19th century onwards (March 18th to November 1st, 2022)
Lower Belvedere
Viva Venezia!: how Venice inspired (and was represented in) Austrian art, along with the development of the Venetian imagery and myth with a focus on the 19th century (February 17th to September 4th, 2022)
Joseph Rebell: solo exhibition of the works of this early-19th century landscape painter (June 15th to November 13th, 2022)
Grow: art exhibition dedicated to the tree in art history (September 23rd, 2022 to January 8th, 2023)
Klimt: exhibition of his art in the context of those works that inspired and influenced him, so includes numerous paintings etc. from predecessors like van Gogh and contemporaries (February 3rd to May 29th, 2023)
Klimt: a detailed exploration of the techniques, materials and work processes behind his art (January 26th to September 8th, 2024)
Kunsthistorisches Museum
The Salvator Mundi in Vienna: presents new research into the Christ with the Globe painting that suggests it may be by Titian (February 25th to October 16th)
Around the World in 80 Coins: coins as the traveler's companion, with anecdotes concerning historical personalities (April 26th, 2022 to June 23rd, 2023)
Lucas Cranach the Elder: explores the artistic early days of the German Renaissance artist (June 21st to October 16th, 2022)
Idols and Rivals: the great year-end exhibition which highlights the competitive nature or art and artists, showcasing the Baroque and Renaissance masterpieces that emerged as a result (September 20th, 2022 to January 8th, 2023)
Marx Halle
Klimt – the immersive experience: touring multimedia exhibition where Klimt's genius meets modern technology (April 22nd to September 4th)
Leopold Museum
Klewan Collection: writer portraits through time, illustrating the interconnection between art and literature and featuring such names as Corinth, Kokoschka, Picasso, and Rodin (May 6th to August 29th, 2022)
Hagenbund: history and works of this radical artist collective from its 1900 establishment to its ending (and persecution of members) by the Nazis (September 16th, 2022 to February 6th, 2023)
Academy of Fine Arts
The Purloined Masterpiece. Images as Time Machines: presents a selection from the academy's old masters paintings and other historical collections in dialogue with contemporary works (April 8th to October 30th, 2022)
Dom Museum
Poor and rich: follows the skewed distribution of wealth through history using art and installations (November 5th, 2021 to August 28th, 2022)
Modern art & contemporary art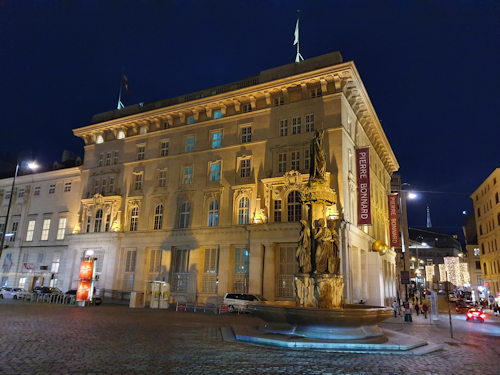 (Also see this overview of contemporary art in Vienna.)
Albertina
Hans Weigand: showcasing works created between 2010 and 2022 by this Austrian artist (May 19th to August 21st, 2022)
Tony Cragg: sculptures and drawings from the Liverpool-born artist (July 7th to November 6th, 2022)
Francesco Clemente: solo exhibition with a focus on self-portraits and his associated travels. Draws significantly on the Jablonka collection (July 27th to October 30th, 2022)
The Chobot collection: highlights from an 800-work donation with a focus on contemporary Austria artists (July 14th to September 18th, 2022)
Two artist collectives in Austria: works by two artist duos; Peter Hauenschild and Georg Ritter & Markus Muntean and Adi Rosenblum (October 5th, 2022 to January 15th, 2023)
Ruth Baumgarte: paintings by the German artist and inspired by Africa (December 8th, 2022 to March 5th, 2023)
Albertina Modern
Ai Weiwei: the In Search of Humanity exhibition represents the first such comprehensive exhibition of his works (March 16th to September 4th, 2022)
Jackson Pollock. Mark Rothko. Joan Mitchell: major autumn exhibition on abstract expressionism of the New York School (October 15th, 2022 to January 22nd, 2023)
Upper Belvedere
Lena Henke: the next one in the Carlone Contemporary series featuring Aldo Rossi's Sleeping Elephant (February 17th to August 28th, 2022)
True to Life: tracing realist painting from 1850 to 1950 (March 18th to November 1st, 2022)
George Eisler: a "behind the scenes" look at the thoughts and working processes of this Viennese artist (April 8th to September 25th, 2022)
Rona Pondick: the year-end Carlone Contemporary piece featuring the Monkeys installation (September 23rd, 2022 to January 8th, 2023)
Lower Belvedere
Grow: the role of the tree through art history until the current day (September 23rd, 2022 to January 8th, 2023)
Bank Austria Kunstforum Wien
Kiki Kogelnik: the largest solo exhibition to date for this multifaceted Austrian artist, perhaps best-known internationally for her contributions to pop art (February 2nd to June 25th, 2023)
The MAK
LaTurbo Avedon: the avatar and artist explores the virtual experience in their work (June 22nd to September 25th, 2022)
Focus on Collecting 8: contemporary art installation by Manuel Knapp (June 29th to August 14th)
Picture Books: artistic expression and communication through the medium of the printed tome, with examples from the 1960s to the present day (October 12th, 2022 to March 5th, 2023)
Birke Gorm: sculptures by the Hamburg-born artist (October 12th, 2022 to January 8th, 2023)
100 Best Posters: the 16th iteration of this competition showcasing the hundred best works from the world of artistic poster design in Germany, Switzerland, and Austria (October 19th, 2022 to February 5th, 2023)
Heidi Horten Collection
OPEN: opening exhibition for this new museum introducing the scope of the collection and the history of the site (June 3rd to October 2nd, 2022)
Leopold Museum
Franz Hagenauer: solo exhibition for this notable Austrian sculptor, perhaps best known for his head and bust designs (May 20th to September 12th, 2022)
Tilla Durieux: tracing the story of this star of film and theatre, who was portrayed in various artistic media by a host of contemporary artists, including Renoir, Kokoschka, and Oppenheimer (October 14th, 2022 to February 27th, 2023)
Academy of Fine Arts
The Purloined Masterpiece. Images as Time Machines: highlights from the historical collections juxtaposed with contemporary works (April 8th to October 30th, 2022)
Weltmuseum Wien
Chaekgeori: exhibition of still-life paintings by contemporary Korean artists (April 21st to November 1st, 2022)
George Nuku: the exhibition Oceans. Collections. Reflections. features the work of the New Zealand artist and carver (June 23rd, 2022 to January 31st, 2023)
Künstlerhaus
1503rd members exhibition: what it says on the label (June 23rd to September 25th, 2022)
Loving Others: cooperation, collaboration, collectives and artists groups form the focus (October 13th, 2022 to January 15th, 2023
The Kunsthalle
All at the MuseumsQuartier site unless marked as the Karlsplatz site.
Exhibitions for the works of:

Katrina Daschner (June 30th to October 23rd, 2022)

Sanja Iveković (October 4th, 2022 to March 12th, 2023)
Rajkamal Kahlon (December 1st, 2022 to April 16th, 2023)
Defiant muses: feminist history through the lens of Delphine Seyrig and those around her (April 7th to September 4th, 2022)
Space for Kids (Karlsplatz): interactive exhibition for young and old around the changing nature of our environment (June 14th to October 9th, 2022)
In the meantime, midday comes around (Karlsplatz): group exhibition around work and unemployment and their role along the political spectrum (November 10th, 2022 to February 12th, 2023)
MUMOK
Enjoy: a best-of exhibition drawn from the acquisitions of recent years (June 19th, 2021 to August 28th, 2022)
Wolfgang Tillmans: exhibition of work by the photographer and Turner Prize winner (November 27th, 2021 to August 28th, 2022)
Nominated: works by the nominees for the 2022 Vordemberge-Gildewart Award (June 2nd to August 21st, 2022)
Solo exhibitions:

Jesse Stecklow (May 20th to September 25th, 2022)
Emília Rigová (October 8th to February 5th, 2023)
Collaborations: an exploration of collective authorship and collaborative forms (July 2nd to November 6th, 2022)
Das Tier in Dir: art and animal life in the broadest meaning of the term; one that includes humanity's sociobiological context (September 22nd, 2022 to February 26th, 2023)
mixed up with others before we even begin: juxtapositions that create hybrid constructs where the elements within may complement, contradict or clash (November 26th, 2022 to April 10th, 2023)
Belvedere 21
Avant-Garde and the Contemporary: a themed presentation of the treasures among the more recent works in the Belvedere collection (September 15th, 2021 to February 19th, 2023)
Shaping Time: various artists use photographic techniques to explore our perception of time (March 24th to September 4th, 2022)
Rebecca Warren: first solo exhibition in Austria for the British sculptor and visual artist. Includes works made specifically for Belvedere 21 (July 15th to October 16th, 2022)
Stanislava Kovalcikova: and another first solo exhibition in Austria, this time for the Düsseldorf-based painter (September 16th, 2022 to February 5th, 2023)
Gerwald Rockenschaub: exhibition of works by this radical minimalist and long-time Berlin resident (November 25th, 2022 to March 12th, 2023)
Walter Pichler < > Friedrich Kiesler: a dialogue between these two artists (June 28th to October 6th, 2024)
MuseumsQuartier
No Dancing Allowed: the relationship between movement, body and space with a context focus on recent times (June 22nd to November 20th, 2022)
Wien Museum Karlsplatz
Urban Cultures: free open-air exhibition of street art inspired by the surrounding square and its multitude of urban uses (June 9th to October 2nd, 2022)
Sigmund Freud Museum
SURREAL! Imagining New Realities: explores the interactions and relationships between surrealism and psychoanalysis with numerous works on display from the Klewan collection and elsewhere (May 5th to October 16th, 2022)
Dom Museum
Poor and rich: highlights economic inequality across history through art and installations (November 5th, 2021 to August 28th, 2022)
Theseus Temple
Design & architecture
The MAK
Showroom Wiener Werkstätte: designer Michael Anastassiades curates a special showcase of the work of the design collective in dialogue with his own products and display concepts (October 6th, 2021 to October 2nd, 2022)
Missing Link: presenting the full oeuvre of the same-named avant-garde Austrian architecture group of the 1970s (May 11th to October 2nd, 2022)
Eligius Award 2022: presents the works of those nominated for this award in the field of body jewelry and jewelry objects (August 31st to September 25th, 2022)
Werkstätte Hagenauer: objects from the 90-year history of this Viennese art metal workshop established in 1898 (November 16th, 2022 to September 3rd, 2023)
Falten: special exhibition of the MAK Asia collection looking at the role of "Falten" (English: folds, creases, wrinkles) in a variety of contexts and design forms (November 30th, 2022 to March 26th, 2023)
The Fest: a German word for celebration or party and the exhibition explores the creative impulses and output driven by these ephemeral events…from rococo masked balls to modern-day raves (December 14th, 2022 to April 23rd, 2023)
Vienna Furniture Museum
Finer Dining: the story of Amboss cutlery against the general background of the development of Austria's food and living culture across the 50s and 60s (September 28th, 2022 to April 16th, 2023)
Architekturzentrum Wien
Serious Fun. Architecture & Gaming: as the title suggests, this explores architecture in games and toys (March 17th to September 5th, 2022)
Europe's Best Buildings: as the title suggests, with highlights of the 2022 European Union Prize for Contemporary Architecture. Mies van der Rohe Award (October 6th, 2022 to January 23rd, 2023)
Wien Museum MUSA
Atelier Bauhaus, Vienna: covers the living spaces and furniture designed by two followers of the Bauhaus approach between the two world wars – Friedl Dicker and Franz Singer (November 24th, 2022 to March 26th, 2023)
Ringturm
István Medgyaszay: pays tribute to the work of this early 120th-century Hungarian modernist (July 15th to September 16th, 2022)
Photography
Kunst Haus Wien
When the Wind Blows: around 20 international and Austrian artists use photography to reveal the presence and impact of the invisible phenomena that are wind, air and breath (March 12th to August 28th, 2022)
Unseen Places: showcases the photography of Gregor Sailer with a focus on architecture rarely seen due to its inaccessibility to the casual visitor (September 15th, 2022 to February 19th, 2023)
Bank Austria Kunstforum Wien
Helmut Newton Legacy: huge retrospective of the legendary photographer, with a mix of iconic and rare works (October 19th, 2022 to January 15th, 2023)
Albertina
The Disasters of War. Goya and the Present: juxtaposes war photos by Ukrainian photographer Mykhaylo Palinchak with Goya's Los Desastres de la Guerra (May 24th to August 21st, 2022)
Valie Export: although perhaps best-known for her performance art and wide use of diverse media, this exhibition focuses on the Austrian artist's photography (June 23rd to September 24th, 2023)
Albertina Modern
The Face: contemporary portrait photography with international and national musicians and artists as subjects (July 27th to November 6th, 2022)
MUMOK
Sound is Liquid: featuring works by the Turner Prize winner Wolfgang Tillmans (November 27th, 2021 to August 28th, 2022)
Belvedere 21
Shaping Time: various artists use photographic techniques to explore our perception of time (March 24th to September 4th, 2022)
Westlicht
In Style: the fashion and portrait photography of George Hoyningen-Huene and Horst P. Horst / Horst Bohrmann (June 1st to August 7th, 2022)
World Press Photo: the best photos from the international awards (from September 9th, 2022)
Ernst Haas: a retrospective for the Vienna born photojournalist, Hasselblad Award winner, and one-time president of Magnum Photos (from November, 2022)
Wien Museum MUSA
Instantly!: photographs of street life in Vienna from the 1860s to today, featuring numerous images appearing on public display for the first time (May 19th to October 23rd, 2022)
Leopold Museum
Otto Schmidt publishing house: historical and artistic perspectives of the work of this fine art (photographic) publisher (May 20th to August 28th, 2022)
Theatermuseum
Christine de Grancy: works by this renowned theater photographer, particularly her shots from her time at the Burgtheater (June 3rd to November 7th, 2022)
Other major exhibitions
History, culture & current affairs
Jewish Museum
Stefan Edlis: the moving story of the man who fled Nazi Vienna at 16 to eventually become a successful entrepreneur, art collector, and philanthropist in the USA (April 13th to October 2nd, 2022)
Espresso at Last!: the history of the famous Café Arabia and businessman Alfred Weiss, who brought Italian espresso culture into the heart of Vienna (May 25th to October 23rd, 2022)
Love me Kosher: an exploration of love, sexuality and Judaism (June 22nd to November 13th, 2022)
Literature Museum
Stefan Zweig: traces his biographical journey and tackles his global appeal (June 11th, 2021 to September 4th, 2022)
Ingeborg Bachmann: a hommage to the acclaimed Austrian writer featuring, for example, items from her estate and letters, photos, recordings, drafts, and more (expected late 2022)
Lower Belvedere
The Belvedere. 300 Years a Place of Art: celebrates the 300-year anniversary of Belvedere with a comprehensive review of its role through time (December 2nd, 2022 to January 7th, 2024)
Papyrus Museum
Crescent Moon over the Nile: tracing the spread of Arab influence in byzantine Egypt through the evidence presented on papyrus (June 3rd, 2022 to May 7th, 2023)
House of Austrian History
Disposing of Hitler: addresses the issues surrounding the treatment of relics from the time of the Nazis (December 12th, 2021 to October 9th, 2022)
My Voice Means Something: presents voices of Ukrainian women on their experiences of the war and its impact on their agency (August 22nd to October 16th, 2022)
Science, nature & music
Technical Museum
Artificial intelligence?: the science, technology and socioculture of AI and robots (December 17th, 2020 to October 2022)
Foodprints: the history, present and future of technology and nutrition (from December 16th, 2021 until August 28th 2022)
BioInspiration: how disciplines like architecture, medicine, transport and material science have drawn inspiration from nature and natural systems (likely from autumn 2022)
Natural History Museum
Brazil: the natural history of the country set within the context of important issues and two centuries of relations with Austria (June 8th, 2022 to April 23rd, 2023)
Mozarthaus
Mozart & Women: with portraits and sketches by Oskar Stocker of key women in Mozart's life, including opera singers and female characters in his operas (May 11th to October 2nd, 2022)
Theatermuseum
Austropop exhibition: Austrian pop phenomena in the widest sense of the expression (from Mozart to the modern) and viewed from different perspectives (October 12th, 2022 to September 3rd, 2023)