The folk at Go City offer all-inclusive passes that give one-time free access to numerous attractions and activities in Vienna. Are they worth it? Here's my opinion…
Strong on tours and activities
Particularly good for families
Opportunity for substantial savings
Not so suited to visiting the main art museums
Purchase a Vienna All-Inclusive Pass*
See also:
(NB: Go City also has a Vienna Explorer Pass that I'll look at another time.)
What you get
An All-Inclusive Pass entitles you to one-time free entry to all attractions (and one-time free participation in all the activities) covered by the pass.
You book for either one, two, three, four, five or six days. Day one is the day you start actually using the pass in Vienna. You then have 13 days to consume any further days you paid for.
(Until you first use it, the All-Inclusive Pass remains valid for two years after the date you bought it.)
Attractions & activities
(The pass covers several tours of the sights: by bike and on foot, for example)
Compared to similar products, the All-Inclusive Pass is strong on tours and activities.
At the time of writing, for example, you can take a guided tour of Schönbrunn palace, use a hop on hop off sightseeing bus for a day, go on a VR-enhanced bus tour, try an escape game, take a waltz class (in the home city of the waltz!), go on a bike tour, watch a training at the Spanish Riding School, and more.
The All-Inclusive Pass also covers a selection of attractions, including the sites of the Wien Museum (such as the Beethoven Museum) and several attractions particularly suited to families, like the zoo, Madame Tussauds, the Giant Ferris wheel, and virtual reality experiences.
Is it worth it?
You obviously have the chance to make significant savings, if you can match the selection of activities and attractions* to your needs and schedule. And since you have a wide choice of sights, tours and activities to choose from once you pay, you can fill your day(s) easily.
The all-inclusive pass seems most promising for:
Families, with plenty of activities suited to both adults and children (like the zoo or virtual reality tours and experiences)
People looking for activities or guided tours: so much so that I would use it primarily for that purpose and see the entrance to selected attractions as an additional bonus
Ad: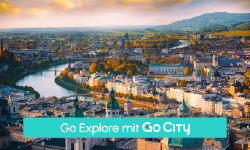 Who is it not for?
The All-Inclusive Pass does not cover some of the main art museums. So if your chief interest is such locations as Belvedere, the Kunsthistorisches Museum or the Albertina, then consider something like the Vienna Pass instead.
Equally, if you're just wandering the city sightseeing, then you might prefer the Vienna City Card, which is a relatively inexpensive network travel pass with discounts and other bonuses (but no free entry to things).
How to get the Go City products
Buy the Vienna All-Inclusive Pass online at the official Go City website*. They deliver your pass digitally: print out the pdf, save it on your phone or use the Go City app.
Finally, a couple of tips on making the most of your pass:
The website also has details on those tours and activities that need advanced reservations (obviously you can't always just turn up and expect to have space available on every guided tour, for example). Be sure to manage your schedule appropriately and book in advance where needed.
Since the first time you use the card activates Day 1, use your pass earlier in the day rather than later so you can get the most out of that first day.