Some folk ask me for my personal suggestions for where to go in the city, given I spend hundreds of hours wandering the streets to bring you this website. So here are my top ten places to visit in Vienna…
A lot depends on your interests, of course. Mine is mostly history of one kind or another. And art. And coffee. And, um, cake. So in no particular order…
(You might also like to explore my suggested authentic experiences. May also involve cake. And concerts.)
1. Bah humbug…just wander around the centre
If that sounds a bit meh, then I don't apologise.
Look, Vienna is a historical city and, despite the vast number of bombs that fell in WWII, the historical centre remains largely as it once was.
So every few paces seems to bring a palace, monument, church, or a building with the kind of costly decorative façade that you just don't get today. Let your feet take you along the pedestrianised routes and enjoy the view.
Here's my suggested walking tour route for the centre, which begins at the Staatsoper opera house and takes about 90 minutes without breaks for photos, reading, ice creams etc..
Wander into little alleyways and parallel streets on the way to escape any crowds and experience those extra architectural delights that most people hurrying from A to B won't see.
2. Café Central or…
As you wander, be sure to drop in somewhere for that coffee and cake I'm so fond of. That's pretty much top of my recommended experiences.
The question is where do you drop into?
Everyone recommends Café Central or Café Sacher, so you might expect both to be full of visitors.
And they are: queues to get in are common. To be safe, reserve a table or visit first thing in the morning.
Café Central, in particular, offers some mind-blowing interior décor, as if you just walked into a film set.
But plenty of other locations offer traditional and alternative Viennese coffee and cake experiences: try some of these coffee houses. Take a book of philosophy to read (or a pen and paper and write your own).
Ad:

3. The Hundertwasser Museum (not house)
Most people have heard of Hundertwasserhaus, the apartment block designed by the artist, Friedensreich Hundertwasser. And it's a fine place to visit, with its colours, curves, murals, spirals, and trees poking out at odd angles.
But there are too many souvenir outlets there for me. So I'd rather go to the Kunst Haus Wien.
The building is all Hundertwasser, but with fewer onlookers. And you can actually go inside, where you'll discover a large and wonderful collection of his art (not to mention an always-excellent photo exhibition).
So much colour and joy in one place.
4. OK, yes, Schönbrunn Palace (and zoo)
There's a very good reason why Schönbrunn Palace is Vienna's most popular tourist spot. It's magnificent, and a tour through the interior is a tour through some pretty impressive European history.
Visit in the early morning, when the park gates are open but the ticket office isn't. Then pop round the back, walk up to behind the Neptune Fountain and look down at the landscaped gardens and palace when empty of visitors.
What a glorious sight.
I love the zoo there, too (one of the world's best). It has giant pandas. Giant pandas.
5. The Kunstkammer
The Kunsthistorisches Museum contains more artistic treasures than you can shake a priceless Bruegel at (they have several of those). Everything from Rembrandts to Roman gold.
But the real magic lives in the Kunstkammer section, home to a Cabinet of Curiosities collected by various Habsburgs over the centuries.
Stuff in there takes your breath away.
For example, view glorious bronze statues by Giambologna, biblical scenes carved into wood the size of a key fob, 16th-century mechanical ships, golden salt and pepper pots worth millions, and so much more.
Ad:

6. The Rose Garden in the Volksgarten
I like roses. Who doesn't?
Now how about row after row of different varieties all put together to create a blast of colour to a backdrop of 19th-century imperial opulence?
That's the rose garden in the Volksgarten park. Again, be sure to go early when nobody is around (and go in early summer, when the roses are out, otherwise there's little point, really).
7. The MAK Museum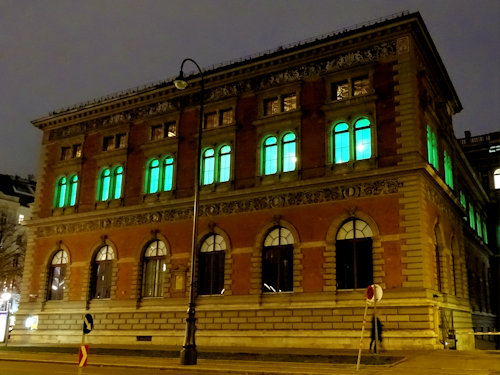 Vienna has a lot of top-quality museums. But I have a particular soft spot for the MAK Museum. You can feel the love for what they do in this showcase of applied art and design.
The temporary exhibitions are always fabulous. I've come away enthused and rejuvenated every time (and I'm a miserable 54 year-old with the attention span of a gnat).
Since we're on the subject of museums, a shout-out for Belvedere, not least because it has Austria's most famous piece of art inside. It might be considered rude to visit Vienna and not catch a look at Klimt's The Kiss.
And another shout-out for the Albertina for hosting perhaps the most prestigious art exhibitions.
8. A little spot on Heldenplatz
It's hard to get away from the modern world, but here's something worth a try…
Go to Heldenplatz and stand just off the road that passes through it, in front of the Neue Burg building, and do a 360° turn.
You might have to adjust your position a little and keep your eyes up to avoid any cars. But you should see a panorama largely unchanged since the late 19th century.
I get a kick out of that every time.
Of course, a construction crane or scaffolding might spoil the view. And the temporary parliament buildings in the square are an inexplicable squat blemish. But you can still use your imagination.
With any luck, a horse-drawn carriage will pass by to add a little aural authenticity to proceedings.
Ad:

9. The Military History Museum
I do like seeing items that offer a direct connection to the past. And the Heeresgeschichtliches Museum offers numerous such exhibits.
If we look back at history, we can describe one or two events as truly world-changing. One of them is the assassination of Franz Ferdinand in Sarajevo that precipitated World War I.
The car he was in at the time is in this museum. And the clothes he wore, too…still stained.
That's the kind of momentous history I'm talking about.
10. Mozart's apartment
Which brings me to Mozart's Apartment for the exact same reason. There are celebrities and there is Mozart. Perhaps the most famous composer of all time.
So can you imagine standing in the very same room he stood in, looking out on to the very same view he once looked out onto? Yep.
Vienna is full of such experiences (cough, Beethoven, cough, Haydn, and many more), but this is perhaps the most impressive of them.
11. Christmas
One more tip than promised.
If you can, go to Vienna during the Christmas season. A special atmosphere pervades the place, full of lights and wisps of steam from mugs of punch.
Try the Belvedere Christmas Market after dusk for a wonderful photo opportunity. Or any market, frankly.
Even professional cynics like me can't help but enjoy chocolate-coated fruit, roast chestnuts, sparkling candles, good cheer, and the chance to buy a remarkably-lovely handmade item for some ungrateful relative.