Given the cynical over-hyped world we live in, few experiences really live up to their image. One of those that do is a visit to a Christmas market (German: Weihnachtsmarkt) in Vienna.
Use the list below to find your way around the city's most popular markets, which should start opening mid-November in 2023. Discover which ones are best and get a few insider tips on how to make the most of a market visit.
What's a Christmas market?
(The main entrance to the Christkindlmarkt in front of city hall)
The Christmas market goes by various names, but all tend to follow the same pattern…
Imagine crisp winter air, the glitter of a thousand candles, steaming mugs of punch, laughter, smiles, roasted chestnuts, the tinkle of glass baubles, and the delicate crafts of numerous artisans.
Now throw in the scent of baked potatoes, fresh bread, strudel, candied nuts, and more.
Then spread it all out in front of a magnificent historical building.
There you have it: a Viennese Christmas market.
(I may have exaggerated a little, particularly the number of candles.)
The "dictionary definition" is simply a collection of wooden stalls that sell traditional Christmas foods and beverages, honey, jams, other delicacies, candy and chocolate, decorations, handmade toys, jewellery, and many other arts and crafts…all during the weeks leading up to late December (and sometimes beyond).
That rather clinical description fails to do justice to the concept, though.
Ad:

Taste not tack
The Christmas markets in Vienna are generally a tasteful affair. Plastic is rare, and wood, straw, glass and fabric (and enough food and drink to feed a blue whale) dominate.
Though they're worth visiting just for the atmosphere, the markets also make for excellent shopping.
(A stand selling Christmas punch)
You can find a wide range of potential gift items: sculpted candles, handcrafted decorations, wooden nativity scenes, jewellery, ceramics, and much, much (much) more.
Numerous Christmas markets pop up across the advent period, varying in size from a couple of stalls selling food to the dozens of stalls that make up the famous Christkindlmarkt on the central Rathausplatz square.
The only downside is the main markets can get busy: fighting your way through the latest bus group sometimes takes the edge off the romanticism (but see my tips for advice on when to go).
The main Christmas markets
I've not listed every single Christmas market in the city, but these are the more popular and/or central ones…
Christkindlmarkt
(Lighted trees in the surrounding park)
The most popular and famous Christmas market, located in front of the Rathaus city hall.
A large Christmas tree dominates the centre with dozens of surrounding stalls offering the full spectrum of seasonal offerings.
The adjacent park has plenty of Advent surprises, too. For example, look out for the instagrammable tree full of glowing hearts or the lighted ice skating routes.
For a good photo of everything, cross the road at the main entrance and stand on the steps of the Burgtheater building opposite.
Belvedere
Kind of my favourite, but I'm a bit of a fan of the surrounding complex with its wonderful art exhibitions. Not the largest market and a little bit away from the centre, so fewer crowds usually gather than at most other alternatives.
Perhaps the biggest pull is the gorgeous location: in front of the early 18th-century Upper Belvedere palace and next to a small lake, offering a glorious photo opportunity at dusk.
Schönbrunn
(The entrance to the palace area)
Hard to beat in terms of elegance and style. The market forms a grand circle of stalls in the forecourt of Schönbrunn Palace, with its giant Christmas tree and imperial splendour. Also a particular favourite of mine.
The stalls here always seem very high quality, so a fine place to pick up gifts and those little bits and pieces that make life a better place even if you don't really need them.
Altes AKH
In the grounds of the old hospital. Not a regular haunt for tourists, but quite popular with locals because it has a nice central area with food and drink stalls and plenty of bar tables.
People often meet up here after work for a bite to eat and a mug of something warming.
Locals come here with their kids, too, as the courtyard has a playground and the Weihnachtsdorf market has several rides to amuse the little ones.
Stephansplatz
(A view into the 2022 market with the rear of the cathedral behind)
This Christmas market is about as central as they come since it curls around the edges of Stephansdom. The cathedral makes for a wonderful backdrop and the market allows you to refresh yourself after strolling through the pedestrianised centre of Vienna.
One end of the market meets the parking spot for the horse-drawn carriages that ply their trade in town, which adds another level of historical atmosphere to proceedings.
Am Hof
This one's fairly central, too, and located on a square surrounded by historic buildings (including the one where Mozart first performed in Vienna).
A section dedicated to independent artists serves as an excellent source of unique gift ideas.
I have a soft spot for this one, because Am Hof is the historical centre of Vienna where the first Duke of Austria set up his court. Markets have occupied this space for centuries.
Freyung
(The backdrop is the Schottenstift abbey that dates back hundreds of years)
Just up from Am Hof is the Altwiener Christkindlmarkt on the Freyung.
Also notable for the adjoining organic farmer's market with its wonderful specialties from the more rural parts of Austria. Try the Bergkäse cheese: it's sharp as a knife.
The Freyung market has an authentic feel, thanks to the smaller size and, particularly, the mix of historical buildings that surround it: medieval churches, Baroque townhouses, and 18th-century apothecaries.
Maria-Theresien-Platz
One of the biggest Christmas markets and another glorious central location, sandwiched between the Natural History and Art History museums, and under the watchful eye of Empress Maria Theresa.
The market feels particularly magical and atmospheric after dusk. Both museums look gorgeous lit up at night and the square's topiary has its own tasteful illuminated decorations (unless an energy crisis strikes).
Karlsplatz
(All the food here is certified organic)
And another big one, sprawled in front of the giant Karlskirche church.
The Art Advent market has an "alternative" feel to it and features many unique arts and craft stalls. The organisers have strict rules about who can set up here, ensuring diversity, quality, and authenticity. Still a bit of a local secret.
Definitely consider the Karlsplatz market if you're looking for unusual or unique items to take back home with you. We always make sure to pop in here to pick up a few smaller gifts for people.
Spittelberg
A little different to the others, in that this Christmas market sprawls around narrow streets in one of Vienna's more bohemian quarters. Light spills out from neighbouring bars and specialty stores, giving it all a more cosy local feel.
The Biedermeier architectural surrounds make for a unique ambience, too.
Michaelerplatz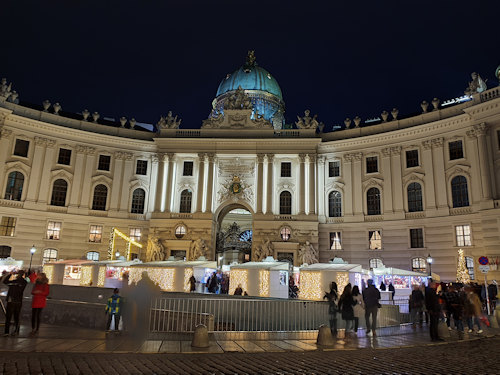 (Those railings hide remains of Roman buildings)
Quite a small market, but a lovely and very central location. It sits at one end of the Hofburg palace with its huge domed entrance. Also notable for the unique white booths that match the imperial tone perfectly.
The square once sat at the crossroads of Roman trade routes and the market actually backs on to Roman excavations. Do not, however, expect to find a dormouse-on-a-stick or larks' tongue pretzels.
Hirschstetten
A little away from the typical areas visited by tourists on a large nursery and botanical gardens in Vienna's 22nd district.
A large number of booths with a more local feel than some of the central markets. The Hirschstetten advent market also offers something rather unique: a giant floral exhibition that turns glasshouses into a magnificent themed winter wonderland.
Weihnachtszauber
(Just as the gates open…)
…and another one with a more local flavour. Hosted by the Ottakringer brewery in the 16th district, the Weihnachtszauber Christmas world includes bonus weekend markets in the adjoining event hall.
These extra markets included the likes of the Vinyl & Music X-Mas Market in 2022 and others selling vintage design or handicrafts.
Alternatives & short-term markets
Two markets that focus less on arts and crafts and more on food and/or gourmet offerings are:
Genussmarkt bei der Oper: another mainly food and drink market opposite the state opera house. Usually full of Austrian and Italian specialties (quite small, but undercover, so better if the weather turns bad)
(Share some mead with a dragon at the medieval advent market)
Some other rather nice markets normally spring up for just a couple of days:
Palais Niederösterreich (2023 dates TBA): the So Schmeckt NÖ Adventmarkt features the cuisine and products of the province of Lower Austria
Weihnachtsquartier (December 1st to 3rd): more a design market than a Christmas market, but great for gifts
Edelstoff design fair Xmas edition (2023 dates TBA): another design market with a special seasonal edition
More markets exist (which I will try and get to eventually). For example:
The Transport Museum has an advent market on selected days (details TBA for 2023) and typically includes an opportunity to take a trip on an old timer tram on Sundays
The Gartenpalais Liechtenstein provides a classic ambience for an advent market, too (2023 dates TBA)
The stables of the Spanish Riding School hosted a small, atmospheric market in 2019. I'm unsure if this event repeats (check locally). Not a place you can usually access outside an official tour, so it was worth going just to get closer to the Lipizzaner horses.
And finally…
If it all gets too overtly Christmassy for you, then consider these suggestions:
Winter im MQ: sort of the nightclub version of a Christmas market. Not a carol in sight, normally. Or a market, frankly. Just innovative light displays, outdoor cafés and restaurants, art installations and wintry (ish) sports in the thriving contemporary art complex that is the Museumsquartier
Vienna in December: discover all the other events and activities going on that have nothing to do with the Advent season. In particular, expect some top-class art exhibitions