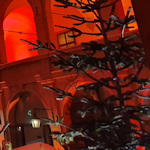 Most horses make do with a wooden stable and a bit of hay. But most horses aren't the Spanish Riding School's Lipizzaners; they live in a Renaissance arcade court and former art gallery.
Rather delightfully, the forecourt of the Stallburg stables turned into a little Advent market in the period leading up to Christmas back in 2019.
Gorgeously lit covered courtyard
A handful of stalls sold (mostly) gourmet food and drink
Large central bar also served light meals
The horses watched on from the sidelines (and Pegasus watched over you from the ceiling above)
Next dates: TBA (if it goes ahead – not sure if an annual event)
See also:
Adventmarkt and Lipizzaners
Now part of the Spanish Riding School, the Stallburg dates back to the middle of the 16th century when the future Emperor Maximilian II had it built as a multipurpose facility (which included accommodation for the imperial horses).
Archduke Leopold Wilhelm of Austria even stored around 1400 paintings there in the 17th century, so royal mares and stallions essentially lived beneath an art gallery for many decades.
Given all the history, the Stallburg would make interesting viewing. But it remains off limits to the general public, notwithstanding guided tours*. In 2019, however, the courtyard hosted a small Advent market.
I hope they repeat the exercise again in future years.
When you've been to as many Christmas markets as I have, you get a little blasé about new ones. But the 2019 Stallburg market made an excellent impression on me.
Ad:

Reds and oranges lit up the whole courtyard and stacked arcades, while a giant Pegasus hung from the ceiling. This divine horse even made a reappearance in 2020 and 2021 to provide a bit of mythological cheer for those passing by during advent.
The overall effect was quite wonderful, enhanced by a small ring of tasteful stands mostly selling the kind of gourmet food and drink that make excellent gifts. Examples included little bottles of schnapps, handmade chocolates, and even a Lipizzaner-themed cake.
All of which is jolly nice, but possibly not the actual highlight because the arcades edging the courtyard house the famous Lipizzaner stallions. And these remarkable animals were all at home.
So, every now and then, a white head popped out above a stable door to cast an elegant and superior eye over proceedings. You couldn't go right up to the horses, but you could get within a yard or three.
2022 and beyond?
As mentioned earlier, I'm not sure if the event repeats in future years, though I hope so. For reference, the 2019 dates were:
December 1st, 2019 to January 6th, 2020
4pm to 10pm
Closed December 6th, 24th, 25th, 26th, 30th and 31st, and January 1st
How to get to the Stallburg
They conveniently located the Stallburg near a subway station (or perhaps it was the other way around). Heerengasse on the U3 line is a short walk away.
Otherwise, the 1A and 2A buses stop nearby (Habsburggasse or Michaelerplatz).
Of course, the stables are very close to the Spanish Riding School arena in the Hofburg palace complex, so you may well pass it on foot anyway as you take in the central sights. And another Christmas market (the K.U.K. Weihnachtsmarkt) may be held next door on Michaelerplatz.
Address: Stallburggasse 4, 1010 Vienna