When in Vienna, do as the Viennese do. Ah, but just what *do* they do? What counts as an authentic experience?
Sitting glumly on a tram pondering the futility of existence? Possibly, though that was more of an early 1900s thing.
As an alternative, try these genuine "experiences" that get to the heart of what the city is about. And enjoy them at any time of year.
(Some suggestions you might also recognise as typical tourist experiences, but often the two truly are the same.)
So, in no particular order:
Drink a coffee
(A beverage and lifestyle choice)
There's a reason UNESCO recognises the coffee culture in Vienna as part of Austria's intangible cultural heritage. The city bursts with coffee houses, and even a fast food restaurant like McDonalds has good coffee, here.
The more traditional ones offer a place of refuge…a place to philosophise, debate politics, gossip with neighbours, peruse the papers, read Goethe and Proust, or just put your feet up after a long morning sightseeing.
Those establishments come in many varieties but the classic version has marbled tables, upholstered sofas, and a slightly dishevelled person in the corner working on their next novel (it might even be me).
The particular joy of the coffee house experience is that you can normally sit for as long as you like after ordering and nobody will bother you.
You're spoilt for choice as regards locations, but I've listed some recommended cafés for your consideration.
(Vienna even has its own types of coffee. A Wiener Melange is, perhaps, the most unique to the city: it's not dissimilar to a cappuccino.)
Visit a classical concert
(The Musikverein on the left: possibly the world's greatest classical concert venue)
Before we continue with the food and drink, let's go cultural with a visit to a concert.
Vienna cannot escape its position as a (the?) capital of classical music. Beethoven, Mozart, Haydn, Mahler, Schubert, Strauss (I and II), Brahms, Bruckner, Lehár, Schoenberg, and others all plied their trade here.
That genre still thrives today in the many orchestras, music schools, concert halls, universities, and living rooms of the city.
It's not hard to find a concert to attend at one of Vienna's many venues (which include the world-famous Musikverein and Konzerthaus).
With a bit of luck or effort, you can find yourself listening to music composed or first performed in the same building.
If you're a little wary of the classics, consider one of the shorter concerts specifically designed to give visitors a gentle taste of classical music in historical surrounds.
Let them (and you) eat cake
(A strawberry cream slice of heaven)
If you're going to have a coffee, consider adding a piece of cake to the order.
Cake is practically a staple food in Vienna, with a range of glorious creations available to ruin any good nutritional intentions. In my adopted family, cake at breakfast is a thing.
Coffee houses should have an excellent selection. Many well-known ones, like Landtmann or Diglas, run their own in-house patisserie.
Alternatively, pop into a more cake-oriented Konditorei. They serve cake, and you can also get coffee. The coffee house serves coffee, and you can also get cake. (That's my best explanation of the difference.)
Top of your cake list, of course, has to be the Sachertorte: the Viennese chocolate cake invented in the house of Prince Metternich in 1832.
See an opera
(The 1869 Staatsoper)
Returning to the classical concert theme, consider an evening at the Staatsoper (State Opera House). And all potentially for the price of little more than coffee and cake.
Vienna possesses a rich operatic history, helped by the fact that some of opera's greatest composers have a strong connection to the city (cough, Mozart, cough).
The city has three opera houses, but the Staatsoper is the biggie, a startling piece of Imperial grandeur and unexpected setting for Mission Impossible 5.
Viennese opera aficionados wander its decorated halls, waiting for the final aria to send them on their way in a blissful haze of musical culture. It's popular with locals and tourists alike.
All this might make you think tickets are impossible to get or are, at the least, very expensive.
Not so.
Thanks to an egalitarian tradition of opera going, you can see a production for as little as €4 with some advance planning or get almost-as-cheap tickets on the day direct from the opera house. Here's what you should wear if you do go.
Visit a market
(Fruit you may not always find in your average supermarket)
Vienna is a special kind of melting pot.
Thanks to the days of empire (and more recent immigration), many people here trace their ancestry back to various regions to the east, north, and south. Or west, in my particular case.
You get a feel for that legacy at the local markets.
Take the Naschmarkt, for example: a huge open-air market full of boisterous stallholders selling everything from black tiger prawns to baklava.
The Viennese shop, eat and drink at the Naschmarkt, since a variety of lovely little restaurants and bars also make their home there.
One of my favourite family memories is taking the prams through the market; the shop owners used to rush over to offer my kids little tidbits of falafel and similar.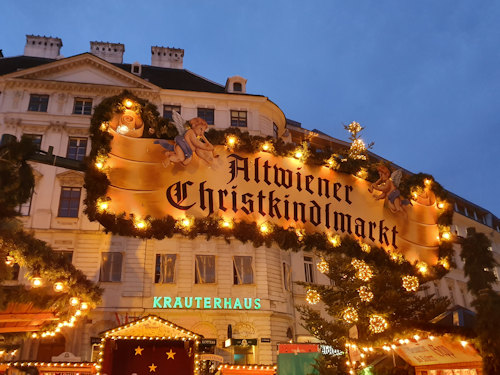 (The Christmas market on the Freyung)
And if you're here during the Christmas season, a visit to the seasonal Advent markets may seem touristy, but it's really not. These are the genuine article.
Put it this way…if nobody visited Vienna, the markets would still appear for the domestic population.
The Viennese often meet up with friends and family around stands selling punch and Glühwein. So you're likely to hear the local dialect as much as English, Spanish or Chinese. Have a few roast chestnuts while you're there.
Eat a Wiener Schnitzel
(Note the slice of lemon doing admirable work as the side salad)
Hmmm…more food. (The Viennese do like their grub.) Though vegetarians should look away and look here, instead.
I've written about the Schnitzel elsewhere, but to cut a long story short, what you get is a fried escalope, traditionally made from veal, but now mostly from pork (and, increasingly, turkey).
Some restaurants, like Figlmüller or Plachutta, have Wiener Schnitzel at the very center of their existence, but you'll find one on almost any Viennese restaurant menu (even those serving non-Austrian cuisine). This makes the dish ideal for comparing prices between establishments.
The true Wiener Schnitzel comes in quantities large enough to feed a football team, with a small serving of potato salad to make you feel better about yourself.
And, yes, locals eat this meal in vast quantities, too. The Schnitzel is as much part of the Viennese soul as waltzes, cake, and the ability to remain pessimistic in the face of any good news.
Take a tram ride
(The latest tram generation)
Not quite the opulence of the opera or the frisson of gastronomic pleasure provided by a Sachertorte, but…a tram is a tram.
Public transport here runs smoothly and efficiently, and the trams take you just about everywhere in Vienna.
For example, board the tram line "2" at Schwedenplatz in the direction of Dornbach and it takes you around past the Stadtpark, the Oper (opera house), and those parts of the Ring boulevard that host many of Vienna's famous buildings.
Eat an ice cream
(Vegan ice cream!)
OK, I said these were experiences you could enjoy all year round. So what's the deal with ice cream?
Well, Vienna has a number of popular ice cream parlours. Many are Italian-run and shut up shop for winter. However, some do stay open for all but a few weeks in the year.
Oh, and when I say "ice cream", I mean proper stuff: genuinely creamy in a variety of rich flavours you can mix and match to your heart's delight (but perhaps not your cardiologist's).
The most famous local parlour is probably Tichy, but that's a little off the beaten tourist track at Reumannplatz and closed in the colder months.
The most famous parlour nearer the centre (and open for a longer portion of the year) is probably Zanoni on Rotenturmstraße, the road leading northeast from Stephansdom Cathedral.
Eat a sausage
(The Käsekrainer and my favourite sausage until I turned vegetarian)
Finally, the crowing culinary Vienna experience. The Everest of gastronomic achievement. The streamlined cholesterol delivery packet that is the Wurst…the sausage.
After a night out, locals collect around the "Würstelstand" to eat a sausage with bread and mustard (or ketchup) and set the world to rights.
The stands are everywhere, but particularly common at transport nodes, such as outside subway stations. Warning: don't take your sausage on a bus, tram or train: it's frowned on and the subway has a food ban on its trains, anyway.
The sausages themselves come in a variety of forms, but – if you can handle the fat levels – the Käsekrainer is a bit of a local secret.
And there you have it. All that remains is to declare war on the Prussians and complain about Hungary's wish for more autonomy.