The Vienna café culture forms such an integral part of what it means to be Viennese that UNESCO put it on the intangible cultural heritage list for Austria. But what actually defines the Viennese coffee house experience?
The tradition
(The entrance to Café Hawelka)
If life was a coffee house in Vienna, we'd get nothing done and be better for it. When you cross the threshold, listen closely to hear the tick of your watch slow to a standstill.
Perhaps the one truly defining element is the absence of any pressure to order more or move on. The staff will leave you more or less in peace until you ask for another drink or the bill.
You can sit there for hours having bought a single coffee. (And some people do.) Even if the place is full and the queue outside seems intimidatingly long.
The coffee houses even encourage this behaviour with another little tradition. Somewhere inside each one is a rack, table or stand covered in newspapers for you to borrow.
(You might once have bumped into Sigmund Freud at Café Central, for example)
So…forget yoga, meditation, weekend retreats, and time management courses. If you really want to relax, all you need is a Viennese café and your reading glasses.
(Of course, you may attract an inquiring look or two at some point. And most of us understand that this wonderful aspect of coffee house life should not be abused.)
This congeniality and leisurely approach to the day turned Vienna's cafés into legendary meeting places for artists and actors, poets and politicians, writers, intellectuals, and revolutionaries.
Many of the world's famous names worked, relaxed, conversed, exchanged news, and debated in Vienna's coffee houses. Beethoven, Klimt, Freud, and Trotsky, to name but a few.
The term "Kaffeehausliteratur" (coffee house literature) even describes the many works of literature written at those marbled tables or inspired by conversations around them.
(The "Artists' Room" in Café Griensteidl, pictured in the Illustrierten Wochenzeitschrift around 1890; Wien Museum Inv.-Nr. 84032; excerpt reproduced with permission under the terms of the CC0 licence)
This melting pot of minds almost certainly played a part, for example, in the evolution of Vienna Modernism: the explosion of creativity and progress in the late 1800s and early 1900s.
These artistic and intellectual traditions continue today. Many coffee houses host author readings or piano-led musical performances, for example.
And you may still spot a gaunt, driven figure somewhere at the back, their face contorted in creative agony, hand and pen poised above parchment waiting for their muse (or the next cappuccino) to make an appearance.
The only downside to all this is sometimes you may have a short wait before you can catch someone's eye so you can pay and leave.
Inside the coffee house
Each coffee house or café may have its own distinct style, but various common factors help define the indefinable.
(The welcoming lights of Café Sacher on an early morning)
The furniture
Some coffee houses look like the inside of a 19th-century palace. Others like a relic from the 1950s. But almost all of the "classic" ones tend to share these characteristics:
Marble tabletops on wrought iron, brass or wooden stands
Upholstered sofas forming comfortable niches along the walls
Chairs with open backs, often using bentwood forms in the style of Thonet
Wooden floors, tall ceilings, and walls often embellished with artwork (some of which may have once been used to pay the bill for all those coffees and cakes)
The staff
Traditionally, coffee house waiting staff dress in white and black, the waiters commonly in a tuxedo, the waitresses in a white blouse.
Until relatively recently, the job was the domain of what we might call Schrödinger's waiter: delicately walking the line between arrogance and affability. You could never be too sure if they were friendly or unfriendly.
Such staff are much rarer these days (but not entirely extinct).
The clothes remain the same, but the attitudes have become more modern: more service-orientated and open. But still they remain a study in paradoxes: unhurried, yet quick; unobtrusive yet available…waiting tables as both a job and an art form.
The menu
(Coffee? Check. Glass of water? Check? Tray? Check. Upturned spoon? Check)
You may not even see a menu unless you ask for one. Expect coffee to be available, as you're no doubt shocked to learn.
However, coffee is not coffee.
American friends of mine, for example, often struggle at the common absence of simple filter coffee in a large cup or mug. Not really a thing here.
Instead, you might try a Wiener Melange or a Franziskaner. An Einspanner. A kleiner Brauner. Perhaps a Verlängerter. A glossary helps.
Your espresso arrives on a serving tray, the porcelain cup perhaps carrying the mark of the house. And with it a glass of water.
Nobody really knows where the water tradition came from, though various theories exist. You always have water with your coffee now because, well, you always have water with your coffee.
A coffee spoon sits on top of the water glass, upside down. This dates back to the days of the nobility, when you wanted your guests to see the hallmark on the spoon's back that proved it was solid silver.
(Incidentally, those same nobles and aristocrats used to drink their coffee cold, since the steam melted courtly makeup.)
A waiter once forgot the spoon with my order, and three different members of staff came and apologised; they take their coffee and traditions very seriously here.
Food?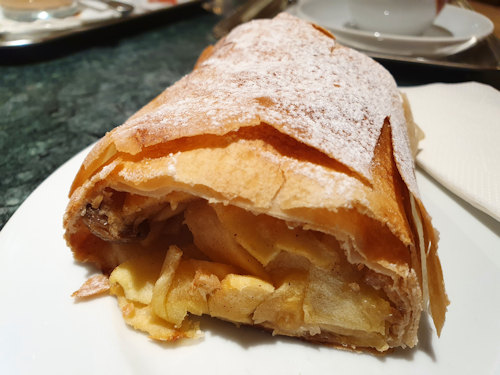 (Apple strudel)
Some coffee houses serve little in the way of food, while others have fully-fledged restaurant menus.
All should have cakes and pastries of one sort or another: particularly Apfelstrudel (apple strudel) and usually a glass vitrine heaving with Sachertorte and similar.
Whatever you choose to eat or drink, just remember to relax, turn your clock back a few decades, and take your time. After all, as author Friedrich Torberg allegedly once said (my rough translation):
People always seem to be going into Café Hawelka, but none of them come out again. What does the Hawelka do with its guests?
And finally…
(An equally traditional alternative to the coffee house)
Not all coffee houses follow tradition, of course. For example, Vienna has its fair share of Italian-style espresso cafés, Starbucks, and mobile coffee carts to keep us fuelled with caffeine in parks and at festivals.
Even McDonald's does good coffee here in the McCafé section of their fast food outlets.
Another long-standing café tradition you might also want to explore is the Konditorei (often called a Café-Konditorei). This translates to confectionery in English and refers to what you might call cake shops, except these have a proper café inside them, too.
Indeed, the difference between a coffee house and Konditorei often proves vague. In my experience, the latter tend to have more cakes, more gossip, and more outlets sharing the same name.
But wherever you choose to put your feet up and sip your cappuccino or Wiener Melange, know that to do so remains, even after all these years, a truly authentic Viennese experience.