If you feel like you can hear a zither playing in your subconscious, do not be alarmed. Café Mozart might trace its origins back to the days of Beethoven, but The Third Man made it famous.
First coffee house here opened in the 18th century
Very convenient central location
Top cakes and cosy, traditional ambience inside
See also:
Coffee, Opera & Harry Lime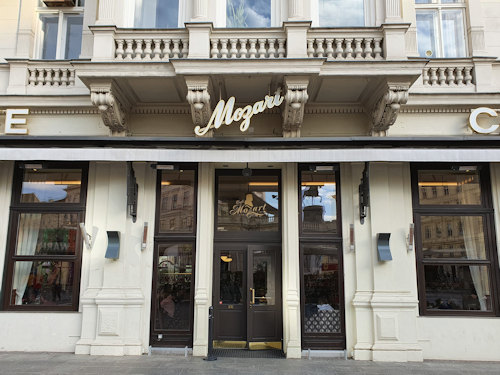 (The entrance facing Albertinaplatz square)
Most of the well-known coffee houses in Vienna look back on a long history. But perhaps none quite so long as Café Mozart.
The first coffee house on this site appeared in 1794, just three years after Mozart's death, when Haydn and Beethoven still entertained the Viennese public with new compositions.
A chequered history and various name changes followed, including a pause when the surrounding building made way for the current one in the late 19th-century.
Those early cafés adjoined a major theatre and concert venue (now the Sacher hotel), where Beethoven's Ninth Symphony premiered and Chopin first played piano to a Viennese audience. Another neighbour was (and still is) the State Opera House.
Inevitably, Café Mozart became a frequent haunt for actors, singers, musicians, dancers, and others of an artistic bent. And that central location continues to contribute significantly to the coffee house's popularity.
Curiously, the Café Mozart name only came about in 1929 in reference to the large Mozart monument nearby, which has since moved to the Burggarten park.
(Albertinaplatz in 1941 with Café Mozart on the left behind the Mozart monument; Bruno Reiffenstein (photographer); Wien Museum Inv.-Nr. 79000/1153; excerpt reproduced with permission under the terms of the CC0 licence)
And, equally curiously, the highlight in the café's rich history was perhaps just after WWII, when the likes of Graham Greene, Carol Reed, Orson Welles and Joseph Cotten dropped by.
All worked on The Third Man and apparently became regular guests, which might explain why the film's Holly Martins and Baron Kurtz meet at "Café Mozart" in the movie (although they actually shot the film scenes elsewhere on Neuer Markt square).
So much for history. But what about today's Café Mozart?
Inside, you encounter the classic interior of the traditional coffee house. Wood panelling, marbled tabletops, upholstered sofas, wooden chairs, and black-clad waiters that appear to materialise out of nowhere like a 19th-century version of Star Trek's teleporter.
Unlike with many of its colleagues, the main room is remarkably bright thanks to the wide windows, large mirrors and giant glass chandeliers.
As part of the Querfeld family business, Café Mozart draws on the in-house Landtmann Patisserie for its cakes. Which basically means you will not be disappointed.
I had a lovely banana slice, suitably banana shaped and rich in chocolate. The cappuccino was great, too (not always a given), with a rich creamy froth. Prices, inevitably, are on the expensive side.
("Bei der Oper" means next to the opera house)
Contrary to what you might expect, our young, male waiter knew all the details of the cakes, much to the delight of my companion, for whom cakes are less a type of food and more an entire cultural and intellectual experience.
The location, history, and fundamental quality means queues tend to be common, with Café Mozart popular with tourists (as you can tell when inside).
You experience more of a coming and going than in many coffee houses, as folk hurry off to continue their sightseeing. So expect fewer wise old ladies and gentlemen with a pen in one hand, espresso in the other, writing their memoirs alongside a copy of a broadsheet (my life goal, incidentally).
Getting a seat should get a touch easier in warmer seasons when the terrace outside opens, allowing you to sip your melange under the watchful gaze of Archduke Albrecht perched on a horse opposite.
How to get to Café Mozart
Spend any time visiting Vienna and you can't avoid bumping into Café Mozart. As mentioned, it lies opposite the State Opera House, but also across from the Albertina art museum.
Subway: walk down Kärntner Straße from Stephansplatz station (U1 and U3) or up past the opera house from Karlsplatz station (U1, U2 and U4)
Bus/tram: The nearest tram stop is Oper/Karlsplatz, reached on the 1, 2, D, 71 and 62 trams. The old town buses stop nearby, too: take the 2A to Albertinaplatz, for example.
Address: Albertinaplatz 2, 1010 Vienna | Website