Let's be honest. We may claim the art, history or imperial flair brought us to Vienna. But it's really the coffee and cake. And if you need to know the difference between a Kardinalschnitte and a Rehrücken, help is at hand with this guide and glossary…
Torte or Kuchen?
(Esterházy Torte up close)
First of all, wrap up any shame and guilt and leave it at your hotel.
Cake in Vienna is part of the city's fabric. It's practically a cultural asset and certainly an integral part of the urban dweller's diet. And it goes with everything.
Not to eat cake is to slap the face of the Viennese and all that Vienna stands for. (Disclaimer: not all the above is true.)
Before you start exploring the cake menu, let's first clear up some linguistic terms you'll find useful down the coffee house or Konditorei (confectionery).
(A slice of Erdbeer Obers Torte or strawberry cream cake)
The Viennese distinguish between the following (though the boundaries can be fuzzy):
Torte: what most English-speakers would consider traditional birthday-cake-shaped delights. Large, round, and cut into triangular slices when served. Usually two or more layers, even if one is just a bit of jam. The Sachertorte (see below) is the classic example.
Kuchen: also cake (it's complicated, believe me). More for flatter, square or rectangular cakes that are less rich or with no cream filling.
Often, as in English, a cake will simply be named "ingredient + torte/kuchen", so a quick dictionary check should have you well informed. For example, a Zitronentorte is lemon (Zitrone) cake, a Bananenkuchen is banana (Banane) cake, and a Maronitorte is sweet chestnut (Maroni) cake.
(Bananaschnitte: a Schnitte style cake with banana)
Schnitte: um, cake (sorry). A term used to refer to some cakes served as a tall rectangular slice or square. Typically multilayered concoctions that include soft layers such as whipped cream.
Mehlspeisen: difficult to define, but essentially pastries that you might have for dessert or with a tea or coffee. So the term includes such things as apple strudel, Krapfen (doughnuts), and even a croissant, but also (of course) a Torte, Kuchen or Schnitte.
Nachspeise: the general term for dessert, pudding or afters, so covers a much wider variety of sins than mere cake or Mehlspeisen.
The cakes
Lots of varieties exist, obviously, but what are the main options likely to appear on menus in Vienna? Let us begin with the Queen of the Viennese baker's art…
Sachertorte
(A slice of history)
Notable for its layer(s) of jam (usually apricot) and the thickish veneer of soft chocolate glaze on top. A culinary treasure famously created in the home of Prince Metternich in the early 19th century. The Sachertorte is probably Vienna's entry in the global Cake Hall of Fame.
To call it just a chocolate cake would be a disservice. Consider it the crowning glory of several hundred years of culinary evolution.
Some claim Gustav Klimt's The Kiss holds the accolade of Vienna's greatest work of art. They are wrong. It's the Sachertorte, which has the additional advantage of being both affordable and edible.
Having said all that, some folk find the glaze a little too sweet.
Gugelhupf
(Known for its distinctive shape)
You might know this one already, too. A relatively dense sponge-like cake, usually made with two colours in Austria that leave it looking very similar to a marble cake.
Proper Gugelhupf is baked in a circular (Bundt) mold with a chimney-like spike in the middle. This gives the finished article and each slice its unique shape in the coffee house display cabinet.
Some people eat Gugelhupf with a dollop of whipped cream to combat the drier quality of the sponge. But I'm not sure if that isn't considered cultural sacrilege.
Kardinalschnitte
(Invented by Ludwig Heiner, whose Konditorei chain continues today)
A layered cake, commonly made up of light sponge, soft meringue, jam, and whipped cream (though not as fat-rich as traditional whipped cream). First created in Vienna in 1933.
The invention of the Kardinalschnitte was likely in honour of Theodor Innitzer, Archbishop of the city, who became a Cardinal of the Catholic Church that same year. (The story would certainly explain the name.) The original recipe did not include whipped cream.
Rehrücken
(This one's missing the popular nut decoration)
A very distinctive-looking chocolate almond (heavy) sponge cake, served as a rounded slice and covered on all sides in a chocolate couverture. Often decorated with little almond slivers sticking out of it like a hedgehog.
Rehrücken actually means a saddle of venison. If you look for Rehrücken recipes, you'll find most recommending you serve it with onions and a red wine sauce. The name for the cake presumably comes from the similar look to the meat dish.
Topfentorte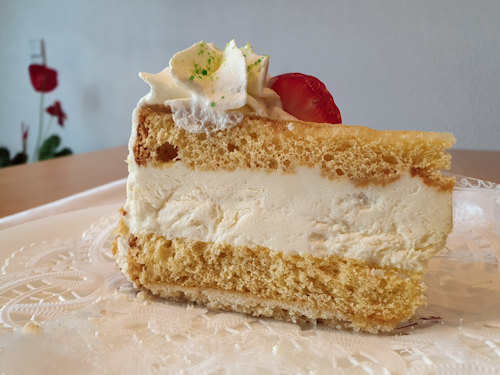 (Topfen is a common ingredient in Austrian kitchens)
The Topfentorte usually consists of three layers: a sponge base, a quark-based filling, and a sponge top. Sometimes confused with a cheesecake because of the look and taste of the quark filling. Incidentally, Vienna also has cheesecakes.
Topfen (quark) plays a much greater role in Austrian cuisine than in, for example, the UK. You might come across Topfenstrudel, Topfengolatsche (a quark-filled pastry) or a Topfenknödel (a form of sweet dumpling).
Punschkrapfen
(Served like a giant praline but is actually a cake)
Ask for a Krapfen in Austria and you'll get a doughnut, one of those Mehlspeisen mentioned earlier. A Punschkrapfen, however, is something completely different: small cubes of cake covered in pink fondant icing.
Inside is sponge typically mixed with jam, chocolate and (possibly) nuts for a brown tinge and laced with rum (either the real thing or rum flavouring).
The term Punschkrapfen (sometimes spelled Punschkrapferl) has been used to describe a certain kind of person: one who seems left wing on the outside, but leans towards far-right policies on the inside and enjoys their alcohol.
(Red is the colour associated with Austria's social democratic party and brown the colour associated with the Nazis.)
Malakofftorte
(Another cake with a historical connection)
Similar to a Charlotte cake. The typical Malakofftorte consists of a sponge base, sponge fingers and a cream-based filling, with at least some parts steeped in rum, rum flavouring or maraschino. Often decorated with almond flakes and small chocolate sponge forms.
A popular theory claims the name comes from the Crimean War, with the cake created in honour of the French military leader, Aimable Pélissier. He conquered Sevastopol in 1855 following the storming of the Malakoff fortifications and Napoleon III later named him Duke of Malakoff.
Esterházy Torte
(A reminder of Austria's long association with Hungary)
Known for its distinctive striped look, the Esterházy Torte typically has layers of nutty macaroon-like sponge separated by a buttercream or other cream-based filling.
White fondant tops the cake, decorated with lines of chocolate in a design reminiscent of those used by baristas. The filling is often enhanced with vanilla, rum or some liqueur.
Unsurprisingly, this one also has imperial origins. The name comes from the Esterházy family, a Hungarian aristocratic dynasty who were strong supporters of the Habsburg monarchy and notable patrons of Joseph Haydn.
Mozart Torte
(A relatively recent addition to the Viennese menu and a homage to the great musician )
Generally encountered as a chocolate and nougat sponge cake with a layer of pistachio-flavoured marzipan down the middle or covering the top. Kind of like the cake equivalent of the marzipan Mozart balls you see at every souvenir stand.
You may find other versions of the Mozart Torte. Bakers (and marketers) have discovered the composer's name adds a classical touch to any cake.
Pariserspitz
(Another cake disguised as a large praline)
A light chocolate ganache covered in a chocolate couverture (hmm…I sense a pattern in terms of ingredients) and resting on a small shortcrust pastry base.
In German, Spitz refers to a pointed shape, which hints at the design of this little delight. And Pariser means Parisian, but the word possibly/probably refers to the ganache (known as Parisian cream locally), rather than the city.
Usually served as small delicacies, so leave you feeling a little less guilty after consuming one.
Cremeschnitte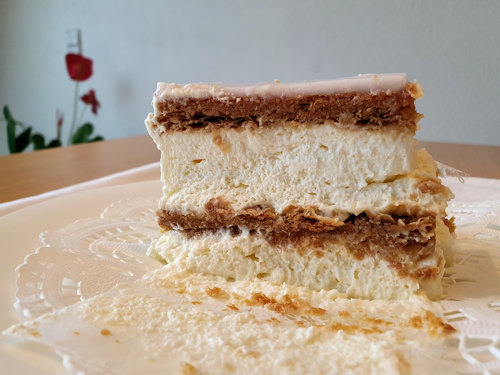 (The cake equivalent of a tech billionaire: very rich)
From the name, this should just be a cream slice. But that offers no clue to the actual contents.
So, yes, expect a thick layer or two of some cream-based filling, but sandwiched between puff pastry and often topped with icing. Austria's neighbours tend to use a more custard-like filling, but I don't see that much here in Vienna.
I've heard of these served in slabs big enough to roof your house with, but even a small slice is remarkably rich (I can never finish mine).
Dobostorte
(Another Hungarian contribution to imperial Vienna)
Invented around 1885 by a certain Mr Dobos in the Hungarian portion of the Austro-Hungarian Empire. The cake normally contains around eight alternate layers of sponge and chocolate buttercream, with sticky but hardened caramel on top.
Enjoy every last crumb.
And if you need help deciding on the right coffee to go with your cake, here's a handy Vienna coffee glossary.