Vegetarianism as a major movement came late to Austria (even if Vienna once hosted a vegetarian congress in 1886). But a cosmopolitan capital has enough options to keep vegetarians like me happy and fed.
Enjoy some tips on what to expect on a meat-free trip, with a small glossary of key German words to finish.
The vegetarian culture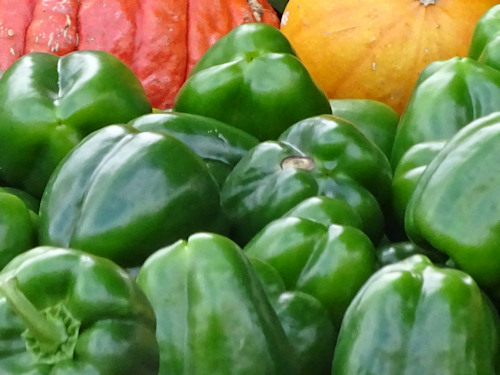 (Bell peppers: notoriously free of meat)
When I first arrived in Austria, I asked someone where you can buy semi-skimmed milk. They expressed immediate concern for whatever gastrointestinal disease I must have suffered from, for surely no healthy human would want something as exotic and rare as milk without all the fat.
I give you that story just to illustrate that Vienna and Austria joined modern dietary movements somewhat later than many others.
Times have changed. Fortunately.
In early 2021, for example, Nestpick rated Vienna as the fourth best city in the world for vegetarians out of the 200 they surveyed. Only London, Berlin and Munich ranked higher.
As well as the usual arguments, vegetarianism in Austria benefited (in my amateur opinion) from synergies with the country's widespread organic food movement. Go into any Vienna supermarket and the astonishing range of organic products available may surprise you.
The actual number of vegetarians in Austria depends on which survey you read, but I'd estimate roughly 5-10% of the adult population as vegetarian or vegan. Perhaps more as time goes by?
So being a vegetarian is nothing unusual and the grocery stores and restaurants have adapted accordingly.
Eating out
The traditional Austrian diet has always been rather meat-heavy.
Perhaps the most iconic Viennese dish is the Schnitzel, often served as a plate-sized piece of fried pork where the non-meat component involves a slice of lemon and (if you're lucky) a thimbleful of potato salad. I'm exaggerating…but not by much.
As a result, restaurants sticking to truly traditional menus may still seem light on meat-free options.
Such locations often rebrand "old school" dishes as vegetarian (like the ubiquitous Greek salad). Käsespätzle makes another good example: a traditional kind of pasta/dumpling dish involving melted cheese and fried onions.
Fortunately, more and more restaurants now include dedicated vegan and vegetarian dishes that go beyond historical coincidence. As you'd expect, this is particularly true of:
Places used to serving international guests (cafés and restaurants in tourist areas ought to have sufficient meat-free options, but snack bars are another matter)
Student haunts. Around the centre, look for places near to the…

University of Applied Arts Vienna
Academy of Fine Arts Vienna
University of Vienna
TU Wien
Medical University of Vienna
Vienna University of Economics and Business
Outlets whose cuisine lends itself to vegetarianism. We often get takeout from the Akakiko chain, for example, and noodle bars have begun popping up everywhere
And then we have a growing number of dedicated vegetarian or vegan restaurants, with numerous in Vienna's old town (Google Maps, Trip Advisor, and similar will be happy to recommend some to you).
We don't eat out much, so I can't make personal recommendations unfortunately.
Incidentally, the Christmas and Easter markets now feature vegetarian options in addition to the traditional wintry fare: spicy lentil soup alongside goulash; leek sauce toppings for your baked potato rather than chopped ham and cheese; falafel as well as fried sausage.
Grocery stores
The situation looks even better for vegetarian (and vegan) food shopping.
Vienna has plenty of health food shops and organic grocery stores or chains (like Denn's, for example) that often stock a decent number of options.
In the last couple of years, the big supermarket chains (finally) scaled up their specialist vegetarian and vegan options, too. One such chain (Billa) even has an entirely plant-based store (BILLA PFLANZILLA below Gerngross department store at Mariahilfer Straße 38-48.)
Look, in particular, for dedicated vegetarian sections in the refrigerated areas where you normally find dairy products.
Various choices exist, but, for the record, our trolley tends to contain these brands:
The Vegavita range of meatless products (especially their tofu)
Soya drink (as a milk replacement) from Ja Natürlich, an in-house organic brand of Billa Plus and Billa supermarkets. Importantly, they use domestically-grown soya beans
The Vegini range of soya-free vegan products: particularly their pea-protein burgers and pulled chunks (Billa Plus supermarkets are usually a good place to find these)
The Veggie own-brand range of vegetarian and vegan products in Spar supermarkets
In my experience, vegetarian "sausages" here are a bit hit and miss. And mostly miss. And often unpleasantly expensive: we tend to stick to the other products.
Needless to say, your typical supermarket also has plenty of pulses, cereals (including quinoa, amaranth, etc.), vegetables, fruit, and so on.
Vegan festivals
Two notable festivals to consider:
Veganmania (June 2-4 and August 25-27 in 2023): one of the city's biggest street food and market events is entirely vegan
Vegan planet (Nov 18-19 in 2023): an indoor fair dedicated to an animal-free lifestyle…fashion, food, accessories, etc.
Vegan ice cream!
(A popular ice cream chain)
I'm not a big ice cream eater, but have noticed of late that many of Vienna's ice cream salons offer a surprisingly-large number of vegan ice cream options for your cornet.
We even have a chain of vegan ice cream stores: Veganista (last time I checked their website, they also supplied Spar supermarkets). They have a branch in the very centre at Tuchlauben 12, close to Café Korb.
And finally…
German vocab for vegetarians
Vegetarier / Vegetarierin : male/female vegetarian
Veganer / Veganerin : male/female vegan
geeignet für Vegetarier / Veganer : suitable für vegetarians/vegans
Fleisch / Tier : meat / animal
fleischlos : meat-free
Soja : soy or soya
sojafrei : soya-free
Pflanzen : plants
pflanzliches Eiweiß : plant protein
tierisches Eiweiß : animal protein
Ei / Eier / Hühnerei : egg / eggs / chicken eggs
Käse / Milch / Milchprodukte : cheese / milk / dairy products