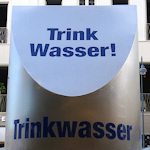 Many visitors to a foreign city want to know if you can drink the water. Well, in Vienna, mineral water comes out of the taps. And I'm only half joking.
The tap water in Vienna is generally very high quality
Drinking fountains are quite common in tourist areas
Summer sees Vienna add cooling water stations throughout the city
See also: How safe is Vienna | Visitor questions
Water quality in Vienna
You never realized how bad the tap water is back home until you experience the Viennese equivalent; over 95% of the water used in Vienna over the course of a year comes through two pipelines direct from the Alps mountains.
The authorities don't even need to pump water into the city: gravity does the job for them.
These mountain areas sit in water protection zones with no significant industry and few people all told (it's basically mountains and not a lot else).
As a result, this "Alpine" tap water is very high quality, low in nitrogen, has no measurable pesticide residues and, frankly, tastes as good as any mineral water you're ever likely to drink.
(In case you were wondering, Viennese people still buy vast quantities of mineral water. Go figure.)
In other words, you need have few worries at all about drinking or using the tap water.
In fact, in contrast to most cities, it's the undrinkable water that tends to get labelled. If you see a "Kein Trinkwasser" sign, this means the water is not suitable for drinking. You'll see such signs on some large fountains, for example.
As you wander the city you'll also come across drinking water fountains put there for your refreshment. These are labelled Trinkwasser (drinking water) to make it clear that you can use them. Vienna has around 1000.
(A drinking water fountain in the centre of Vienna)
In hot periods, the city also installs a variety of water-based cooling facilities in busy areas. These include mobile drinking fountains, as well as mist and water spraying devices designed to tackle urban heat. All part of a wider package to prevent and/or ameliorate the effects of the climate emergency.