Vienna may seem more about cake than courtship, but a trip for two to this fair city might include a romantic dinner to go with your Sachertorte. Enjoy these suggestions for unusual locations, restaurants, and even romance-tinged snacking spots.
Jump to…
Food, drink & romance
…she did not think anything less than two courses could be good enough for a man on whom she had such anxious designs.
Pride and Prejudice's Mrs Bennet knew the power of food in courtship and love over two centuries ago. In the spirt of Jane Austen, let us discover some opportunities for a romantic meal in Vienna. We begin with…
Unusual locations
Two places better known for their other attractions, but which offer a special opportunity for couples…
The Kunsthistorisches Museum
(Not a bad setting for an evening meal)
Like all good museums, the Kunsthistorisches art museum has its own café-restaurant.
Ah, but not just any café-restaurant.
This one sits under the great dome of the building: an absolutely magnificent assembly of marble, statues and assorted gilt decoration that leaves you barely daring to sip your coffee for fear of disturbing the creative spirits.
Elegant is the word.
And on selected Thursdays, the restaurant also opens in the evenings to offer a gourmet 5-course dinner with a Deluxe option involving rose petals and champagne.
The Riesenrad
(Dinner on the move)
The iconic Riesenrad Ferris wheel of such films as The Third Man turns its circles studiously, with visitors eager to cast a look across the city.
In the romantic indie film, Before Sunrise, the two stars enjoy their first kiss while on the wheel.
Should you wish to turn the romance up another notch, you can reserve a gourmet wagon for a 2-person breakfast, coffee, or candlelit 3-course evening meal.
…more information (in German at the time of writing, but I'm sure they'd be happy to communicate in English).
Restaurants with a view
I daresay a fair few restaurants in town offer suitably romantic niches and experiences, but the opportunity to dine with a view across nighttime Vienna feels true to the spirit of l'amour.
I'll add locations as I come across them, but for starters:
The Danube Tower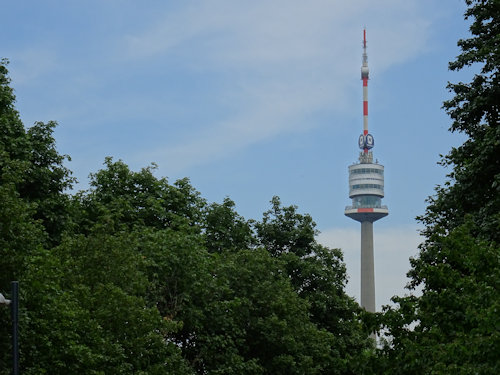 (Austria's tallest building)
This viewing platform has a revolving restaurant at 170m (and coffee house) featuring regional produce. Special "top of romance" packages, for example, ensure a window seat and include sparkling wine and red roses.
The 57 restaurant
(The location is close to the banks of the Danube)
This restaurant lives on the 57th floor of the DC Tower skyscraper. When making a reservation, you can book a four-course menu with a guaranteed table next to the window, for example. Or reserve your own private dining room(!)
The Loft
(Located next to the Donaukanal waterway)
Perched on the edge of the Danube channel that skirts the centre, The LOFT occupies the top of the SO/ Vienna hotel. This restaurant offers both views and a ceiling considered a work of art in its own right.
The LOFT in LOVE special gets you a front-row seat, decorated table, a bottle of bubbly, etc. Or simply look to book a window table during the online reservation process.
Ocean Sky
(Lower floors are full of animals)
A converted flak tower might not sound like the kind of place that Romeo and Juliet would meet. Not even when you learn it has the Haus des Meeres giant aquarium inside. Ah, but a surprise awaits…
Take a lift to the very top to find the lovely Ocean Sky restaurant with views across Vienna in every direction.
Romantic spots & special connections
These feel like places where you can sit yourselves down with nothing more than sandwiches and a soda, yet still hear the twang of Cupid's weapon of choice.
The Steps below Albrecht
(Follow in Jesse and Céline's footsteps)
In Before Sunrise (mentioned earlier), our would-be lovebirds spend some of the last moments of their night together on the steps below the equestrian statue of Archduke Albrecht.
Here Jesse (played by Ethan Hawke) recites Auden's poetry to Céline (played by Julie Delpy). The same location features in the sweet Sachertorte romcom, too.
More Before Sunrise
(The Kleines Café on the right)
If you want to take a more detailed Before Sunrise journey, discover all the locations here. Two opportunities with a particular dash of romance might be the café settings:
Café Sperl: a grand traditional coffee house and home to the acted telephone call scene
Kleines Café (Franziskanerplatz 3, 1010): a small café and bar on a historical square. Lovely ambience for the outdoor seating and home to the "stardust" scene
The Volksgarten
This public park adjoins Heldenplatz square as part of the Hofburg complex in the centre of town. Two locations spring to mind for those of a romantic bent.
(A patch of horticultural joy)
The rose garden: a kaleidoscope of colour with hundreds of varieties and rows of benches to sit on. Perfect for an early-morning croissant and takeaway coffee in early summer.
(Not so perfect when the flowers are gone, mind you.)
(Dedicated to one of the great figures of Habsburg history)
The Elisabeth memorial garden: only because this commemorates Sisi, the Habsburg Empress wrapped in myth, mystique, romance, and more than a hint of tragedy. Widely considered the most beautiful woman of her generation.
Bonus: The Tree of Hearts
(Cough…best experienced – and photographed – at night)
As a romantic bonus during the Advent and Christmas season, the park decorations around the Rathausplatz Christmas market include one tree festooned with glowing red hearts.
You may struggle to find a convenient spot to eat, but the tree makes for a perfect background for a romantic selfie.
Finally, let us remember, as Shakespeare once wrote:
Love comforteth like sunshine after rain
…but decent coffee and chocolate cake do a similar job. When in Rome (or Vienna)…