Right, much as we all like the main course, the food in Vienna is really about what comes afterwards (and what you eat along with your coffee). We're talking cakes, pastries, and desserts.
"Mehlspeisen"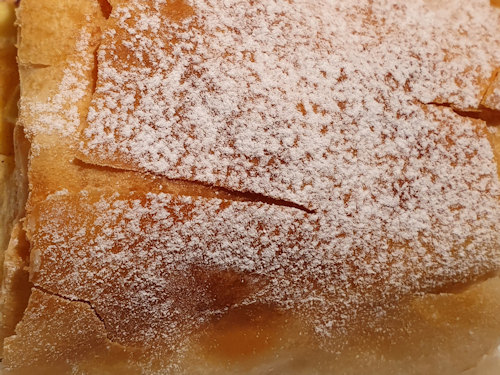 (Apple strudel)
Of course, the Viennese refuse to think in terms of starters, main courses, and desserts. Mainly because particular items the rest of the planet puts in just one category belong in all three in Vienna.
Take cake, for example, which you might call the true Viennese bread. There is no time of day or part of a meal where cake is not an acceptable option.
When Marie Antoinette (a Habsburg archduchess before marrying into French royalty) said, "Let them eat cake," she wasn't being arrogant or out of touch. She was just being Viennese. Editor's note: she never actually said that.
Anyway, Austrians talk of Mehlspeisen (literally: "flour dishes"), a vague term which seems to cover anything edible that goes with a hot beverage. I've seen it used for everything from pancakes to strudels.
So what are typical Viennese Mehlspeisen?
As you can imagine, the choice is huge. But below are some of the most likely local options to appear on your restaurant or coffee house menu in Vienna.
The cakes
(Malakofftorte , allegedly named for a French military leader)
If you put all the cakes on sale in Vienna on top of each other, the pile would reach to the moon. And back again.
Possibly.
Anyway, here's a whole guide to the various local favourites, including the famous Sachertorte, of course. Prepare to enter a world of 19th-century diplomats, French generals, Hungarian aristocrats, and more.
Apfelstrudel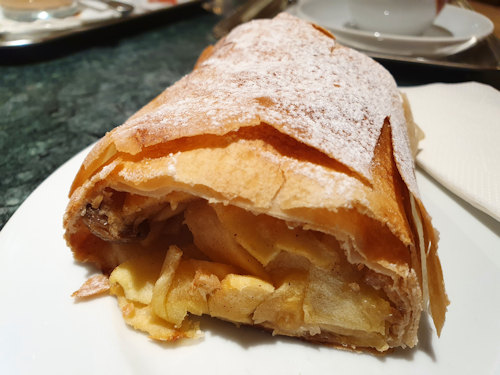 (Nothing is certain in life, except for death, taxes and Apfelstrudel)
Ah, right up the top of your list of desserts associated with Austria and Vienna is likely Apfelstrudel (apple strudel). I don't really need to describe it, since the dish has conquered the world.
Traditionally, Apfelstrudel uses its own strudel pastry or puff pastry, with a filling of sliced cooking apples, sultanas, roasted breadcrumbs, sugar, and cinnamon.
Vienna imported and adapted the dish, which likely came from the Hungarian part of the Habsburg lands, though the Hungarians themselves probably adapted a recipe brought in by invading Turks.
The word strudel refers to the basic pastry and/or form, so you find various other types on menus, too.
As with Apfelstrudel (Apfel = apple), you have a good chance of guessing the contents of the dish from the German word preceding strudel in the name. Common examples include:
Topfenstrudel: another popular dessert that uses quark
Spinatstrudel: usually a main course among the vegetarian options. Strudel pastry filled with spinach (we add sheep's cheese at home, too)
Gemüsestrudel: ditto but filled with a selection of vegetables
Kaiserschmarren
(A dish with an imperial connection)
They love their pancakes (Palatschinken) in Vienna, usually filled with apricot jam and served with icing sugar and a chocolate sauce.
Pancakes, however, hardly count as a regional dish. A pancake variation – Kasierschmarren – does.
Think of Kaiserschmarren as thick, shredded pancake served with plum compote. Emperor Franz Joseph allegedly favoured this dessert, which has a nice origin story connected to the very same monarch.
Marillenknödel & Germknödel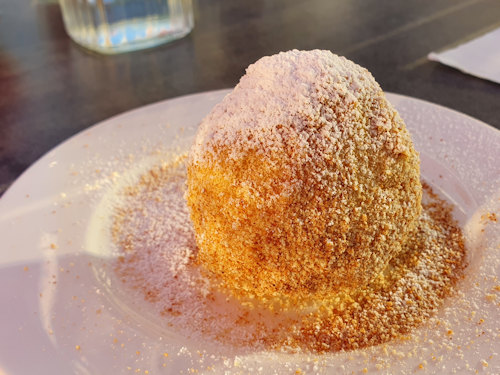 (A Marillenknödel doubling as a contemporary art installation)
Knödel translates roughly as dumpling and the Viennese eat numerous varieties, both sweet and not-so-sweet.
Fruit dumplings usually involve a cooked quark-based dough surrounding a fruit filling, all covered in sugar and breadcrumbs. Marillenknödel (sweet apricot dumplings) probably counts as the most popular alternative.
Note that some places use whole fruit in their Knödel, so you may find a stone in there. A common alternative, however, is to replace the stone with a sugar cube before cooking.
Another common dessert Knödel is Germknödel: a huge half-sphere made from a yeast-based dough and filled with plum jam.
For more insight into the mysteries and majesty of the Knödel, try my article on the different types of Austrian dumpling.
Krapfen
(Typically filled with apricot jam)
Basically the Austrian doughnut. Not, however, the ring version, but the solid, flattened ball version. A Krapfen normally comes with just icing sugar (if anything) on top.
Although common at any time of year, Krapfen pop up everywhere during carnival season (Fasching), which is why an alternative name is Faschingskrapfen.
In the absence of any other information, assume your Krapfen contains an apricot jam filling. Other fillings must be explicitly included in the product name (actually a legal requirement).
If a baker uses strawberry jam, for example, then the Krapfen becomes an Erdbeerkrapfen (Erdbeer = strawberry in German).
As with many traditional Viennese and Austrian foods, the Krapfen has collected a whole series of myths, stories, anecdotes, and legends around itself.
Allegedly, the Vienna Kongress of 1815 saw both the redrawing of Europe's borders post-Napoleon and the consumption of ten million Krapfen. And these fried delights remain the traditional parting gift for visitors to the annual Opernball.
Buchtel
(Beer and Buchteln help keep the doctor away. Or probably not.)
The Buchtel shares much in common with the Krapfen. Also a yeast-based dough. Also fried. Also filled with jam (and any number of alteratives, but often served with no filling or with a vanilla sauce).
Quite what the difference to a Krapfen is, I'm not sure. Although the Buchtel tends to appear in more of a cube shape and tastes more like a sweet roll.
Pop along to Café Hawelka in Vienna's centre for some of the city's most-famous Buchteln thanks, in part, to their small starring role in a popular song featuring the coffee house.
Mohr im Hemd (but…)
(A lot of calories in one picture)
A small hot chocolate sponge (cooked in water or steam), served in a chocolate sauce, and usually accompanied by whipped cream.
This dessert enjoys considerable popularity as a very local dish, though people regard the name with less affection: Mohr im Hemd translates literally as a "Moor in a Shirt," possibly as a nod to Shakespeare's Othello.
The unpleasant racial connotations mean it's increasingly likely to be described as a "chocolate almond soufflé" (or similar) today.
Salzburger Nockerl
Nockerl is a term designed to confuse, since it may refer simply to a Gnocchi-like shape of a food item, but also to a form of dough made of eggs, flour and (usually) butter.
A Salzburger Nockerl falls somewhere between a miniature soufflé and a sweet dumpling (with a hint of meringue). The name carries a clue to its likely origins; not in Vienna, but in the city of Salzburg.
The most popular origin story suggests that Salome Alt (1568-1633) created the nockerl for her lover, the fabulously-named Prince-Archbishop Wolfgang Dietrich von Raitenau.
Wolfgang ruled Salzburg at the turn of the 16th and 17th centuries. They had 15 kids, so be careful how much Nockerl you eat.
The traditional dish features three soufflé-like forms drawn up into pyramids to give the impression of a mountain range, thus harking back to the alpine landscape around Salzburg.
Kipfel
(Plain but fine)
This baked good bears a suspicious resemblance to a croissant and the two are undeniably similar. The crescent-shaped Kipfel, however, uses a yeast dough rather than the puff pastry of the French variety.
Allegedly, the Kipfel actually served as inspiration for the French croissant.
Viennese soldier August Zang made the Kipfel popular in Paris when he opened his "Boulangerie Viennoise" in the late 1830s. The French still refer to croissants, brioche etc. as Viennoiserie (Vienna-style pastries).
Zang proved a man of many talents. For example, not content with bringing pastries to Paris, he returned to Vienna and founded the Die Presse newspaper that is still going today.
Some claim a Viennese baker invented the Kipfel form when the Ottoman Empire laid siege to Vienna (unsuccessfully) in 1683.
Allegedly, they intended the shape as a culinary insult or celebration, since it reflected the crescent symbol on the defeated enemy's flags. The story is likely absolute nonsense.
And just to continue with lingusitic complications…you sometimes find the spelling, Kipferl, too. Though the Kipferl is also the word for a small biscuit-like treat. See, for example, the Vanillekipferl Christmas biscuit.
Mohnnudeln
Finally, another name to make life harder for the innocent visitor.
Nudeln is the common German word for pasta. But with Mohnnudeln, think more gnocchi than linguine or spaghetti.
The dish consists of quite thick noodles made from a potato dough, slathered in melted butter and poppy seeds. The latter give the dish its name (mohn = poppy).
Bon Appetit!