It's hard to go far in Vienna around the Advent period and not get offered Weihnachtskekse: (homemade) Christmas biscuits.
But what makes them different?
Weihnachtskekse
(A typical biscuit mix)
Viennese psychologists (of which there are many) have identified the four stages of Christmas biscuit consumption:
Delight (yay, Christmas biscuits are here!)
Satiation (actually, I've had enough now)
Fear (I'll come round for coffee. But please, no more biscuits)
Resignation (they're everywhere, resistance is futile)
And they really are everywhere during the Advent season. Scientific studies show that Vienna sinks 2mm in December under the weight of all those almond squares and coconut macaroons.
Recipe and size distinguish the Christmas variety from your normal biscuits and cookies.
Weihnachtskekse tend to be small, so can be downed in one swift bite (regrettably), and many varieties only ever appear in shops and kitchen ovens around Advent.
Supermarkets and market stalls sell these seasonal biscuits in packs, often nicely wrapped so they make decent gifts. The variety of pack sizes means you can spend as much or as little as you want. Just be careful with transporting them.
Baking the biscuits also remains a family tradition often involving the children: the young ones like to stamp out the shapes.
Most Kindergarten kids come home at some point in December bearing plates of misshapen baked dough you're expected to fake pleasure at eating. I speak from bitter (literally) experience.
Popular Christmas biscuits
Numerous alternatives exist, of course, but certain biscuit varieties have climbed to the top of the seasonal pile. So to give you a flavour (sorry) of what to expect, here's a list of the most popular options:
(Vanillekipferl biscuits)
Vanillekipferl – vanilla crescents. These seem to be the most popular variety. A dry biscuit following a simple "butter, flour and sugar" recipe.
Mandelbällchen – almond balls. Not a medical condition but biscuits made of sugar, egg whites, and grated nuts.
Kokosbusserl – coconut macaroon. Usually with a chocolate base.
(Linzer Augen biscuits)
Linzer Augen – "Linz eyes". A two-layered biscuit with a jam filling, often redcurrant or apricot.
Zimtsterne – cinnamon star. Cinnamon is a popular spice around Christmas here, with cinnamon sticks also used in decorations. Star-formed biscuits come in many varieties: almond stars are another popular one.
Ochsenaugen – ox-eye cookies. Very similar to the UK's jammy dodgers (if these still exist?).
(Linzerkipferl biscuits)
Linzerkipferl – Linz crescents. A miniature version of a year-round soft biscuit with ends dipped in chocolate. My personal favourite.
Rumkugeln – rum balls. For a little dose of alcohol to chase away the gift-buying blues.
Schoko-nuss-stangen – chocolate and nut sticks. A stick-shaped biscuit with, unsurprisingly, chocolate and nuts.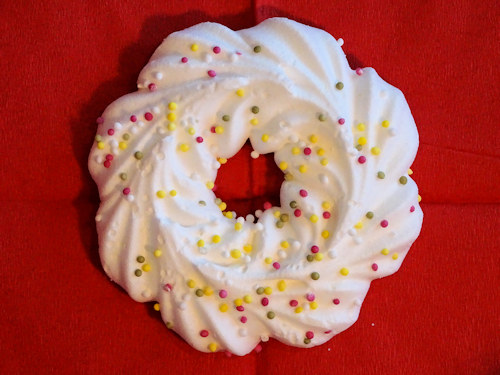 (Meringue biscuits)
Windbäckerei – meringue biscuits. Often baked as small rings and then hung on the Christmas tree.
Florentiner – Florentine. The standard Italian specialty made of nuts and candied fruits, usually with a chocolate covered base.
Oh, and coffee is not the only beverage alternative here to drink with your biscuits. Keep the seasonal theme going with a mug or two of Weihnachtspunsch (Christmas punch).
Enjoy!